U.S., China Trade Talks in Washington this Week
February 18, 2019
After continuing last week in Beijing, U.S., China trade talks will resume again this week in Washington, D.C. In addition, recent news items continue to highlight impacts of the ongoing trade dispute on the farm economy. Today's update focuses on these two issues in more detail.
U.S., China Trade Talks Continue
Lingling Wei and Bob Davis reported in Saturday's Wall Street Journal that, "China and the U.S. inched toward a broad agreement aimed at defusing their market-rattling trade tensions, with top negotiators agreeing to further talks next week in Washington after a weeklong session [in Beijing].
"In the latest round, senior officials from both sides made some progress in sketching out the agreement, which would be in the form of a memorandum of understanding, according to people briefed on the talks.
They described it as a bare-bones pact that both sides said could serve as the framework for a deal that President Trump and Chinese leader Xi Jinping later finalize at a summit.
"President Xi met with U.S. Trade Representative Robert Lighthizer, the lead American negotiator, and Treasury Secretary Steven Mnuchin after talks wrapped up Friday and hailed the discussions as having made 'important, interim progress,' according to China's official Xinhua News Agency. The Chinese leader encouraged the negotiators to 'continue to work hard' in Washington next week to reach an agreement, Xinhua said."

Donald J. Trump
✔@realDonaldTrump
Trade negotiators have just returned from China where the meetings on Trade were very productive. Now at meetings with me at Mar-a-Lago giving the details. In the meantime, Billions of Dollars are being paid to the United States by China in the form of Trade Tariffs!6:17 PM – Feb 16, 2019

Donald J. Trump
✔@realDonaldTrump
Important meetings and calls on China Trade Deal, and more, today with my staff. Big progress being made on soooo many different fronts! Our Country has such fantastic potential for future growth and greatness on an even higher level!6:00 AM – Feb 17, 2019 The Journal writers added that, "In a statement, the White House press secretary said both sides 'have agreed that any commitments will be stated in a Memoranda of Understandingbetween the two countries.' During this week's talks, according to the statement, the U.S. delegation focused on a range of structural issues, including forced technology transfer, intellectual property rights, cyber theft and currency. The two sides also discussed China's purchases of U.S. goods and services. 'Much work remains,' the statement said, adding that both sides will continue working on outstanding issues before the March 1 deadline."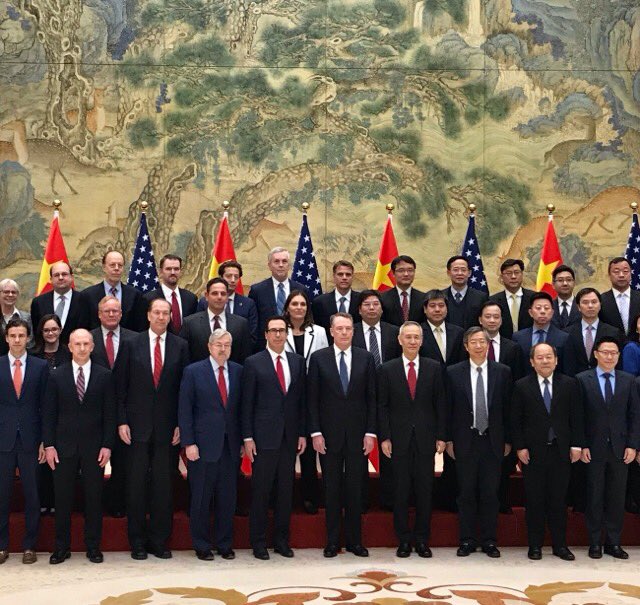 Steven Mnuchin
✔@stevenmnuchin1
Productive meetings with China's Vice Premier Liu He and @USTradeRep Amb. Lighthizer.12:56 AM – Feb 15, 2019
Los Angeles Times writer Robyn Dixon reported in Saturday's paper that, "[After the meeting Friday between President Xi, Ambassador Lighthizer and Secretary Mnuchin], Mnuchintweeted that the talks were 'productive,' and Lighthizer said, 'We feel we have made headway on very, very important and difficult issues.' Xi agreed that 'important progress' was made.
"And later in Washington, President Trump said there was a 'possibility' he would extend a March 1 deadline for the trade talks if the two sides are close to a deal. He said it would happen 'if I see that we're close to a deal or the deal is going in the right direction.'"
The L.A. Times article explained that,
No details emerged of the progress to overcome the remaining thorny issues, with a meeting between Trump and Xi in future weeks seen as the best hope for an agreement, depending on the outcome of the Washington meeting next week.
And Keith Bradsher and Alan Rappeport reported in Saturday's New York Times that, "Mr. Trump said that American tariffs on $250 billion worth of Chinese imports were hurting China 'very badly' and that it would be 'an honor' to remove them if an agreement could be reached. He acknowledged that a deal of such magnitude could take more than just a few weeks."
Also Saturday, David Lynch and Anna Fifield reported in The Washington Post that, "In Washington, analysts say the talks are likely to continue for 60 days past the March 1 deadline. If no deal is reached, the current 10 percent tariff will rise to 25 percent on $200 billion worth of Chinese goods."
Farm Economy- Trade War Impacts
Reuters writers Hallie Gu and Dominique Patton reported late last week that, "Soybean traders in China on Friday shrugged off recent cancellations of import orders as 'old business,' even as the global market worried it could be a sign of Beijing backtracking on its pledge to buy more American beans."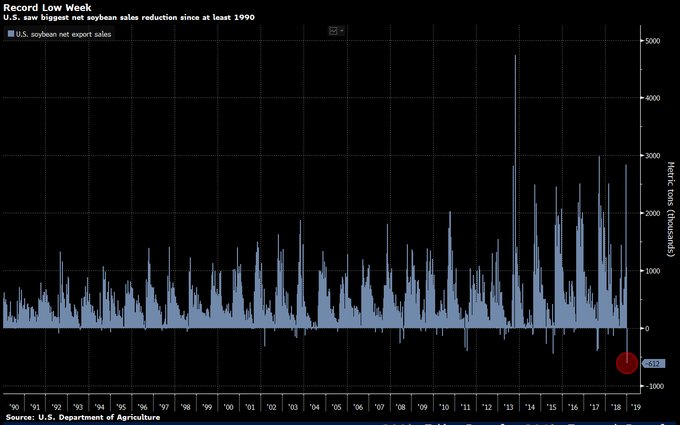 Javier Blas
✔@JavierBlas
#China has cancelled some of the U.S. soybean that it was intending to buy, dragging American weekly #soybeans sales to its worst data point in 29 years | Full story on @TheTerminal h/t @megandurisin #OATT #TradeWars11:57 AM – Feb 14, 2019The Reuters article pointed out that, "But with a trade truce on Dec. 1, Beijing pledged to buy U.S. beans again, booking about 5 million tonnes in the following weeks.
"The U.S. Department of Agriculture's (USDA) weekly export sales report on Thursday, though, showed net cancellations of U.S. soybeans in the week ended on Jan. 3.
"Chinese traders said the cancellations, however, were likely booked earlier than the deals made following the trade truce."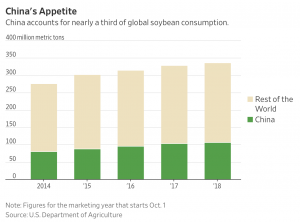 "From Midwest to Far East: How China Affects America's Top Farm Export," by Lucy Craymer. The Wall Street Journal Online (January 28, 2019).
Gu and Patton stated that, "Among the cancellations were 807,000 tonnes intended for China and 444,000 tonnes for 'unknown' destinations, which the market believes could also be China.
"The news appeared to contradict the recent conciliatory tone between Beijing and Washington, and went against expectations of net sales of between 600,000 to 1 million tonnes."
"December U.S. soybean stocks climb to a record high," USDA- Economic Research Service (February 13, 2019).
Meanwhile, Bloomberg writer Lydia Mulvany reported on Friday that, "U.S. farmers, struggling with global trade disputes, are getting stingier on spending, and that apparently includes Deere & Co.'s iconic yellow and green tractors and combines.
"The world's biggest agricultural equipment maker reported first-quarter results that missed analyst estimates for sales and profit. Chief Executive Officer Samuel Allen cited worries by farmers struggling with the impact of tariffs and trade spats with China and other nations. Higher costs for raw materials such as steel have also taken a toll. The shares declined in response."
Ms. Mulvany added that, "The Moline, Illinois-based company's disappointing results come amid signs that the farm belt's malaise is deepening.
The U.S. Department of Agriculture said Thursday that soybean exports would stay below their pre-trade war levels until the 2026-2027 season. That followed a report that sales of the oilseed in early January had the worst week ever.
Also with respect to the trade war's impact, Bloomberg writer Jen Skerritt reported on Saturday that, "After becoming the hot new crop in parts of Canada's prairies, soybeans are starting to lose their appeal as Donald Trump's trade war with China drives down prices.
"Soybean acres in Canada are poised to drop for the second straight year as farmers shift acres to more profitable crops. In addition to the price concerns, some growers are also worried that demand for the nation's supplies will wither if China and the U.S. eventually strike a trade deal."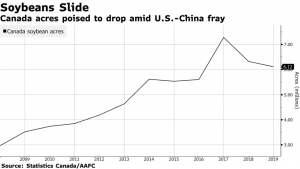 "Canada Farmers Swap Soybeans as U.S-China Spat Drags on Prices," by Jen Skerritt. Bloomberg News (February 16, 2019).
The Bloomberg article noted that, "Canada's soy acres could tumble 3 percent as farmers shift back into canola, the nation's agriculture ministry said in a January report.
"Weather problems have also discouraged farmers from soybeans, said David Reimann, a market analyst at Cargill Ltd. in Winnipeg. Dry conditions in parts of Saskatchewan and Alberta for the past two seasons sent yields tumbling, and growers are able to get better returns per acre by planting canola, he said."
Source: Keith Good, Farm Policy News