To Mitigate the Fallout from Waivers, Trump Administration Looks at Biofuel-Blending Quotas
August 27, 2019
Recall that earlier this month, the Environmental Protection Agency (EPA) granted 31 small refinery biofuel waivers for 2018.  Trump administration officials then huddled early last week to consider how to contain negative blowback from farmers, who were upset over the EPA waiver decision.
Late last week, Bloomberg writers Jennifer A Dlouhy and Mario Parker reported that, "Top Trump administration officials met Thursday to consider options for quelling a backlash in politically important farm states over recent biofuel policy moves, including revoking waivers given to some oil refineries from requirements they use renewable fuel such as corn-based ethanol.
"The Agriculture Department pushed that idea in the meeting and in a memo explicitly outlining options for President Donald Trump amid intense opposition from the Environmental Protection Agency, which administers the program that mandates biofuel. Thursday's meeting follows a flurry of White House conversations this week on the issue, according to people familiar with the deliberations who asked not to be named before any formal announcement."
House Agriculture Committee✔@HouseAgDems
The impacts in the ethanol industry are real — this announcement and others like it that show what happens when EPA recklessly hands out so called "hardship waivers" at the expense of farmers who are struggling from low commodity prices, bad weather and the ongoing tariff war. https://twitter.com/POETbiofuels/status/1163867587412975616 …POET@POETbiofuels
Read POET's press release at https://poet.com/pr/oil-bailouts-force-poet-to-lower-production ….
The Bloomberg article explained that, "In Thursday's meeting, administration officials discussed a series of possible policy changes that had been outlined by Agriculture Secretary Sonny Perdue in an Aug. 20 memo obtained by Bloomberg. 'By taking decisive action now,' Perdue said in the memo, 'I believe we can regain support among farmers and the biofuel industry.'
Perdue recommended rescinding some of the oil-refinery exemptions that had been granted to 'big' companies — about seven to eight of the recent batch of 31 — despite warnings from top EPA officials the revocations could be illegal.
"The Agriculture Department, which didn't immediately respond to a requests for comment, also recommended reallocating some of the biofuel quotas that were waived and that are expected, beginning with a final regulation setting biofuel targets for 2020, expected by Nov. 30."
Dlouhy and Parker added that, "The agency also is seeking a formal role in dictating the targets for the next two years and helping shape the future of the Renewable Fuel Standard, the 2005 law that compels refiners to use biofuel."
Reuters writers Humeyra Pamuk, Stephanie Kelly and Jarrett Renshaw also reported on Thursday's biofuels meeting and stated that, "One proposal that was discussed and was advocated by the U.S. Department of Agriculture was rescinding seven or eight of the 31 waivers the administration has granted to refineries, according to a memo of fiveproposals obtained by Reuters. Sources said government agencies have agreed on four of the proposals, but Trump was yet to make a final decision.
The sticking point is a technical proposal to redistribute projected volumes that could be exempted in the future through the annual biofuel mandate from 2020 onwards. The USDA and EPA remain divided on the issue.
"The remaining proposals agreed upon are for the EPA taking steps to make infrastructure for E15, a higher ethanol blend of gasoline, more accessible; and the USDA and EPA working together to amend the Reset rule, which will be dictating new blending mandates for a slew of biofuels for the next several years and beyond. The final one is for the EPA to take action to encourage flex-fuel vehicles that can use E85, a higher ethanol blend," the Reuters article said.
Today, at Southwest Iowa Renewable Energy and joined by Iowa farmers, I called for a federal investigation into the Environmental Protection Agency's (EPA) expansion biofuel waivers. https://www.facebook.com/RepCindyAxne/videos/458436361677678?s=1062960223&v=e&sfns=mo …
4:37 PM – Aug 21, 2019 · Iowa, USA
Meanwhile, DTN Ag Policy Editor Chris Clayton reported on Wednesday that, "Iowa's ethanol industry and officials are pushing back on EPA's small-refinery waivers with demands for multiple federal investigations and demanding EPA follow court rulings.
"Two months ago, Mike Jerke was standing next to President Donald Trump at Southwest Iowa Renewable Energy as the president championed year-round E15. On Wednesday, Jerke, CEO of the 130-million-gallon ethanol plant, was standing next to a congresswoman calling for a federal investigation into EPA's 31 new small-refinery waivers. Trump had promised to preserve and protect the Renewable Fuels Standard, Jerke said."

DeLayne Johnson, CEO of Quad County Corn Processors, a small ethanol plant in NW Iowa, said EPA needs to grant "farmer and ethanol plant hardship waivers."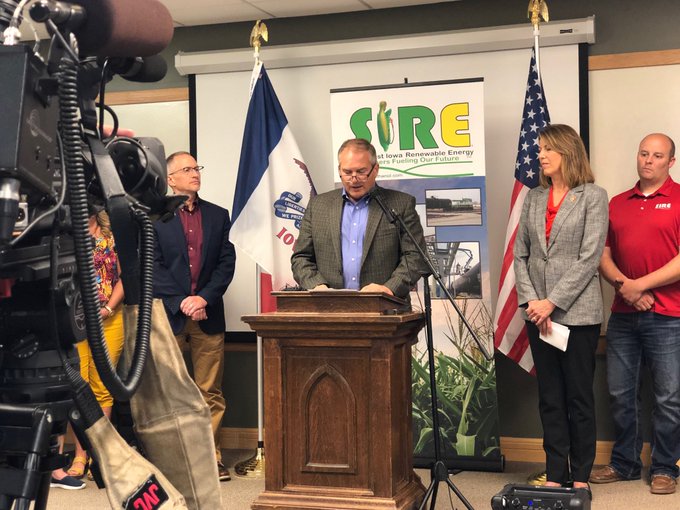 Then on Friday, Reuters writers Humeyra Pamuk, Stephanie Kelly and Jarrett Renhsaw reported that, "The Trump administration is considering ramping up biofuel blending quotas in the coming years to assuage anger in the Farm Belt over its recent broad use of waivers for small refineries, but is not planning to rescind any of the exemptions it has granted so far, four sources familiar with the matter said.
"The approach would mark a mixed result for the agriculture industry and its backers who had been pushing the administration to revoke some of the exemptions, which they argue hurt demand for corn-based ethanol by freeing refiners from their obligation to blend biofuels into their products.
"The proposals emerged a day after U.S. President Donald Trump on Thursday summoned his Agriculture Secretary Sonny Perdue and Environmental Protection Agency Administrator Andrew Wheeler to the White House to discuss ways to boost biofuel demand."
The Reuters article indicated that, "In the meeting, Trump rejected a proposal from the Department of Agriculture to rescind some of the recently approved waivers, according to the sources and a list of items that were largely agreed upon at the meeting's conclusion.
Instead, the administration is considering lifting its proposed 2020 annual corn-based ethanol mandate by 500 million gallons and 2021 biodiesel mandate by 250 million gallons. It is also looking to reallocate volumes expected to be waived going forward.
And Bloomberg writers Jennifer A Dlouhy and Mario Parker reported on Friday that, "Trump and top cabinet leaders decided late Thursday they wouldn't make changes to just-issued waivers that allow small refineries to ignore the mandates, but agreed to start boosting biofuel-blending quotas to make up for expected exemptions beginning in 2021. The outcome was described by four people familiar with the matter who asked not to be named before a formal announcement could be made."
The Bloomberg article explained that, "Under the tentative plan, the Environmental Protection Agency also will give a 500-million-gallon boost to the amount of conventional renewable fuel, such as ethanol, that must be used in 2020. A separate quota for biodiesel, typically made from soybeans, would get a 250 million gallon increase.
"Additionally, the administration will enhance a program meant to expand U.S. fueling infrastructure and get more ethanol into the system. The EPA will adopt an Agriculture Department assessment of the greenhouse gas emissions associated with renewable fuel, and will expand environmental credits encouraging automakers to produce 'flex-fuel' vehicles that can run on high-ethanol gasoline."
I think it is important to note that @USDA has sent a pretty consistent message on the RFS, SRE's and an appropriate way forward. @USDA went so far as to make PUBLIC comments to the docket supporting a fix. https://www.regulations.gov/contentStreamer?documentId=EPA-HQ-OAR-2018-0167-1038&attachmentNumber=1&contentType=pdf …
Last week, the editorial board at the Minneapolis Star Tribune stated that, "…President Donald Trump should swiftly reverse his administration's recent decision to grant oil companies 31 additional waivers from the Renewable Fuel Standard (RFS) law. The waivers weaken demand for biofuels, hurting the Midwest, while boosting oil firms.
"If Trump won't act, Congress should. A good start: passing a bill championed by Rep. Collin Peterson, D-Minn., that would guard against brazen oil industry giveaways like this."
And Donnelle Eller reported on the front page of Sunday's Des Moines Register that,
Gripped with anger, some Iowa ethanol leaders say President Donald Trump should no longer count on their support in next year's election, given his administration's action to cut demand for the U.S. renewable fuel.
The Register article noted that, "'The exemptions are ridiculous and a slap in the face to farmers,' said Curt Mether, president of the Iowa Corn Growers Association and a western Iowa farmer."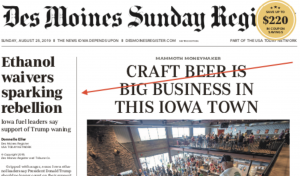 "Ethanol waivers sparking rebellion — Iowa fuel leaders say support of Trump waning," by Donnelle Eller. Front Page, Des Moines Register (August 25, 2019).
Sunday's article pointed out that, "Farmers and ethanol leaders warned Trump that the small refinery exemptions could reverse E15 gains, advice the president didn't appear to take. 'It was deeply disappointing,' said Mike Jerke, CEO of Southwest Iowa Renewable Energy in Council Bluffs.
"Without restored ethanol demand, more plants will close and more workers will be laid off, industry leaders say. Corn supplies will build — and prices will decline — as ethanol production falls."
DTN writer Todd Neeley reported on Monday that,
The White House Office of Management and Budget showed EPA how to account for biofuel gallons lost to small-refinery waivers, but the EPA ignored the OMB's suggestions, interagency review documents show.
"Documents posted to regulations.gov on the 2020 Renewable Fuel Standard volumes show reviewers of the rule suggested EPA reallocate waived volumes of biofuels in the 2020 proposal.
"In addition, the OMB provided a possible method for restoring 500 million gallons of blending obligations that were erroneously waived in 2016. The U.S. Court of Appeals for the District of Columbia Circuit ordered the 2016 gallons to be accounted for in future rulemaking, but the agency declined to do so in its latest volumes proposal."
On Tuesday, Wall Street Journal writer Lauren Silva Laughlin pointed out that, "Part of the problem is that the corn business overall dwarfs ethanol: The U.S. Department of Agriculture estimates that corn production will be 13.9 billion bushels this year while the Renewable Fuels Association says waivers will cut demand by 225 million bushels, or less than 2% of the total. The EPA has disputed the connection between waivers and corn demand.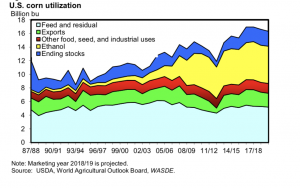 Capehart, Tom, Liefert, Olga, Olson, David W., Feed Outlook, FDS-19h, U.S. Department of Agriculture, Economic Research Service, August 14, 2019
"Expanding the ethanol market from today's level is tricky, though. In 2009, Ethanol manufacturers asked the EPA to allow the use of E15, or 15% blends, in a bid to expand their market, which the EPA approved a few years later. But car warranties before that time don't typically cover higher blends, and just a fraction of the gas stations nationwide have the infrastructure to accommodate the fuel. Air pollution rules restrict year-round sales of E15, making the switch complicated and costly."
Source: Keith Good, Farm Policy News