Soybean Prices Climb as U.S.-China Trade Developments Unfold
January 7, 2019
A U.S. government delegation will travel to Beijing this week to discuss the ongoing trade war between the two countries. A recent news article noted that optimism associated with the talks has been a contributing variable in a climb in the price of soybean futures.
Background: U.S., China Trade Talks
On December 26th, Bloomberg writer Jenny Leonard reported that,
A U.S. government delegation will travel to Beijing in the week of Jan. 7 to hold trade talks with Chinese officials, two people familiar with the matter said.
"Deputy U.S. Trade Representative Jeffrey Gerrish will lead the Trump administration's team, which will also include Treasury Under Secretary for International Affairs David Malpass, according to the people, who spoke on the condition of anonymity. Neither the USTR nor Treasury responded to requests for comment."

On December 28th, Reuters writers Meng Meng, Ryan Woo and Michael Hirtzer reported that, "China has opened the door to imports of rice from the United States for the first time ever in what analysts took to signal a warming of relations between the world's two biggest economies after a frosty year marked by tensions and tit-for-tat tariffs."

The Reuters article pointed out that, "It was not immediately clear how much rice China, which sources rice imports from within Asia, might seek to buy from the United States. But the move, which comes after years of talks on the matter, follows pledges from China's commerce ministry of further U.S. trade openings earlier this week."
Prelude to U.S., China Trade Talks
On December 29th, Wall Street Journal writer Bob Davis reported that, "Chinese and U.S. negotiators are starting to flesh out a deal that could defuse trade tensions by boosting U.S. exports and loosening regulations that hobble U.S. firms operating in China, say people tracking the talks."


Donald J. Trump ✔@realDonaldTrump
Just had a long and very good call with President Xi of China. Deal is moving along very well. If made, it will be very comprehensive, covering all subjects, areas and points of dispute. Big progress being made!10:03 AM – Dec 29, 2018 The Journal article reminded readers that, "If no deal is reached, U.S. tariffs on $200 billion of Chinese goods are due to increase to 25% from 10% on March 2, potentially having a big impact on electronics, furniture, machinery and other U.S. industries that rely on Chinese imports."

On Tuesday, New York Times writer Glenn Thrush reported that, "[Robert Lighthizer, the United States trade representative] — whose top deputy will meet with Chinese officials this week ahead of more high-level talks in February — has played down any differences with Mr. Trump and views his role as ultimately executing the directive of his boss. But the trade representative, who declined to be interviewed, has told friends and associates that he is intent on preventing the president from being talked into accepting 'empty promises' like temporary increases in soybean or beef purchases.

"Mr. Lighthizer, 71, is pushing for substantive changes, such as forcing China to end its practice of requiring American companies to hand over valuable technology as a condition of doing business there. But after 40 years of dealing with China and watching it dangle promises that do not materialize, Mr. Lighthizer remains deeply skeptical of Beijing and has warned Mr. Trump that the United States may need to exert more pressure through additional tariffs in order to win true concessions."

Mike Adams@MikeAdamsAg
Ambassador Greg Doud and Undersecretary Ted McKinney will be part of U.S. trade delegation in Beijing next week.9:56 AM – Jan 4, 2019 See Mike Adams's other Tweets Bloomberg writer Jenny Leonard reported on Wednesday that, "U.S. government officials are publicly withholding judgment on China's efforts to ease trade tensions ahead of talks next week, raising the prospect that Beijing's latest economic-reform announcements won't go far enough to satisfy President Donald Trump's demands.

"China in recent weeks has announced steps to open up its economy since Trump and President Xi Jinping met over dinner Dec. 1 to diffuse tensions. But they mostly fall short of U.S. Trade Representative Robert Lighthizer's demands for big structural changes on alleged forced technology transfer and theft of intellectual property, analysts said."

The Bloomberg article noted that, "Lighthizer, who Trump named as his lead for the negotiations, said in December that March 1 is a hard deadline for Beijing to come up with commitments it has promised to fulfill for the past decade."

In a brief analysis of what a successful U.S., China trade truce might include, Bloomberg News reported on Sunday that, "Investors will be watching to see if China removes retaliatory tariffs on U.S. farm products — including soybeans, corn, cotton, sorghum and pork — that severely hurt America's heartland. Lifting the tariffs could encourage private buyers to immediately resume U.S. farm-product purchases. China may also remove its anti-dumping and anti-subsidy tariffs on U.S. distiller's dried grains, which China is the largest buyer of, as well as allow imports of U.S. poultry after it gave the green light on U.S. rice purchases. If talks fail, China may also cancel some soybean orders that have been placed over the past weeks."
U.S., China Trade: Soybean Exports
Meanwhile, Bloomberg writer Isis Almeida reported last week that, "China is back in the market for U.S. soybeans after taking a holiday break, just as Washington and Beijing plan more trade discussions.

"On Wednesday, Cofco Corp., China's top food company, was asking for prices, according to four traders familiar with the process, who asked not to be identified because talks are private. The inquiries were for February and March delivery, three of the traders said. Futures rose 1.3 percent in Chicago Wednesday and headed for a second day of gains Thursday."

<article data-scribe="component:card" dir="ltr" class="MediaCard MediaCard–mediaForward cards-multimedia customisable-border">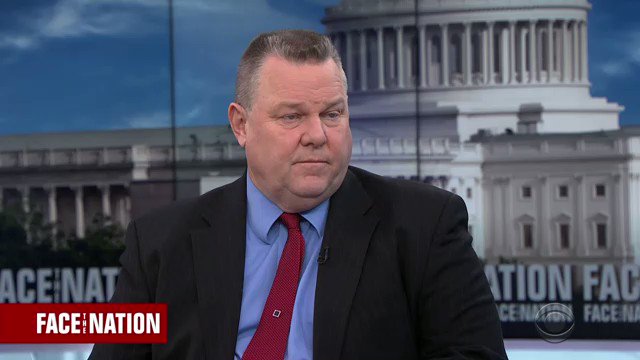 Face The Nation ✔@FaceTheNation .@SenatorTester on President Trump's tariffs: "If this continues we'll see more farmers go broke and we'll see rural America be further diminished." 10:07 AM – Dec 30, 2018 The article pointed out that, "China last made a big purchase of soybeansbefore Christmas, scooping up about 1.2 million tons for delivery by Aug. 31, according to the U.S. Department of Agriculture. That was on top of 1.56 million tons in the week ended Dec. 13. Cofco said it made two purchases, while Sinograin said it bought in batches 'to implement the consensus achieved by state leaders.'
This time traders will be left in the dark as there won't be an official confirmation of sales due to the U.S. government shutdown.
On Friday, Bloomberg writers Jeremy Hill, Ranjeetha Pakiam, and Jake Lloyd-Smith reported that, "Soybeans get a boost from any inkling of improving trade relations between the U.S. and China, and that narrative should continue to dominate trading in 2019. The oilseed rallied in late 2018 after a meeting between U.S. and Chinese leaders resulted in the Asian nation resuming some imports of American beans. Traders, though, were disappointed by the extent of the purchases.


"The Commodities to Watch in 2019," by Jeremy Hill, Ranjeetha Pakiam, and Jake Lloyd-Smith. Bloomberg News (January 4, 2019). "Farmers in America are hopeful the two nations will reach an accord before the end of a 90-day truce. The key question for trading desks remains whether China, the hitherto top U.S. soybean buyer, will agree to reduce tariffs on U.S. agricultural products. Brazil's coming harvest is also a major factor: farmers there are looking at yet another bumper year and that rush of supply would further suppress U.S. prices, especially if China stays closed."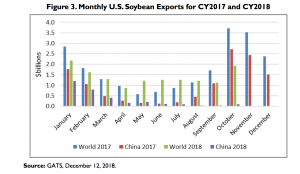 "Profiles and Effects of Retaliatory Tariffs on U.S. Agricultural Exports," Congressional Research Service (December 31, 2018) (https://goo.gl/jFpzcM). And Reuters writer Julie Ingwersen reported on Friday that,
U.S. soybean futures climbed to a two-week high on Friday on optimism over U.S.-China trade talks planned for next week, coupled with declining estimates of the size of Brazil's developing crop, traders said.
<article data-scribe="component:card" dir="ltr" class="MediaCard MediaCard–mediaForward customisable-border"> View image on Twitter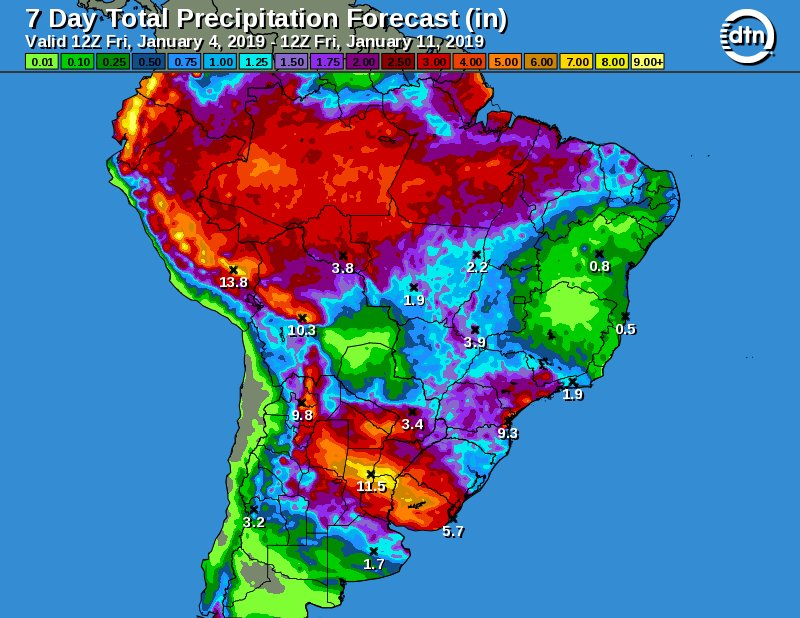 Bryce Anderson@BAndersonDTN DTN 7-day #Brazil precipitation forecast Friday. Prospects are no more than light to moderate in most crop areas. This flash #drought is hurting #soybean crop potential. 5:24 AM – Jan 4, 2019 "Chicago Board of Trade March soybeans settled up 8-3/4 cents at $9.21-1/2 a bushel after reaching $9.22-1/2, the contract's highest since Dec. 19." The Reuters article pointed out that, "Soybeans, corn and wheat each recorded a third consecutive higher close. Soybeans were buoyed by news that the United States and top global soy buyer China will hold trade talks next week."
<article data-scribe="component:card" dir="ltr" class="MediaCard MediaCard–mediaForward customisable-border"> View image on Twitter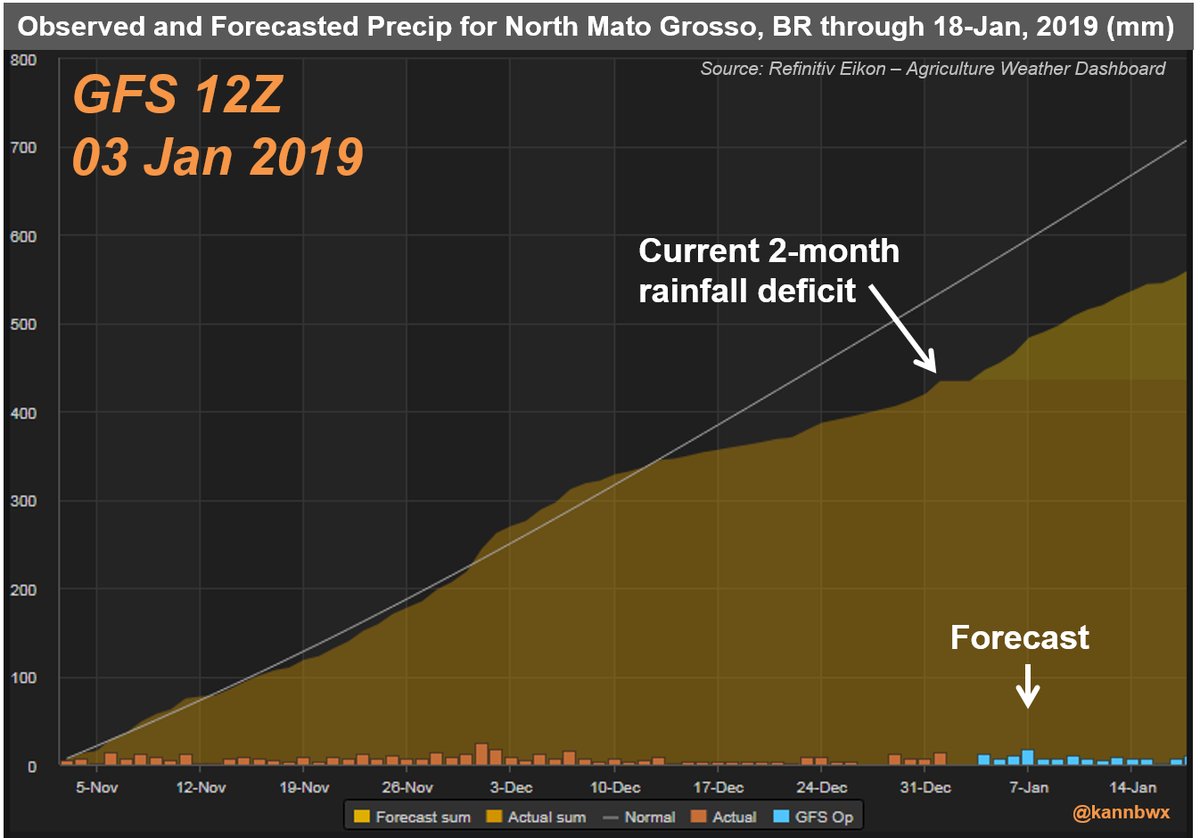 Karen Braun ✔@kannbwx Here's the rainfall deficit that has opened up since mid-December in #Brazil's North Mato Grosso (where #soybeans are most heavily produced). Rain is in the forecast, but not enough to erase the deficit. Crop still expected to be big, though maybe very slightly less big… #agwx11:01 AM – Jan 3, 2019 <article data-scribe="component:card" dir="ltr" class="MediaCard MediaCard–mediaForward customisable-border"> View image on Twitter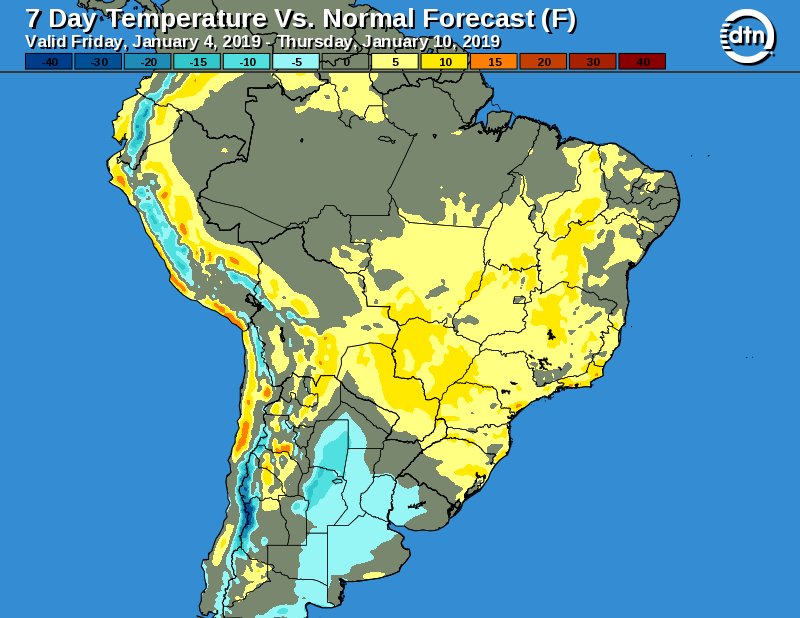 Bryce Anderson@BAndersonDTN
DTN 7-day #Brazil forecast high temperatures compared to normal. Note athe 10-degree Fahrenheit above normal in south-central areas. Heat adds to dryness stress and #soybean production decline prospects.5:26 AM – Jan 4, 2019 Ms. Ingwersen pointed out that, "Worries about declining South American crop prospects addedsupport to soy futures. INTL FCStone cut its estimate of Brazil's soybean crop by about 4 million tonnes to 116.25 million tonnes due to a drought affecting some areas." Source: Keith Good, Farm Policy News