Soybean Exports in Focus
June 8, 2020
Reuters columnist Karen Braun indicated on Friday that, "U.S. soybean exports had a dismal April performance and possibly an even worse showing in May as shipments to China remain historically low, but corn exports hit a one-year high in April and improved on those volumes last month."
U.S. #agricultural #exports, year-to-date and current months, https://t.co/V85OpkE44w @USDA_ERS

* Volumes.

* #corn, #soybeans, #wheat. pic.twitter.com/cXZKMVxLhq

— Farm Policy (@FarmPolicy) June 5, 2020
U.S. #agricultural #exports, year-to-date and current months https://t.co/V85OpkE44w @USDA_ERS

* Values.

* #corn, #soybeans, #wheat. pic.twitter.com/TwAgC2Xqwv

— Farm Policy (@FarmPolicy) June 5, 2020
The Reuters column noted that, "The United States exported 2.16 million tonnes of soybeans in April, down 10% from the previous year and the smallest volume for any month since June 2017. That is according to data published on Thursday by the U.S. Census Bureau."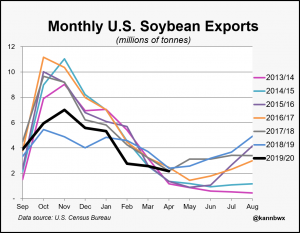 "April shipments to top buyer China totaled 423,891 tonnes, down 20% on the year but more than twice the March volume," the Reuters column said.
Ms. Braun added that, "Soybean exports to China are by far the United States' biggest agricultural trade relationship, which is why the oilseed probably has a great deal of leg work to do if the Phase 1 trade deal between the two countries were to be fulfilled.
"That deal calls for China's 2020 U.S. agricultural imports to rise more than 50% over 2017 levels, making the recent snail's pace of U.S. soybean shipments to China even more alarming."
Top 10 U.S. #export markets for #soybeans, by volume https://t.co/V85OpkE44w @USDA_ERS pic.twitter.com/s5r5UMy8Kx

— Farm Policy (@FarmPolicy) June 5, 2020
Meanwhile, Bloomberg News reported on Saturday that, "Soybean imports by China rose 27% in May from a year earlier, after crushers increased purchases from Brazil to take advantage of cheap supplies amid strong crush margins.
"The country shipped in 9.4 million tons in May, compared with 7.4 million tons in the same month last year, and 6.7 million tons in April, according to customs data Thursday
"That's close to the record high of 10.08 million tons in July 2017."
The Bloomberg article added that, "Chinese imports could stay close to record levels until July, as crushers buy aggressively from top supplier Brazil due to a bumper harvest and the depreciation of the local currency earlier this year."
U.S. #agricultural #trade, https://t.co/V85OpkE44w @USDA_ERS

* Monthly deficit for April.

* Calendar year to date deficit. pic.twitter.com/2VClaElVtZ

— Farm Policy (@FarmPolicy) June 4, 2020
On Sunday, Reuters writers Hallie Gu and Tom Daly reported that, "China's soybean imports in May surged 27.4% from the previous year, as a large volume of shipments from top supplier Brazil arrived after weather improved in the South American country, customs data showed on Sunday."
The Reuters article stated that, "Brazilian soybean exports in April reached a record 16.3 million tonnes and an increase from 11.64 million tonnes in March."
"It was expected that China would likely to step up purchases of U.S. farm produce, including soybeans, but rising tensions between the two countries recently have clouded the trade prospect," the Reuters article said.
A separate Bloomberg News article on Saturday reported that, "China's trade surplus surged to a record in May as exports fell less than expected, helped by an increase in medical-related sales, and imports slumped along with commodity prices."
The record surplus comes as the price of commodities China buys such as crude oil, natural gas and soybeans declined.
And Reuters writers Yawen Chen, Stella Qiu, and Ryan Woo reported on Saturday that, "China's trade surplus with the United States widened to $27.89 billion in May, Reuters calculation based on customs data showed.
"This comes as Sino-U.S. tensions are again on the rise, though sources say President Donald Trump has little choice but to stick with a Phase 1 trade deal for now."
The article pointed out that, "'Imports are subject to greater uncertainty, depending on the recovery of domestic market demand and the implementation of the Phase 1 agreement between China and the United States,' [Zhang Yi, chief economist at Zhonghai Shengrong Capital Management] said."
Source: Keith Good, Farm Policy News