Smithfield Pork Processing Plant Closes, as COVID-19 Cases at Meat Plants an Increasing Worry
April 14, 2020
The Associated Press reported this week that, "Virginia-based Smithfield Foods announced Sunday that it is closing its pork processing plant in Sioux Falls until further notice after hundreds of employees tested positive for the coronavirus — a step the head of the company warned could hurt the nation's meat supply.
"The announcement came a day after South Dakota Gov. Kristi Noem and Sioux Falls Mayor Paul TenHaken wrote to Smithfield and urged the company to suspend operations for 14 days so that its workers could self-isolate and the plant could be disinfected.

Smithfield Foods, the world's biggest pork processor, is shutting its meatpacking plant in South Dakota after a rash of coronavirus cases among employees https://reut.rs/2y8jFsk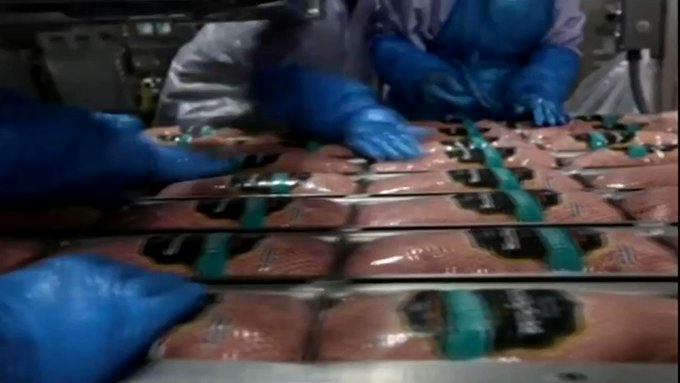 "The plant, which employs about 3,700 people in the state's largest city, has become a hot spot for infections. Health officials said Sunday that 293 of the 730 people who have been diagnosed with COVID-19 in South Dakota work at the plant."
The AP article indicated that,
'The closure of this facility, combined with a growing list of other protein plants that have shuttered across our industry, is pushing our country perilously close to the edge in terms of our meat supply,' Smithfield president and CEO Kenneth Sullivan said in a statement. 'It is impossible to keep our grocery stores stocked if our plants are not running. These facility closures will also have severe, perhaps disastrous, repercussions for many in the supply chain, first and foremost our nation's livestock farmers.'
"The Sioux Falls facility is one of the largest pork processing plants in the U.S., Smithfield said. It supplies nearly 130 million servings of food per week, or about 18 million servings per day."

farmdoc slide: U.S. Frozen Stocks of #Pork.

* Related article (https://bit.ly/2UsxfPR ,) and video (https://bit.ly/2Urmduq ).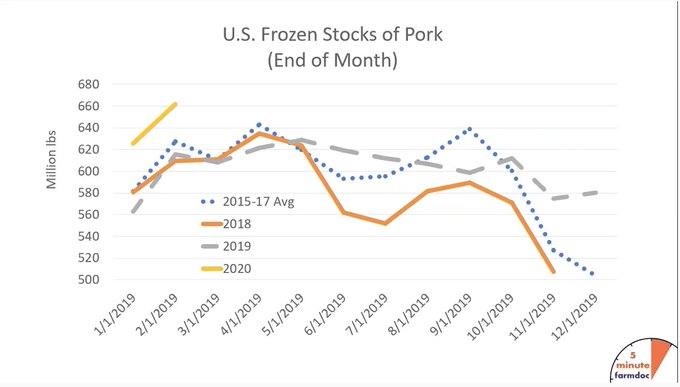 Bloomberg News writers Isis Almeida and Matt Day reported this week that, "While it's unclear whether the meat-employee infections have anything to do with the workplaces, the news exposes the vulnerability of global supply chains that are needed to keep grocers stocked after panic buying left shelves empty. The shuttered plants and sick workers are adding to other disruptions caused by the virus that's making it harder for food to get from farm to table. Trucking bottlenecks, and snarled port traffic have also contributed to why shoppers are seeing empty shelves.
The surge in cases has also raised concerns over worker safety. Deaths have been reported for employees at meat facilities owned by JBS SA and Tyson Foods Inc. Laborers have, in some cases, staged walk-outs to protest working conditions. In meat plants, stations on processing lines can be close together, creating challenges for social distancing. Workers also share break and locker rooms.
And Jacob Bunge reported at The Wall Street Journal Online Sunday that, "Smithfield's plant closure is part of a deepening conundrum for food companies that must balance workers' health with the need to keep the U.S. food system working, and replenish grocery store shelves while restaurants across the country remain shut. People delivering packages for Amazon.com Inc., working supermarket checkout aisles and staffing food plants are performing what government officials and company executives call essential services, though fear for their own health and frustration with employers have led some to walk off the job and demand more protections."
Meanwhile, Wall Street Journal writers Jacob Bunge and Alex Leary reported late last week that, "The Trump administration is weighing a plan to provide coronavirus tests and other solutions to U.S. food-processing plants, as a way to soothe workers' fears and keep the country's food system functioning through the pandemic.
"The federal Covid-19 task force headed by Vice President Mike Pence this week discussed the prospect with meatpackers and food producers, according to people involved in the talks. The task force is looking to the U.S. Department of Agriculture to work out details of what such a plan could look like, at the agency's discretion, an administration official said."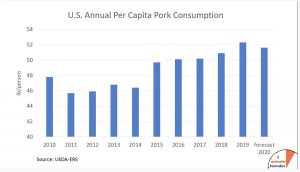 On Friday, Bloomberg writers Isis Almeida and Vincent Del Giudice reported that, "There's been a spike in coronavirus cases at meat plants in the U.S., with hundreds of reported infections in just the last week. That's adding to questions over the fragility of the food-supply chain and raising concerns over worker safety."
"Plants across the U.S. are starting to reduce output or idle as cases spread from the main cities to rural America. Laborers have, in some cases, staged walk-outs to protest working conditions. In meat plants, stations on processing lines can be close together, creating challenges for social distancing. Workers share break and locker rooms," the Bloomberg article said.
Erin Duffy reported earlier this week at The Omaha World-Herald Online that, "Social distancing isn't easy at plants where employees often stand nearly shoulder to shoulder on the production line, slaughtering and cutting chickens, pigs or cattle, or handling frozen or packaged foods. And when the virus gets inside a facility, it can spread quickly, threatening workers and food operations."
On Monday, Reuters writers Tom Polansek and Rod Nickel reported that, "According to more than a dozen interviews with U.S and Canadian plant workers, union leaders and industry analysts, a lack of protective equipment and the nature of 'elbow to elbow' work required to debone chickens, chop beef and slice hams are highlighting risks for employees and limiting output as some forego the low-paying work. Companies that added protections, such as enhanced cleaning or spacing out workers, say the moves are further slowing meat production."
The Reuters article noted that, "The closures and increased absenteeism among workers have contributed to drops in the price of livestock, as farmers find fewer places for slaughter. Since March 25, nearby lean hog futures have plunged 35%, and live cattle prices shed 15%, straining the U.S. farm economy."
Source: Keith Good, Farm Policy News