Smaller Corn and Soybean Supply Forecast, as Derecho Harvest Impact Grows
October 12, 2020
Reuters writer Mark Weinraub reported late last week that, "U.S. corn and soybean supplies will be smaller than previously forecast, as adverse weather reduced the acreage that farmers will harvest, the U.S. government said on Friday.
Soybean stocks were pegged at a five-year low, with rising exports eating into the stockpile, according to the U.S. Agriculture Department's  monthly World Agricultural Supply and Demand Estimates Report.
"The outlook added fuel to a weeks-long rally that stemmed from a pick-up in export demand from China. Chicago Board of Trade soybean futures surged to their highest in more than 2-1/2 years after the report was released while corn hit a one-year top," the Reuters article said.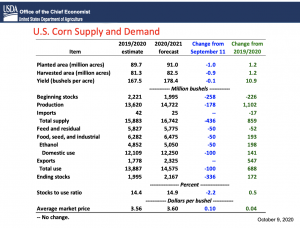 And Donnelle Eller reported on the front page of Saturday's Des Moines Register that, "The number of crop acres that Iowa farmers are unable to harvest after the devastating August derecho has grown to 850,000, a new U.S. Department of Agriculture report showed Friday.
"That's a more than 50% increase from September, when the USDA had set the estimated loss to the Aug.10 derecho at 550,000 acres. The storm flattened crops with winds up to 140 mph. The damage was compounded in late summer with a drought that, at its peak, encompassed much of the state. The drought is once again expanding after some September rainfall.
"Iowa Agriculture Secretary Mike Naig said Friday he expects the number of lost acres will climb even more as growers move deeper into the harvest. 'I think we're going to find that more and more fields will be considered a total loss,' said Naig, who was helping his father harvest corn in northwest Iowa.
The Register article added that, "In all, Iowa farmers are forecast to harvest 12.7 million acres of corn, Friday's USDA report showed. In August, growers had expected to harvest nearly 13.6 million acres.
"Average corn yields in Iowa will drop to 186 bushels per acre, the USDA estimated, down from forecasts of 191 bushels in September and 202 bushels in August.
Also last week, Bloomberg writers Michael Hirtzer and Megan Durisin reported that, "On the same day the World Food Programme was awarded the Nobel Peace Prize for its fight against hunger, fresh numbers from the U.S. government showed that tighter crop supplies could worsen the food-inequality crisis that's sweeping the globe.
"In its hotly watched monthly crop report, the U.S. Department of Agriculture on Friday said world soybean stockpiles will be smaller than expected, signaled growing competition over global wheat shipments and highlighted dry weather as a threat to crops in parts of South America and Europe.
"Taken together, the report indicated that global food prices could keep climbing, making adequate nutrition more expensive as millions are thrown out of work and economic woes deepen."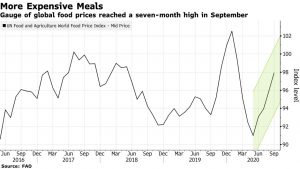 Meanwhile, Wall Street Journal writers Kirk Maltais and Will Horner reported last week that, "Wheat prices have hit their highest level in over five years in reaction to scorching weather, concerns over food insecurity brought on by the coronavirus pandemic and the lockdowns put in place to fight it.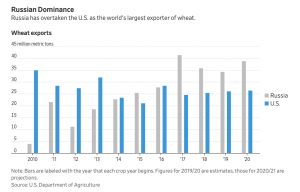 "Extreme dryness and heat in the world's breadbaskets, including Russia and the U.S., are key factors in the price surge. The virus has driven strong demand for basic foodstuffs, posed logistical challenges to harvests and snarled supply chains."
Source: Keith Good, Farm Policy News