Senate Ag Committee Hearing-Monetizing Voluntary Conservation Practices
June 25, 2020
On Wednesday, the Senate Agriculture Committee held a Legislative Hearing to Review S. 3894, The Growing Climate Solutions Act of 2020.
In his opening remarks, Committee Chairman Pat Roberts (R., Kans.) stated that, "S. 3894 would assist growers in monetizing voluntary conservation practices on their farms, ranches, forests, and businesses.
This legislation establishes a program at the Department of Agriculture to certify third party technical service providers who assist farmers to capture carbon credits through voluntary conservation practices.
Chairman Roberts added that, "Maintaining the health of our planet for future generations is, of course, of paramount importance. So is feeding the billions of people that populate the Earth today and in the years ahead.
"In order for these two distinct needs to be met, there must be meaningful acknowledgement and support for the role technology plays in feeding more and more hungry people. Growing demand and production must be balanced with consideration for impacts on soil, water, and other natural resources."
Committee Ranking Member Debbie Stabenow (D., Mich.) pointed out that, "While farmers are uniquely affected by the climate crisis, they are also an important part of the solution. With the right support, our producers can cut down on their emissions and benefit from the adoption of practices to store more carbon in soil and trees. This is good for the environment and good for a farmer's bottom line."
Sen. Stabenow noted that she and Sen. Mike Braun (R., Ind.) "introduced the bipartisan Growing Climate Solutions Act to help farmers and foresters scale up sustainable practices and make money through voluntary carbon markets."
"Carbon markets offer agricultural producers an opportunity to create additional revenue streams. With all the uncertainty from COVID-19, trade, and weather, farmers need new market opportunities now more than ever," Sen. Stabenow said.
She added that, "At the same time, companies across the country are looking for ways to offset their emissions through carbon markets."
American farmers, ranchers, and foresters have a proud history of embracing voluntary conservation. By monetizing sustainable practices, we can create new income for farmers AND protect our air, water, and soil. #VA07https://t.co/gf0VbAAvt0— Rep. Abigail Spanberger (@RepSpanberger) June 24, 2020
A related news release Wednesday from Rep. Don Bacon (R., Neb.) indicated that he and Rep. Abigail Spanberger (D, Va.) announced plans to introduce the Growing Climate Solutions Act in the House.
Chairman @SenPatRoberts has hit the gavel to begin today's hearing featuring stakeholder perspectives on S. 3894, the Growing Climate Solutions Act of 2020, introduced by @SenatorBraun and cosponsored by Ranking Member @SenStabenow. Watch live: https://t.co/F9EDMUru0M. pic.twitter.com/0StxIqEYRg— Sen. Ag Republicans (@SenateAgGOP) June 24, 2020
In testimony before the Committee, American Farm Bureau President Zippy Duvall stated that, "With trade challenges and the impacts of the COVID-19 pandemic, America's farmers and ranchers are facing difficult headwinds. As we continue to work with Congress, we must explore new markets and opportunities for our members. Our policy crafted by our grassroots members, hardworking farmers and ranchers, recognize the value of market-based incentives and compensation to farmers for planting crops or adopting farming practices that keep carbon in the soil. That is why we welcome opportunities for farmers and ranchers to hopefully participate in emerging carbon markets."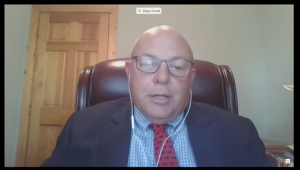 And Rob Larew, President of the National Farmers Union, explained that, "Carbon markets with strong private sector participation can create a sustainable revenue stream for farmers as they work to sequester carbon—in many ways treating carbon sequestration as a commodity that can be traded and sold."
Mr. Larew also noted that, "Farms and ranches are also well positioned to contribute to a clean energy future thorough the production of renewable energy and biofuels, which will be key in ensuring the United States' long-term energy security."
Thank you @SenAmyKlobuchar for giving @NFUDC's Rob Larew a platform to speak not only to biofuels strategic role in combating climate change, but also to the negative impact small refinery exemptions are having on the industry and rural America as a whole. pic.twitter.com/p8CHwESsNc— Growth Energy (@GrowthEnergy) June 24, 2020
DTN Ag Policy Editor Chris Clayton reported on Wednesday's hearing and stated that, "More than 50 groups support the legislation, including the American Farm Bureau Federation and National Farmers Union. The National Pork Producers Council issued a release Wednesday backing the bill as well.
Studies have pointed to carbon markets as potentially creating a $5-billion or more market for carbon sequestration on agricultural ground. Such farm practices, if more widely implemented because of market incentives, also could lead water-quality improvements by reducing nutrient runoff in streams and rivers as well.
Mr. Clayton explained that, "Right now, some markets for carbon sequestration are again developing, but the markets lack a unifying standard or guidelines to follow. The Senate bill, if it were to become law, would set those standards through USDA. Third-party certifiers would be established, as well as an advisory council on carbon-sequestration practices at USDA."
Meanwhile, Financial Times writer Gregory Meyer reported on Thursday that, "The rise of industrial-scale livestock farms in the US has put cheap meat on consumers' plates, but it also has environmental costs. Among them are emissions of methane.
"The powerful greenhouse gas forms when wet dung decomposes anaerobically in open slurry pits, a design feature of larger swine and dairy operations.
"In the US, some farmers and utilities are trying new ways to capture the waste gas and convert it to fuel. 'Renewable natural gas' builds on the established technology of biogas, further refining it for shipment on commercial pipelines."
The FT article stated that, "In North Carolina, home to 9.2m pigs, the OptimaBio company collects waste gas from custom-built manure digesters on five pig farms. Pipes send the gas to a centralised plant where it can be purified and pressurised for sale to Duke Energy, a utility. OptimaBio pays the farmers for the fuel.
'It's a new agriculture revenue stream for those farmers beyond what they've traditionally realised in corn or beans or peanuts or pigs,' says Mark Maloney, OptimaBio's chief executive.
"Smithfield Foods, the world's largest pork producer, has since expanded on the concept. The Virginia-based company, a holding of WH Group of Hong Kong, has formed joint ventures to gather, process and sell methane from manure. One joint venture with the utility Dominion Energy plans to invest $500m in RNG by 2028, starting with projects in North Carolina, Virginia and Utah and exploring others in Arizona and California."
Source: Farm Policy News