Record High U.S. Red Meat Production in October
December 1, 2020
Bloomberg writer Dominic Carey reported earlier this month that, "U.S. red-meat production surged to a record in October, months after the coronavirus disrupted slaughterhouses.
"Production reached 5.09 billion pounds, up 8.1% from September and 0.4% from a year earlier, U.S. Department of Agriculture data showed [on November 19th]. That marked the highest since the monthly data started in 1944."
The Bloomberg article stated that, "In May, output dropped to a five-year low after workers at companies including Tyson Foods Inc. and Smithfield Foods Inc. fell ill from the Covid-19 outbreak.
"Beef accounted for 2.47 billion pounds in the October data with pork at 2.6 billion. Heavier animal weights boosted output."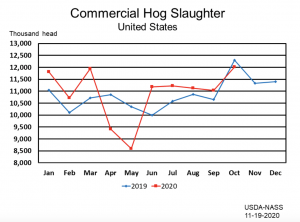 Meanwhile, Reuters writers Hallie Gu and Dominique Patton reported on Friday that, "In a supermarket in downtown Beijing, refrigerator shelves normally filled with steak from around the world sit empty as tougher testing for the novel coronavirus creates supply bottlenecks and raises prices for importers.
"Fresh supplies of beef won't arrive for days, a salesman at the Suning.com-owned Carrefour outlet told Reuters – if then. That's a big setback for the industry at traditionally one of its busiest times of the year."
The Reuters article explained that, "China began testing batches of imported chilled and frozen meat and seafood for the coronavirus in June, but significantly ramped up its inspections early this month after port workers in several cities tested positive for COVID-19, the disease caused by the virus.
"The new measures, which include testing much more product than before and additional disinfection, are raising costs for importers while adding time and layers of red-tape in an industry used to working at speed to guarantee freshness.
"The move is especially hurting the booming beef trade, worth $8.65 billion last year and growing rapidly, as some importers cut purchases on rising costs and weaker demand caused by consumers' coronavirus worries."
More narrowly regarding U.S. beef exports, in its Livestock, Dairy, and Poultry Outlook report earlier this month, the USDA's Economic Research Service (ERS) stated that, "Beef exports in September totaled 239 million pounds, down 6 percent from a year earlier. The fourth-quarter beef export forecast was raised to 770 million pounds on improved demand expected from major trading partners and China. The trade forecasts for 2021 were unchanged from last month."
ERS added that, "Similar to last month, U.S. beef exports to China set another record at 12.6 million pounds, up 2 million pounds from the August record."
Source: Keith Good, Farm Policy News