Phase-One Deal Set for January 15th, as Chinese Imports of U.S. Soybeans Surge in November
January 2, 2020
Phase-One Trade Deal Set for January 15th
Wall Street Journal writers Bob Davis, Andrew Restuccia and Lingling Wei reported on Tuesday that, "President Trump said he would sign the recently negotiated phase-one trade deal with China in Washington on Jan. 15—marking a formal truce in the U.S-China trade war—and would later travel to Beijing to negotiate a broader pact.
"The president said in a Tuesday morning tweet that he would be joined at the White House signing by 'high level' Chinese officials, whom he didn't identify. China has been represented by Vice Premier Liu He during the nearly two years of talks. Mr. Trump also pledged to travel to Beijing to begin negotiations on the second phase of the trade deal 'at a later date.'

Donald J. Trump
✔@realDonaldTrump
I will be signing our very large and comprehensive Phase One Trade Deal with China on January 15. The ceremony will take place at the White House. High level representatives of China will be present. At a later date I will be going to Beijing where talks will begin on Phase Two!8:16 AM – Dec 31, 2019
"The two sides said Dec. 13 that they had reached a first-stage deal in which China would greatly increase its purchases of farm goods and other U.S. exports, and liberalize its economy somewhat."

CNBC
✔@CNBC
The phase one trade deal with China is "in the bank." White House trade advisor Peter Navarro says there are other trade deals to come in 2020. https://cnb.cx/2F7Bgkz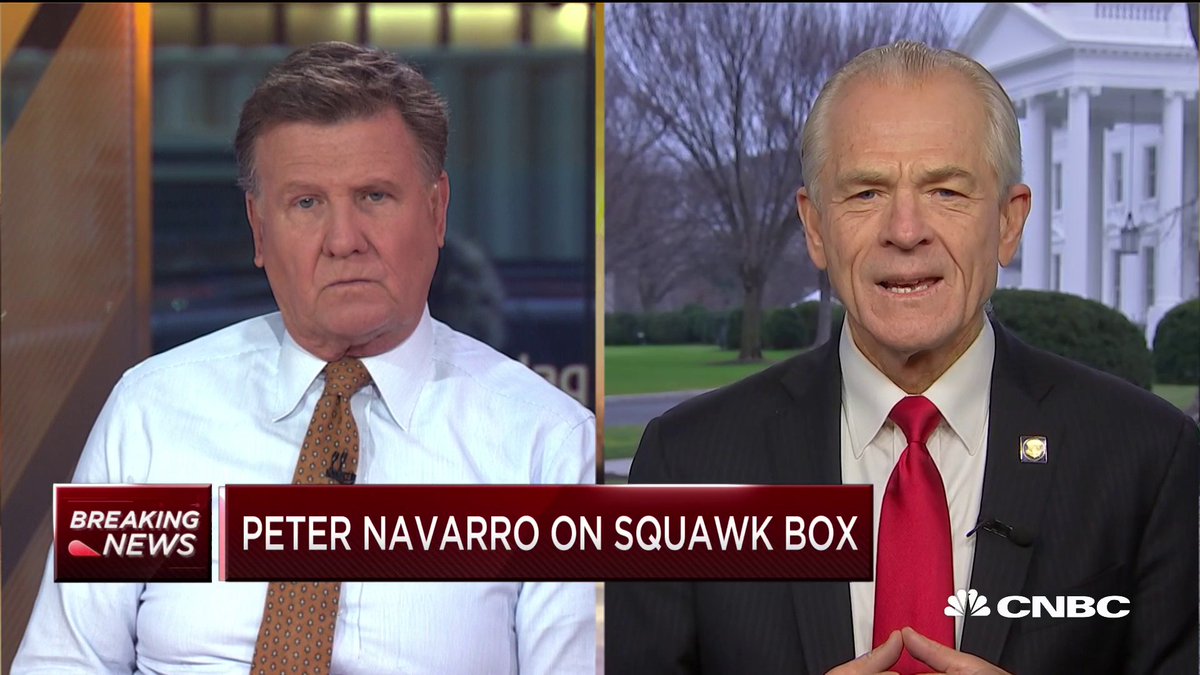 Also on Tuesday, New York Times writer Alan Rappeport reported that, "In announcing the agreement, the United States said that China's farm purchases were expected to grow to at least $40 billion annually over a period of two years and that total exports of food, energy, manufactured goods and services to China would increase by a total of $200 billion. Chinese officials, however, have remained vague when describing what they agreed to buy and on what timeline.
Details on China's purchase commitments could be left out of the text of the agreement that is made public because officials have been concerned that commodities markets could be distorted if such information is released. The deal is expected to have some flexibility so that China can tailor its purchases to market demand.
Mamta Badkar pointed out on Tuesday at The Financial Times Online that, "Having made progress on a trade truce with China and enacted the USMCA agreement with Canada and Mexico to replace Nafta, the Trump administration may now have more time to focus on the EU."
And Washington Post writer Jeff Stein reported on Tuesday that, "A move from China to purchase more U.S. farm and energy products may not be enough to offset the heavy losses that many farmers experienced during the trade war, particularly in politically crucial swing states in the Midwest. U.S. soybean producers and other farmers have seen a sharp curtailment of their ability to sell to Chinese consumers."
However, with respect to the Market Facilitation Program trade mitigation payments, Washington Post writers Andrew Van Dam and Laris Karklis pointed out this week that, "Without government assistance, U.S. farm income would have fallen about $5 billion from its already-low 2018 level. So the $14.5 billion in bailout funding announced so far represents a substantial reversal of fortune. About three-quarters of the funding already has been distributed."
The Post article added that, "'If the trade deal is signed and it's real, I think we're going to be looking at a China-driven miniboom in the ag sector,' [University of Illinois economist Scott Irwin] said. He then clarified that if the United States somehow really did sell as much as $50 billion in agricultural commodities to China, that miniboom would upgrade to a 'full-scale boom.'
"'I don't even know how we'd get to that number,' Irwin said."
Some Trade Action by China, While Soybean Imports Increase in November
China has taken some action with respect to agricultural trade since the announcement of the initial trade agreement with the U.S.
On December 23rd, The Wall Street Journal reported that, "China will cut import tariffs for frozen pork, pharmaceuticals and some high-tech components starting from Jan. 1, a move that comes as Beijing and Washington are trying to complete a phase-one trade deal."
"The lower levies will apply to frozen pork, as China aims to shore up its meat supplies amid an outbreak of swine fever," the Journal article said.
And Bloomberg News reported earlier this week that, "China approved a new strain of genetically modified soybeans developed by a U.S. company, a move that could bolster looming trade talks.
"The variety approved for import is an insect-resistant soybean from Dow AgroSciences LLC, according to a list published by China's agriculture ministry on Monday. The nation also approved a new type of GMO papaya and renewed permits for 10 crop varieties, including corn and canola."
'The news helps confirm China's opening of its market to U.S. GMO products and dropping additional non-tariff barriers,' said John Payne, senior futures and options broker at Daniels Trading in Chicago.
Meanwhile, Associated Press writers Josh Funk, Paul Wiseman and Joe McDonald reported last week that, "Chinese imports of U.S. soybeans more than doubled in November after the Phase 1 agreement was initially announced in mid-October — a sign that reduced tensions might have begun to ease the strain on American farmers, according to AWeb.com, a news website that serves China's farming industry."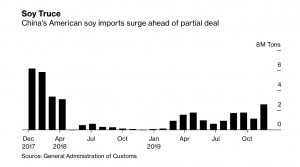 Bloomberg writer Michael Hirtzer reported on Monday that, "The year is ending on a high note for American soybean farmers, with prices on pace for their best monthly performance since 2016."
"Soy futures were on course to gain more than 8% in December, the biggest monthly advance for a most-active contract since April 2016," the Bloomberg article said.

Farm Policy@FarmPolicy
Daily #Grain Review- Tuesday, Dec. 31, 2019, https://bit.ly/2ZJffSh @USDA_AMS
* #corn, #soybeans -Central #Illinois.
* 2019, 2018, and five-year average.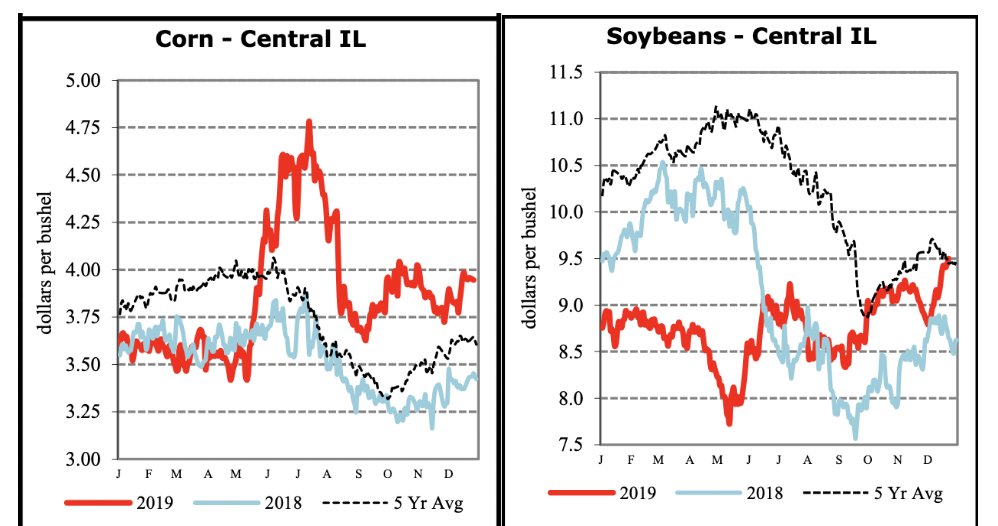 More broadly, Bloomberg writers Isis Almeida and Michael Hirtzer reported last week that, "In the agriculture world, news of the partial U.S.-China trade deal has sparked a lot of buzz about soybeans. It turns out, wheat could actually end up being a bigger surprise winner.
"Speculation is mounting that China will work to fill its wheat-buying quota as part of the detente, a pledge it failed to stick to in the past. While the allotment, set by the World Trade Organization, could be filled by supplies from any country, it still means additional global demand at a time the market is tighter."
Source: Keith Good, Farm Policy News