On Ethanol, President Trump Plans to Regain Farmers' Trust
September 5, 2019
Late last month, Des Moines Register writer Stephen Gruber-Miller reported that, "Gov. Kim Reynolds called President Donald Trump 'an advocate for farmers' on [August 27th], but said he may not have understood the damage caused by the ethanol waivers his administration granted.
"Earlier this month, the U.S. Environmental Protection Agency granted waivers to 31 oil refineries, letting them off the hook from a requirement to blend 1.4 billion gallons of ethanol and biodiesel into their fuel.
Those exemptions are the latest of the 85 total waivers for refineries that Trump's administration has issued since taking office, resulting in an estimated loss of 4 billion gallons of renewable fuel from required use. Industry groups say the exemptions are driving 15 ethanol plants to close nationwide, including one in Iowa. Others are throttling back production.
The article noted that, "[Gov. Reynolds] said the ethanol mandate may be hard on some small oil refineries but, 'we also have a Renewable Fuel Standard that was passed in 2007 that federally mandates the floor be 15 billion gallons of regular ethanol, and so we can't continue to lower the floor and expect the industry to survive and continue to grow.'"
Last week, Reuters writers Humeyra Pamuk and Rajesh Kumar Singh reported that, "U.S. President Donald Trump will announce a plan to boost demand for biofuels within weeks, his secretary of agriculture said on [August 28th], as the administration seeks to assuage farmers angered by its expanded use of oil refinery waivers."
"The Trump administration has scrambled Cabinet members for several weeks now to churn out a plan that would quell the uproar among the farmers, who say the biofuel waivers granted by the Environmental Protection Agency to small refining facilities undermine demand for the corn-based fuel. The EPA announced this month a decision to grant 31 biofuel waivers to refineries facing financial hardship," the Reuters article said.
The Reuters article noted that, "'That is really something the president is working very hard on. I think he wants to deliver that news himself,' Secretary of Agriculture Sonny Perdue told an audience at the Illinois Farm Progress Show.
'If you're asking when that can be announced, I think over the next couple of weeks. They're trying to work on the president's schedule. I think he'd like to come out here and face the community and deliver the news himself,' Perdue said.
Also last week, Bloomberg writers Mario Parker and Jennifer A Dlouhy reported that, "American agricultural groups are pushing Donald Trump to swiftly boost quotas for grain-based biofuels amid a growing backlash against the administration in the U.S. corn belt.

Donald J. Trump✔@realDonaldTrump
The Farmers are going to be so happy when they see what we are doing for Ethanol, not even including the E-15, year around, which is already done. It will be a giant package, get ready! At the same time I was able to save the small refineries from certain closing. Great for all!
"The groups want bigger, specific gallon-based commitments from the administration after it granted waivers allowing some oil refiners to sidestep a biofuel blending mandate, according to people familiar with the matter who asked not to be named detailing private conversations."
The Bloomberg writers indicated that, "Ethanol advocates and farmers want the administration to send an immediate signal to the marketplace to blend more biofuels, said Monte Shaw, head of the Iowa Renewable Fuels Association."
These "small refinery exemptions" have been granted to some of the world's largest oil companies like Andeavor, Chevron, Exxon, & Carl Ichan's CVR. I called for a federal investigation into the misuse of these #biofuel waivers that are hurting Iowa farmers and rural communities. https://twitter.com/realDonaldTrump/status/1167064301565358080 …Donald J. Trump✔@realDonaldTrumpThe Farmers are going to be so happy when they see what we are doing for Ethanol, not even including the E-15, year around, which is already done. It will be a giant package, get ready! At the same time I was able to save the small refineries from certain closing. Great for all!
Last Thursday, Associated Press writers Steve Karnowski, Scott McFetridge and Julie Pace reported that, "While Iowa farmer [Randy Miller] saw Trump's brinkmanship with China as a necessary gamble to help American workers, the ethanol waivers smacked to him of favoritism for a wealthy and powerful industry — Big Oil.
"'That's our own country stabbing us in the back,' Miller said. 'That's the president going, the oil companies need to make more than the American farmer. … That was just, 'I like the oil company better or I'm friends with the oil company more than I'm friends with the farmer.'"
"But the patience of Miller and many other Midwest farmers with a president they mostly supported in 2016 is being put sorely to the test," the AP article said.
Family farmers who produce corn/soybeans work hard 2feed US&produce ethanol/biodiesel Famfarmers always seem 2b fighting BIG OIL 2get what law requires 4 RFS Im sick of this constant battle considering big oils been helped since discovered in 1859 +gets plenty of help frm taxcode
In addition, Donnelle Eller reported on the front page of Sunday's Des Moines Register that, "The waivers were the last straw for many farmers,  already hurting from an escalating trade war, a cold and wet spring that prevented millions of acres from being planted, and falling corn and soybean prices.
"The refinery exemptions have driven nearly two dozen ethanol and biodiesel plants to close nationwide, including an ethanol plant in Iowa and another just across the border in Minnesota.
"Other plants are throttling back production, cutting demand for millions of bushels of corn and soybeans, industry groups say."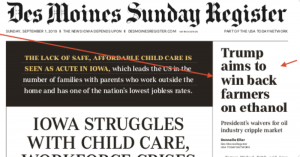 "Trump Aims to Win Back Farmers on Ethanol," by Donnelle Eller. Des Moines Register, Front Page (September 1, 2019).
Ms. Eller added that, "But farmers, renewable fuel producers and others question whether the president's response will be enough."
Meanwhile, Reuters writer Stephanie Kelly reported this week that, "The American Petroleum Institute on Tuesday urged the Trump administration to reject proposals floated by U.S. farmers and ethanol producers to boost ethanol demand, the latest development in the clash over biofuel policy."
Thank you, @SenDuckworth, for supporting clean-burning biofuels and American agriculture.

We also appreciate your stance against the Trump administration's granting of so-called "small refinery exemptions".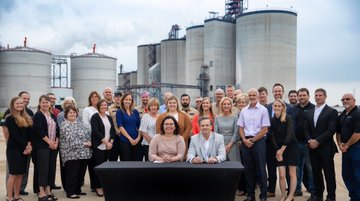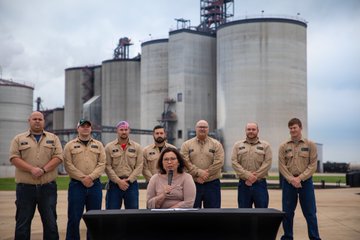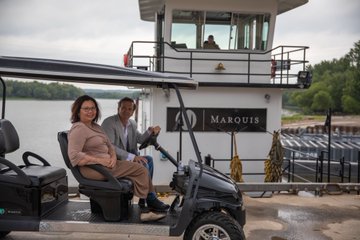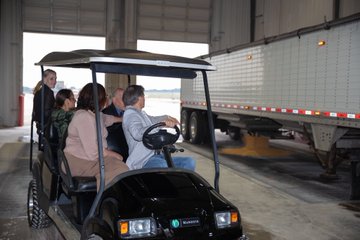 And Wall Street Journal writers Jacob Bunge and Kirk Maltais reported on Wednesday that, "The ethanol industry is suffering from weaker prices and oversupply as that pillar of the farm economy has been hurt by regulatory changes and the trade dispute with China.
"Producers of the corn-based fuel additive, including Green Plains Inc. and Poet LLC, have closed plants over the past year in Indiana, Iowa, Minnesota and other states. Companies such as the grain giant Archer Daniels Midland Co. are scaling back their ethanol business."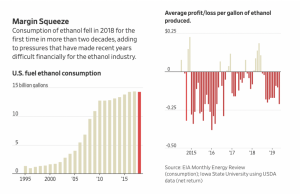 "Ethanol Industry Reels as Trade Dispute and Policy Changes Cut Demand," by Jacob Bunge and Kirk Maltais. The Wall Street Journal (September 4, 2019).
The Journal writers pointed out that, "Also hurting the industry is the trade dispute. China has halted ethanol imports from the U.S. that last year totaled 53.9 million gallons. That is less than 1% of U.S. output, but China was the fastest-growing foreign market for U.S. ethanol, according to the Renewable Fuels Association."
Wednesday's article also indicated that, "Brazil said Monday that it would increase its ethanol import quota to 750 million gallons, up from 600 million. The move is expected mostly to benefit U.S. ethanol producers, although groups such as the U.S. Grains Council criticized Mr. Trump for not securing a deal to eliminate the quota.
"U.S. ethanol consumption declined last year for the first time in over two decades. Ethanol producers have on average lost money on every gallon produced since July 2018, according to estimates from Iowa State University."
Source: Keith Good, Farm Policy News