Legal Issues Surrounding RFS Small-Refinery Exemptions Persist
December 11, 2020
On Tuesday, DTN's Todd Neeley reported that, "A coalition of ethanol and agriculture interests asked a federal court on Monday to vacate EPA's granting of 31 small-refinery exemptions in 2018, alleging the agency did not conduct the proper review of those requests.
In all, the groups asked the U.S. Court of Appeals for the District of Columbia Circuit to restore about 1.43 billion gallons of ethanol demand to the Renewable Fuel Standard, according to EPA's own estimates of biofuels not blended in gasoline as a result of the exemptions.
"Growth Energy, Renewable Fuels Association, National Corn Growers Association, National Biodiesel Board, American Coalition for Ethanol, and National Farmers Union asked the court in a brief to require the agency to add the exempted gallons back into the 2021 volume requirements."
Mr. Neeley added that, "In its decision at the time, the EPA announced categorically granted full exemptions for the 2018 petitions.
"The brief said EPA granted full exemptions to 2018 petitions where the U.S. Department of Energy recommended 100% relief citing 'disproportionate economic hardship' as a reason. Also, the EPA granted full exemptions for refineries where DOE recommended just 50% relief."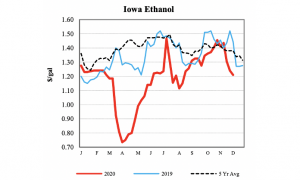 Also Tuesday, Reuters writer Stephanie Kelly reported that, "The brief borrows arguments from a successful case that several members of the group had filed in the Tenth Circuit Court of Appeals. That case spurred controversy this year when the court sided with the biofuel industry and cast doubt on the legitimacy of the waiver program.
"The biofuel industry claims the waivers hurt demand for corn-based ethanol; the oil industry disputes that and says the exemptions are needed to keep small refineries afloat.
"Under U.S. law, refiners must blend billions of gallons of biofuels into their fuel, or buy tradable credits from those that do. Small refiners have sought and obtained exemptions to the requirements if they prove compliance would cause them financial harm."
Meanwhile, Reuter's Stephanie Kelly reported Wednesday that, "The Trump administration has argued against a petition from oil refiners asking the U.S. Supreme Court to review a lower court decision that undermined the legitimacy of the Environmental Protection Agency's biofuel waiver program.
"Department of Justice officials said the court should not review the case as it does not conflict with any other Supreme Court or appeals court decision, according to the brief submitted on Dec. 8. The officials argued that the court could review the decision after a similar case is completed in the D.C. Circuit Court of Appeals."
Ms. Kelly explained that, "At issue is a January decision by the Tenth Circuit Court of Appeals that ruled that waivers granted to small refineries after 2010 should only be approved as extensions. Because most recipients of waivers in recent years have not continuously received them year after year, the decision threatened to upend the waiver program."
The Reuters article added that, "'The Tenth Circuit got it right the first time, and now refiners need to accept the reality that they must comply with the law,' said Geoff Cooper, president of the Renewable Fuels Association. 'It's time to move on.'"
Source: Keith Good, Farm Policy News