Global Food Markets "Well Balanced" During COVID-19 Outbreak, But Trucking Issues a Concern
April 6, 2020
The April edition of the Market Monitor, a publication from the Agricultural Market Information System (AMIS), stated that, "Despite much uncertainty caused by the rapid spread of COVID-19, global food markets remain well balanced: cereal stocks are expected to reach their third highest level on record this season and export availabilities for all AMIS crops are more than adequate to meet the anticipated demand."
The update cautioned that, "Nonetheless, given prospects of much weaker economic growth in many countries and turmoil in energy and currency markets, not to mention rising concerns over the impact of temporary lockdowns on both domestic logistics and international trade, G20-AMIS is closely monitoring the situation to promote policy dialogue and transparency."
Emiko Terazono, Heba Saleh, and John Reed reported last week at The Financial Times Online that, "Global wheat inventories for 2019-20 are expected to be 277m, slightly higher than the year before and 3 per cent above the five-year average, according to the UN Food and Agriculture Organization. World rice stocks are close to last year's record high, enough to cover four months' worth of demand."
The FT writers pointed out that, "Some exporting countries, especially those which have been hit by the turmoil in emerging market currencies, have taken steps to limit exports as they become worried about domestic food price inflation, which has worsened because of panic buying at supermarkets."
The FT article also indicated that, "Large importers have also been spooked by logistical bottlenecks including a lack of truck and train drivers and port staff in France, another leading wheat exporter."
Also last week, Reuters writer Gus Trompiz reported that, "Analysts say global supplies of the most widely consumed food crops are adequate. Wheat production is projected to be at record levels in the year ahead."
The article explained that, "Food firms say panic purchasing is subsiding as households have stocked up and are adjusting to lockdown routines.
The logistics to get food from the field to the plate, however, are being increasingly affected and point to longer-term problems. In the short-term, lack of air freight and trucker shortages are disrupting deliveries of fresh food.
On the issue of truck transportation, Bloomberg writers Thomas Black, Agnieszka de Sousa, and Matthew Boyle reported on Friday that, "Truckers hauling food are facing delays across the globe in the latest disruption to supply chains snarled by the coronavirus pandemic.
"They're enduring lengthy wait times in Europe because of restrictions that have been imposed to control the virus's spread. In South America, local laws have at times conflicted with country-wide ordinances that deem hauling food an essential service, leaving supplies sometimes stuck in storage. In parts of Africa, the shuttering of public transportation means drivers aren't even able to make it into work. And huge spikes in demand have caused lags for loading at some U.S. warehouses.
"Just about everywhere, drivers' access to critical services has been reduced or even cut off. It's getting harder to find places to eat with restaurants shut down and rigs too big to go through drive-thru lanes. A decent place to sleep, shower, even use a clean toilet is becoming difficult to track down."
The Bloomberg article noted that, "Demand for trucks in the U.S. has increased while efficiency has gone down due to longer distances traveled and the empty one-way hauls. That's prompted farm groups to call for relief on rules that restrict driving hours and weights."
Also with respect to transportation, Reuters writers Rajendra Jadhav, Naveen Thukral, and Nigel Hunt reported on Friday that, "There are too few truckers to keep goods moving. Air freight capacity for fresh produce has plummeted as planes are grounded. And there is a shortage of food containers for shipping because of a drop in voyages from China."
Meanwhile, Bloomberg writer Michael Hirtzer reported on Friday that, "Hog and pork prices have plunged since the release of data showing the biggest-ever U.S. pig herd and as the coronavirus outbreak keeps schools and restaurants closed.
"Chicago lean hog futures slumped 25% this week, the biggest such loss ever. The drop surpassed the worst losses from 1998, when the U.S. hog industry also was dealing with a glut."
And Reuters writer Jarrett Renshaw reported on Friday that, "The U.S. biofuel industry has asked the Trump administration for funds from the U.S. Department of Agriculture's Commodity Credit Corporation to help it survive a demand slump triggered by the coronavirus outbreak, according to a letter seen by Reuters.
"The funds could be used to offset a portion of the industry's corn and soy bean purchases, or as direct assistance to companies to help them retain staff, according to the April 1 letter addressed to Agriculture Secretary Sonny Perdue."
Rep Rick Crawford
✔@RepRickCrawford
In any next phase of relief or policies for America's economy, we are going to have to find some ways to ensure our Ag-producers are supported in every way possible. I am working on Ag-labor issues currently with many stakeholders. Critical to our national security! https://twitter.com/CBSThisMorning/status/1246043627463348228 …
CBS This Morning
✔@CBSThisMorning
The #coronavirus is hitting farmers hard. Some dairy farmers are being forced to dump their milk, instead of selling it, because of low demand with restaurants & schools closed. Other farmers are struggling to harvest crops, which could affect what you see at grocery stores.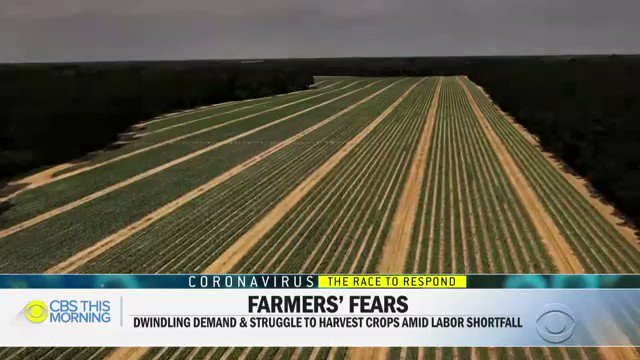 Also last week, Reuters writer P.J. Huffstutter reported that, "U.S. farmers need immediate financial help as the coronavirus continues to roil the nation's food supply chain, the American Farm Bureau Federation said on Friday, urging the Agriculture Department to make special direct payments to dairy and cotton producers, livestock farmers and cattle ranchers, among others."
The article indicated that, "The Farm Bureau asked that all sectors of U.S. agriculture benefit from the coronavirus stimulus bill passed in March, which added $14 billion to the USDA's Commodity Credit Corp's spending authority and authorized an additional $9.5 billion to help livestock producers, dairy farmers, specialty crop farmers and local agricultural groups."
Source: Keith Good, Farm Policy News