Focus on Logistical Disruptions for Food, as USDA Assistance Plan Expected Soon
April 16, 2020
New York Times writers Michael Corkery and David Yaffe-Bellany reported this week that, "The nation's food supply chain is showing signs of strain, as increasing numbers of workers are falling ill with the coronavirus in meat processing plants, warehouses and grocery stores.
"The spread of the virus through the food and grocery industry is expected to cause disruptions in production and distribution of certain products like pork, industry executives, labor unions and analysts have warned in recent days. The issues follow nearly a month of stockpiling of food and other essentials by panicked shoppers that have tested supply networks as never before."
The Times article stated that,
Industry leaders and observers acknowledge the shortages could increase, but they insist it is more of an inconvenience than a major problem. People will have enough to eat; they just may not have the usual variety. The food supply remains robust, they say, with hundreds of millions of pounds of meat in cold storage. There is no evidence that the coronavirus can be transmitted through food or its packaging, according to the Department of Agriculture.
"Still, the illnesses have the potential to cause shortages lasting weeks for a few products, creating further anxiety for Americans already shaken by how difficult it can be to find high-demand staples like flour and eggs."
Jayson Lusk
✔@JaysonLusk · Apr 14, 2020
What is the impact of COVID-19 pork plant closures? Here are USDA data on estimated pork slaughter numbers; down almost 30% compared to last year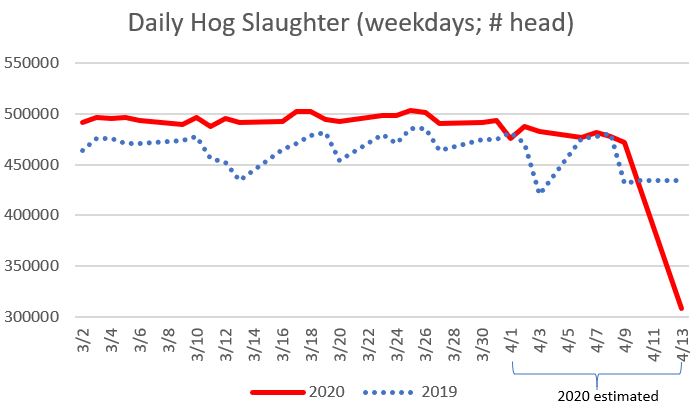 Jayson Lusk
✔@JaysonLusk
Here are USDA data on estimated cattle slaughter numbers; down about 24% compared to 2019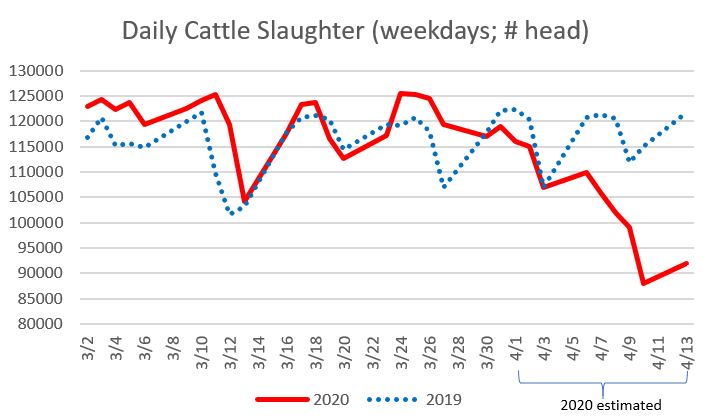 10:09 AM – Apr 14, 2020Meanwhile, Washington Post writer Laura Reiley reported this week that, "Experts agree there is no aggregate shortage of food or other retail items offered at the supermarket. But many factors are causing product deficits in particular regions and in particular stores.
"The biggest is that while about half of American expenditures for food used to be at restaurants and other such establishments, now almost all meals are being made in the home kitchen, so a distribution system that was built to supply restaurants with bulk items is struggling to adapt to far smaller packaging for home use."

Farm Policy@FarmPolicy
Spending on #food away from home continued to outpace food-at-home spending in 2018, @USDA_ERS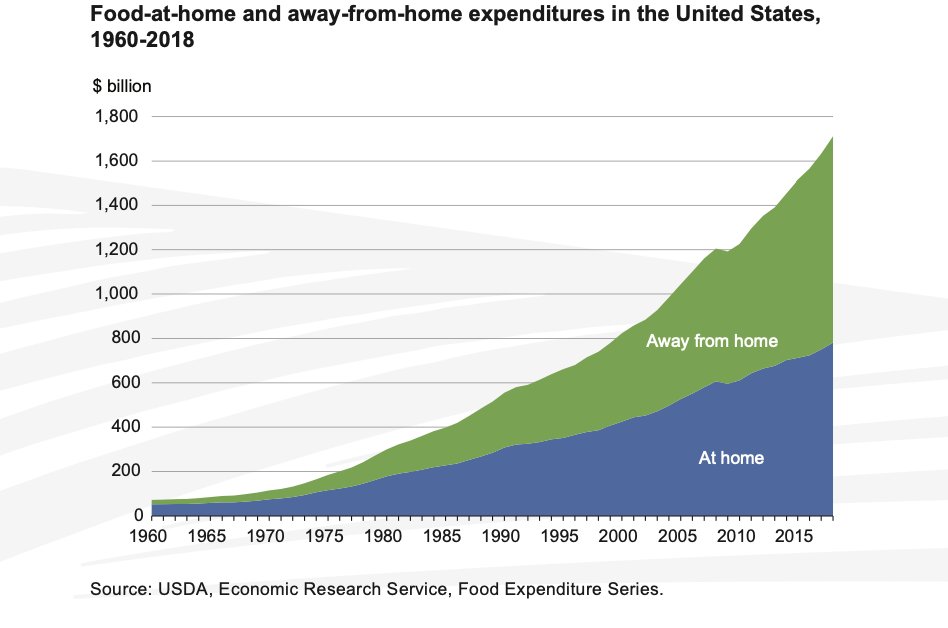 The Post article added that, "And finally, both in grocery stores and in the food distribution system, significant new efforts are being undertaken to protect workers — but they introduce delays and complications in getting food to its final destination."
The Post article noted that, "Jayson Lusk, head of the agricultural economics department at Purdue, said because agriculture is seasonal, commodity grains and meats were produced months and months ago, but that the real vulnerability lies in the people.
'We have plenty of hogs, chickens and cows. But they all have to go through these packing plants that are big enough that if one closes down because workers get sick, it's not a trivial amount.'
And Bloomberg writers Deena Shanker and Lydia Mulvany reported this week that, "As American meat producers are forced to shutter and slow output at plants amid coronavirus outbreaks, the U.S. government is giving companies a green light to run some facilities at higher speeds — something experts and labor advocates have long said is dangerous for workers.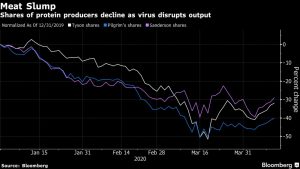 "In April, the U.S. Department of Agriculture's Food Safety and Inspection Service allowed five poultry plants — two owned by Tyson Foods Inc., and three by Wayne Farms LLC — to run their slaughter lines at higher speeds. The agency also gave approval to Foster Farms in March."

The Hill
✔@thehill
Tom Vilsack, President, U.S. Dairy Export Council: "There's not a shortage. There's plenty of food being produced, it's a question of making sure that we meet the supply and the demand at the same point. Right now there's a misalignment."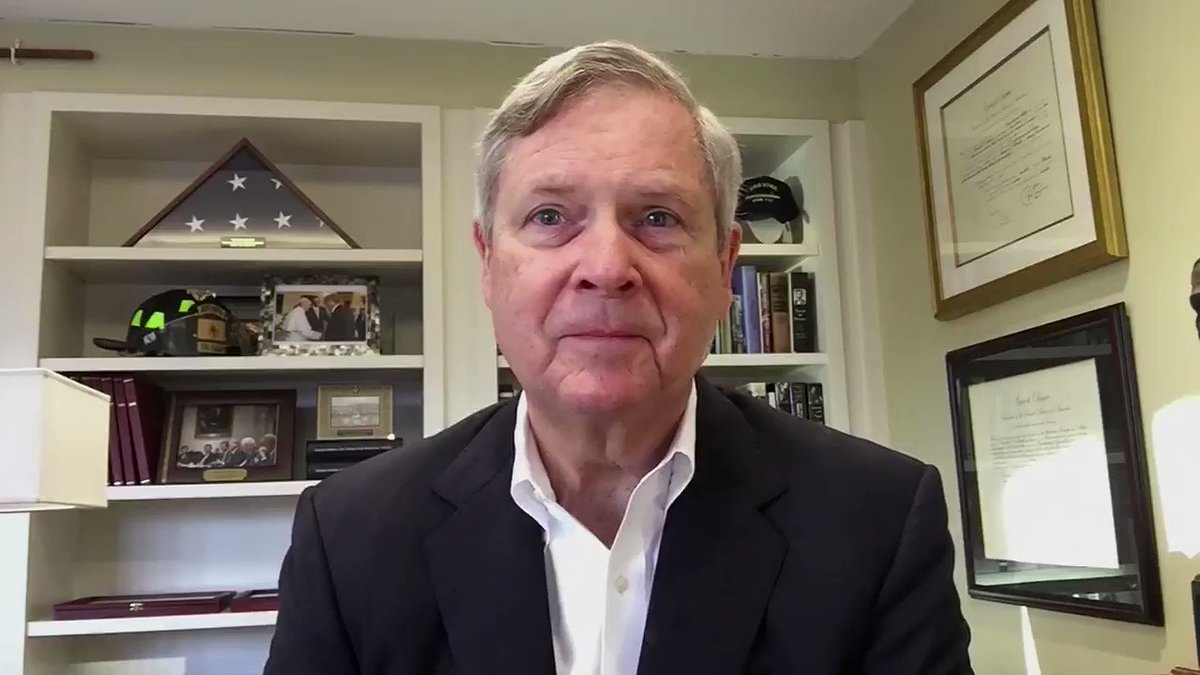 Also with respect to food issues, Washington Post writer Heather Long reported this week that, "The U.S. government has started sending $1,200 checks to Americans to help ease the financial pain caused by shutting down the economy to fight the deadly coronavirus. By Wednesday, 80 million people are expected to receive a direct deposit in their bank account, Treasury Secretary Steven Mnuchin said."
"Early evidence indicates Americans are using the money to buy the basics, including food and gas."
More narrowly on the negative impacts COVID-19 is currently having on agricultural production, DTN writer Todd Neely reported this week that, "A backup of hog supplies on farms across the country as restaurants and food services are closed during the COVID-19 pandemic has sent the industry into a tailspin.
With high expectations for exports, analysts had expected 2020 to be a profitable year for pork producers. Instead, the coronavirus now has the industry on track for at least $5 billion in losses, absent a cash influx during the pandemic.
The DTN article stated that, "An analysis conducted by Dermot Hayes, an economist at Iowa State University, and Steve Meyer, a pork industry economist with Kerns and Associates, found U.S. hog farmers can expect to lose nearly $37 per hog, or almost $5 billion collectively for hogs marketed for the rest of the year.
"Prior to the COVID-19 crisis, and after two challenging years, hog farmers were generally expecting a profitable year with industry analysts forecasting earnings of about $10 per hog on average for 2020."
On the issue of federal relief for farmers, Reuters writer P.J. Huffstutter reported this week that, "The U.S. Department of Agriculture will spend up to $15.5 billion in the initial phase of its plan to bolster the nation's food supply chain against the impacts of the coronavirus outbreak, according to three sources familiar with the matter.
"The plan, which could be announced this week, marks the Trump administration's first big push to ensure the pandemic doesn't trigger consumer food shortages as meat packers shutter, dairy producers dump milk, and farmers struggle to find workers to harvest, plant and deliver crops.
"The initial plan will include direct payments to farmers and ranchers, along with other support measures, using a portion of the $23.5 billion approved by Congress to support agriculture in a coronavirus stimulus bill last month, along with some existing USDA funds, according to the sources."
Source: Keith Good, Farm Policy News