Federal Stimulus Includes Money for Agriculture, as Farm Suppliers Accelerate Planting Input Deliveries
March 30, 2020
Wall Street Journal writers Siobhan Hughes and Natalie Andrews reported on Friday that, "President Trump signed a roughly $2 trillion stimulus package into law, hours after House lawmakers hustled back to the Capitol to pass the aggressive response to the coronavirus pandemic that has staggered the U.S. economy.
"The bill is the largest relief package in U.S. history and extends aid to many struggling Americans through direct payments and expanded unemployment insurance. The package provides loans and grants to businesses, augments drained state coffers and sends additional resources to sapped health-care providers."
The Journal writers noted that, "The measure passed the Senate 96-0 earlier in the week and had overwhelming support in the House as well."
More specifically on agricultural provisions in the stimulus measure, Wall Street Journal writers Jesse Newman and Kirk Maltais reported last week that, "The bill directs more than $48 billion to agriculture and nutrition programs, helping cushion the blow for producers reeling from the latest in a string of hits to the U.S. farm economy, as prices sank for corn, soybeans, wheat and cattle. 'Our markets have been very depressed such that it's questionable whether a person can make a living at these levels,' said Illinois grain farmer Paul Rasmussen, 68.
The law designates $14 billion to replenish the Commodity Credit Corp., a Depression-era program designed to stabilize farm incomes, and $9.5 billion to support producers of specialty crops, livestock and dairy, as well as those who supply farmers markets, restaurants and schools.
Eric Lipton and Sharon LaFraniere reported in Saturday's New York Times that, "After providing nearly $26 billion in aid to farmers over the past few years to offset losses from President Trump's trade war with China, the administration now has another giant new pot of money to pass out to them with little or no oversight, courtesy of the $2 trillion coronavirus stimulus package.
"The legislation, given final passage by the House on Friday and quickly signed into law by Mr. Trump, allocates as much as $23.5 billion in assistance for farmers and gives broad leeway to Agriculture Secretary Sonny Perdue to direct it where he sees fit."
Senator John Hoeven✔@SenJohnHoeven
Our farmers & ranchers have continued to supply our nation with the highest-quality, lowest cost food supply in the world despite the challenges they face. Spoke with @Varneyco about the importance of the nearly $25 billion in assistance we secured in Phase III for ag producers.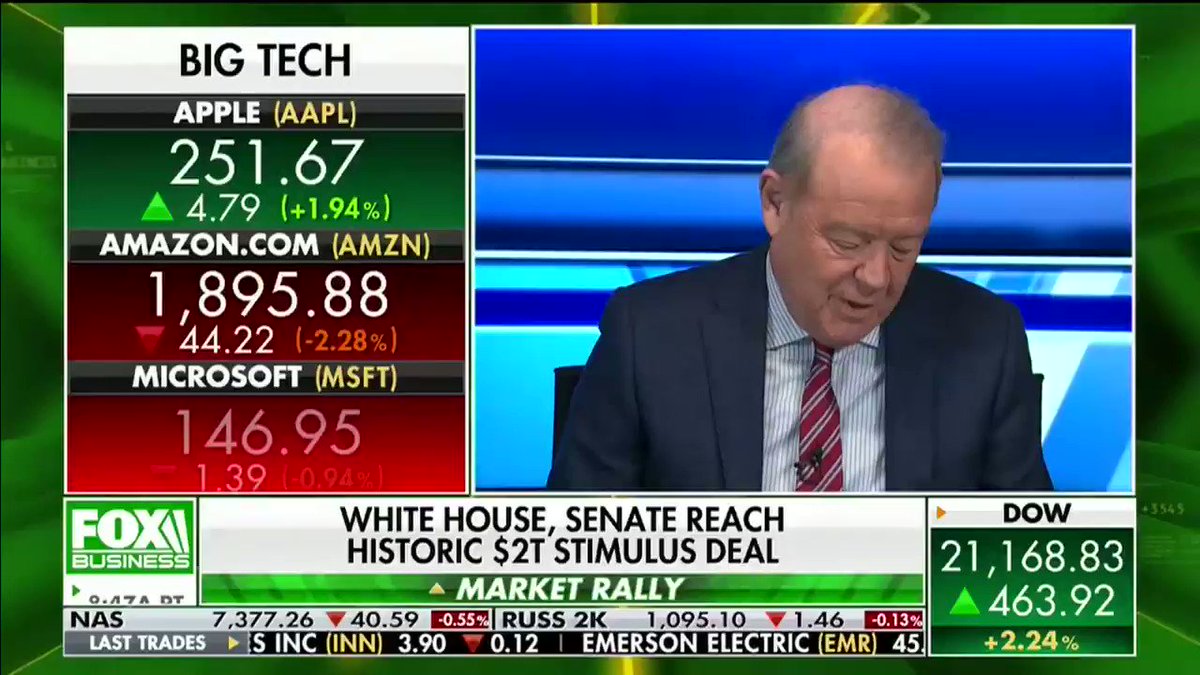 The Times article stated that, "The law provides Mr. Perdue with $9.5 billion to support farmers, including livestock producers, suppliers of farm markets and producers of specialty crops, and $14 billion in borrowing authority to replenish the fund he used to make trade-related payments to farmers in the past two years. The department's entire discretionary budget request for next year is about $23 billion.
"The Agriculture Department will also receive an additional $25.1 billion for food aid programs for poor families from the stimulus bill."
Senator John Hoeven✔@SenJohnHoeven
As the Chair of the Senate Ag Approps Committee, I know our farmers & ranchers are essential to the well-being of our nation. That's why we secured $23.5B in funding for @USDA to assist our ag producers. https://bit.ly/2WUU54D Hoeven: Senate Approves Phase III Coronavirus Relief Legislation With Nearly $25 Billion in…The Official U.S. Senate website of Senator John Hoeven of North Dakotahoeven.senate.gov
Saturday's article added that, "Seth Meyer, an agricultural economist with the University of Missouri, said the economic blow to agriculture from the virus could be harder to offset than the lost sales from trade policy."
The bottom line, he said, could be a bigger effect on farmers than that created by the trade friction with China — 'much bigger, potentially.'
Meanwhile, Emma Newburger reported on Saturday at CNBC Online that, "Now, the coronavirus pandemic has dealt another blow to a vulnerable farm economy, sending crop and livestock prices tumbling and raising concerns about sudden labor shortages.
"'We were already under extreme financial pressure. With the virus sending the prices down — it's getting to be the straw that broke the camel's back,' said Iowa farmer Robb Ewoldt."
The CNBC article noted that, "Corn farmers are getting hit especially hard. A combination of low oil prices and a sudden reduction in driving across the country has cut demand for ethanol. Corn is a primary input in ethanol production."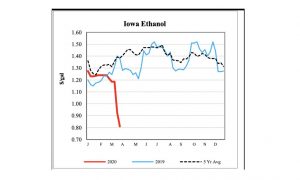 Reuters writer P.J. Huffstutter reported last week that, "Farmers financially hurt by coronavirus will have an easier time getting federal loans after the U.S. Department of Agriculture announced on Thursday it will relax its loan process.
"USDA's Farm Service Agency (FSA) said it also is extending deadlines for producers to deal with loans, including allowing financially troubled or delinquent farmers to be considered for loan deferral.
"As the rural sector struggles with volatile commodity prices, trade war woes, extreme weather patterns and now the spreading coronavirus pandemic, U.S. farmers have become increasingly reliant on the FSA for loan assistance. Agricultural lenders, too, are turning to the agency to help guarantee the loans they are issuing to farmers – whether for operational or real estate needs."
And as producers get ready for spring planting in the Corn Belt, Reuters writers Rod Nickel and Tom Polansek reported last week that, "North America's biggest farm suppliers are accelerating shipments of fertilizer, seeds and agricultural chemicals to crop-growing regions in an unprecedented race against the coronavirus that threatens to disrupt planting season.
The timing could not be worse for farmers preparing to plant crops. Disruptions in deliveries of fertilizer, seeds or chemicals could reduce harvests and incomes for U.S. farmers who were hoping this year to sell more crops to China under the terms of a trade agreement signed in January.
And with respect to labor issues, Wall Street Journal writer Michelle Hackman reported on Friday that, "The State Department is further easing requirements on seasonal foreign worker visas, following agriculture industry warnings that a bottleneck created by coronavirus-related curbs could prompt a farm-labor shortage at the peak of spring harvest.

H-2 visas are essential to our economy and food security. I am taking decisive action to keep visas flowing while keeping our team safe. Read more on the @TravelGov website: https://go.usa.gov/xv3CA 
"Under the latest rules, which the State Department issued Thursday, most applicants will no longer need an in-person interview to get visas for farm or other seasonal work, such as landscaping, fishing or working at resorts. That requirement had slowed the number of workers entering the U.S. The State Department paused most visa processing in embassies and consulates abroad due to the pandemic."
Source: Keith Good, Farm Policy News