Federal Reserve- Observations on the Ag Economy- November 2020
December 4, 2020
On Wednesday, the Federal Reserve Board released its November 2020 Beige Book update, a summary of commentary on current economic conditions by Federal Reserve District. The report included several observations pertaining to the U.S. agricultural economy.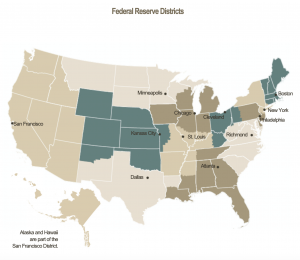 * Sixth District- Atlanta– "Agricultural conditions were mixed. While drought-free conditions prevailed in most of the District, some producers reported crop damage caused by recent hurricanes. Contacts noted increases in some agriculture commodity prices attributed to changes in supply and demand, the USDA Food Box program, and improved trade with China.
Some contacts also noted that increased federal assistance helped improve balance sheets.
"Cotton harvesting progressed, though below the five-year average pace, while soybean and peanut harvesting were near their five-year averages. The USDA reported year-over- year prices paid to farmers in September were up for rice, soybeans, cattle, and eggs, but down for corn, cotton, broilers, and milk. On a month-over-month basis, prices increased for corn, cotton, soybeans, cattle, and eggs, but decreased for rice, broilers and milk."
* Seventh District- Chicago– "Farm income beat expectations for the growing season, as prices for key agricultural commodities moved higher and government support continued. Corn, soybean, and wheat prices were up again, reflecting tighter stocks and increased exports.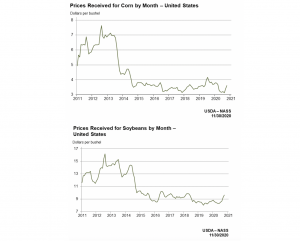 "With the harvest nearly over, most of the District saw above-trend corn and soybean yields. Most specialty crops had solid yields as well. Favorable weather conditions allowed farmers to complete field work that had been skipped in prior years because of poor weather. Dairy prices were mixed, but up on net. Hog and cattle producers also benefited from higher overall prices, but expressed concern about rising feed costs."
* Eighth District- St. Louis– "District agriculture conditions have remained unchanged since our previous reporting period. Production forecasts for corn, cotton, and soybeans have decreased, while cotton production forecasts have increased. Production levels for corn, rice, and soybeans are expected to be significantly higher than in 2019, while cotton production is expected to see a moderate decline. District contacts expressed optimism, citing higher-than-expected yields due to excellent weather conditions and a strong rebound in prices."
* Ninth District- Minneapolis–
Agricultural conditions improved slightly due to solid harvests, recent increases in prices for some commodities, and federal relief aid.
"Respondents to the Minneapolis Fed's third-quarter (October) survey of agricultural credit conditions mostly reported unchanged farm income compared with a year earlier, while the outlook for the fourth quarter was for increasing farm incomes."
* Tenth District- Kansas City– "The Tenth District farm economy improved moderately since the previous period alongside additional increases in agricultural commodity prices. Since early October, strengthening demand and downward revisions to production estimates led to sharp increases in corn and soybean prices and moderate increases in most other agricultural prices. Stronger profit opportunities than earlier in the year, in addition to substantial government payments to producers, supported farm sector finances. Although farm income generally remained low in aggregate, contacts reported lower rates of problem loans compared to a year ago. District contacts continued to express concerns, however, about the potential for renewed pressure in the months ahead, depending on the path of agricultural commodity prices, government support programs, and drought in some parts of the region."
* Eleventh District- Dallas– "Drought conditions intensified, particularly in the western part of the district. Contacts remained concerned about the La Niña weather pattern and a dry winter diminishing 2021 crop prospects. The harvest was wrapping up for 2020 row crops, and prices pushed above breakeven levels for most producers. The livestock sector was facing headwinds of lower cattle prices and higher feed costs. Contacts were more optimistic about the agricultural sector in general with stronger prices, solid export demand, and a more hopeful economic outlook."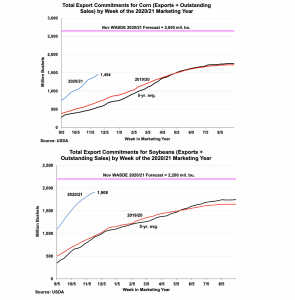 * Twelfth District- San Francisco– "Activity in the agriculture sector increased slightly. The harvest for most agricultural crops, including grains and potatoes, has been completed in the Pacific Northwest and California, and ample water supply has contributed to high yields. International demand for wheat, raisins, and nuts has increased recently due to droughts in other parts of the world as well as a slight depreciation of the dollar. Despite the increase in exports, inventories remained elevated, especially for raisins, nuts, and almonds."
Source: Keith Good, Farm Policy News