Farmers Could Encounter Planting Delays in 2020, But Less Severe Conditions Than Last Year Expected
March 24, 2020
Last week, New York Times writer John Schwartz reported that, "Brace for another flooded spring — but not one as bad as last year, forecasters from the National Oceanic and Atmospheric Administration warned on Thursday.
"'Flooding continues to be a factor for many Americans this spring,' with major to moderate flooding likely to occur in 23 states, said Mary C. Erickson, deputy director of the National Weather Service, in a call with reporters. The flooding should not be as severe, or last as long, as the ruinous conditions much of the country experienced last year, she said."
The most severe flooding is expected in parts of North Dakota, South Dakota and Minnesota, but the extent of high water could range from the Northern Plains to the Gulf Coast, she said.
The Times article stated that, "Farmers, hit hard by last year's heavy rainfall, can expect less severe conditions this year, but nonetheless could encounter 'significant planting delays in 2020,' said Brad Rippey, the Department of Agriculture meteorologist."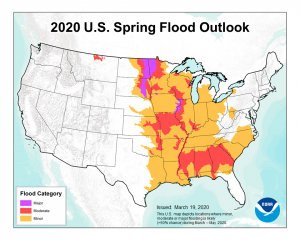 And Reuters writer Julie Ingwersen reported last week that, "The U.S. Climate Prediction Center projected above-normal precipitation in the Midwest and northern Plains for April through June, spanning the planting season for major crops such as corn and soybeans.
"'The overall forecast for spring certainly indicates that we will be again facing some possibly significant planting delays in the Midwest again in 2020,' Brad Rippey, a meteorologist with the U.S. Department of Agriculture, said on a conference call about the spring outlook. 'It looks like we are heading into a wet spring.'"
Also last week, Matthew Cappucci explained at The Washington Post Online that, "The Northern Plains and Upper Midwest are forecast to be most at risk, but flooding concerns stretch along the entire Mississippi River. As spring rains increase and snowmelt to the north surges into river basins, a number of rivers and streams may overflow their banks and inundate nearby land."
The Post article added that, "A number of areas are heading into spring flood season well ahead on rainfall (and snowfall), leading to saturated soils that will have a tougher time handling the imminent downpours of springtime. That could have an impact, especially for farmers."
VIDEO: What kind of #weather can we expect this #spring?

See these highlights from NOAA's 2020 #SpringOutlook, http://bit.ly/SpringOutlook2020 …

[Captioned version of video is online at: https://www.climate.gov/news-features/videos/us-flood-and-climate-outlook-spring-2020 …]@NWSCPC @NOAAclimate @NWS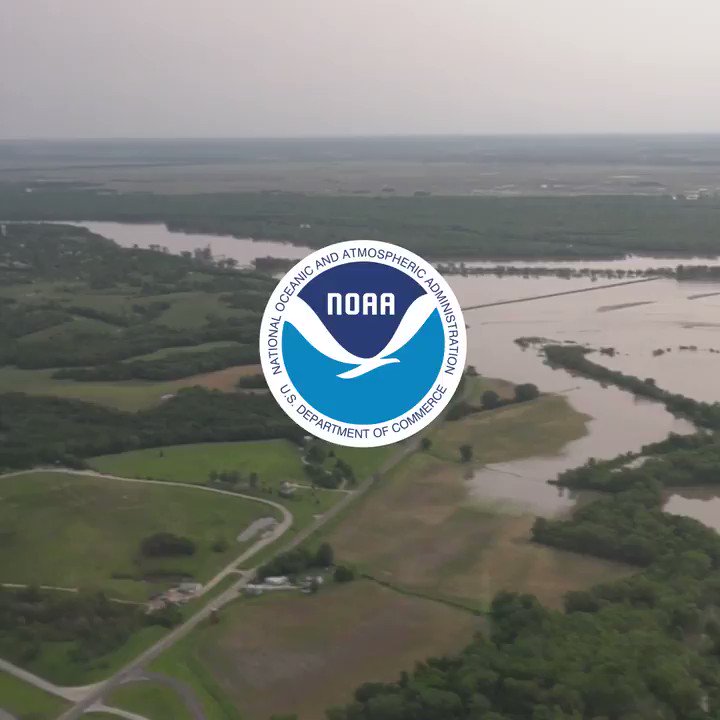 The Midwest Ag-Focus Climate Outlook indicated last week that, "The latter part of winter/early spring has been relatively quiet across northern areas of the region with several rains across the south and eastern Corn Belt."
The Outlook pointed out that, "The dryness and warmth has allowed for drying of soils and beginning of some early field work. Soils are still wetter than average nearly across the region and will continue to be a problem through the spring. Planting delays are still likely given current conditions and the outlooks. Soil temperatures have started to rebound. Frost still exists at depth in the northern states."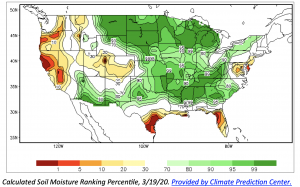 The Outlook also noted that, "Harvest of crops left over from last year continues in northern states with North Dakota having still by far the most to harvest. This along with wet soils will create even slower spring progress. The last USDA-NASS report had 61% of corn harvested as of February 29th. That number has increased, but new numbers will not be available until the end of March. Flood issues are still very possible along especially major rivers given the widespread wetness and potential for spring precipitation."
Source: Keith Good, Farm Policy News