Farm Income-Better Market Prices Likely Not Enough to Offset Expected Subsidy Reductions
December 7, 2020
Donnelle Eller reported on the front page of Friday's Des Moines Register that, "Mid-Iowa Cooperative's Mike Kinley sees a $275 million soybean processing plant under construction in eastern Iowa as a way for farmers to get more money for the crops they grow."
"Boosting farm income is crucial, even though a new U.S. Department of Agriculture report this week forecasts that U.S. farmers will end the year with the highest net income since 2013.
The strong numbers are mostly due to a record amount of government subsidies, which are estimated to be more than double payments in 2019.
Ms. Eller explained that, "Representing about 39% of the $119.6 billion in farm income, the payments were designed to offset losses from trade wars, the coronavirus pandemic, drought and other natural disasters. It's doubtful that level of direct government payments can continue next year, experts say.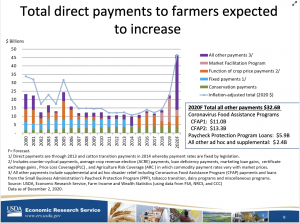 "Improved prices and demand will help replace some of the expected decline in farm subsidies in 2021, said Chad Hart, an Iowa State University agricultural economist.
"'We are seeing better prices out there, and that will lead to more market-driven income next year,' Hart said. 'But that recovery is not enough to offset the expected decline in government support.'"
The Register article noted that, "In all, $46.5 billion in government subsidies mostly tied to losses from the public health emergency helped drive 2020 farm income an expected 41% higher than last year, the new USDA report said.
"It's the largest percentage of subsidies since 2001, the report said. So far this year, Iowa farmers have been the largest recipient of coronavirus payments, at $1 billion, USDA data show."
Friday's article added, "While the economic picture for Iowa and U.S. farmers has improved, Hart said, 'it's not necessarily a solid and true indication of a complete recovery,' given the government support."
Meanwhile, Bloomberg's Mike Dorning reported last week that, "The latest data show the increasing dependence of growers on government assistance after three years of trade and Covid-19 aid on top of traditional subsidies.
Farmers face a murky outlook next year if the Biden administration adjust payments.
And Julie Harker reported on Friday at Brownfield that, "The USDA expects 2020 net farm income to reach $120 Billion dollars but American Farm Bureau economist John Newton calls it a 'false positive,' 'Because when you look at the $120-Billion you'd think that the farm economy was doing fantastic but cash receipts from crop and livestock sales actually declined $3-Billion and are at the lowest level since 2016.'"
"Production expenses are down slightly which Newton says helps a bit but the money's not coming from the marketplace. He says while the government coronavirus packages (CFAP 1 & 2) helped farmers bridge the gap and things have luckily turned around on the back of strong exports, farmers are not out of the woods yet, 'Looking into next year, we need demand to continue to improve. We need to find a cure for the Covid-19 pandemic. You know, we saw how quickly things can turn south in a hurry and we've seen how quickly things can get positive in a hurry.'"
Source: Keith Good, Farm Policy News