FAPRI-Baseline Update for U.S. Agricultural Markets
June 10, 2020
On Tuesday, the University of Missouri's Food and Agricultural Policy Research Institute (FAPRI) released its June Baseline Update for U.S. Agricultural Markets. The update incorporates government payment programs that were announced before June 1, 2020 and analyzes some of the market impacts of those programs.
After outlining important assumptions, the FAPRI report included key outcomes relating to government payments, farm income, as well as corn and soybean prices.
"Total federal spending on various farm support and conservation programs in the current fiscal year reaches a record $50 billion," the report said.
FAPRI baseline update shows direct payments to farmers at record $32.8 billion in 2020. See full report at https://t.co/dEUGNBHMQX pic.twitter.com/UoT9HYlDDp

— Pat Westhoff (@WesthoffPat) June 9, 2020
The FAPRI update indicated that, "Net farm income in 2020 declines by about $3 billion in spite of record government payments of $33 billion. Another farm income measure—net cash income—declines by $18 billion in 2020, with much of the difference in the two measures explained by changes in inventory values.
Even with record government payments, our new update shows net farm income and net cash income down in 2020. Both decline further in 2021. For the full update: https://t.co/dEUGNBHMQX pic.twitter.com/Ji2mKn7vkz

— Pat Westhoff (@WesthoffPat) June 9, 2020
With respect to corn variables, the FAPRI report stated that, "Corn-planted area in 2020 is projected to be 96.0 million acres, second only to 2012 in the modern era but 1 million acres below the March intentions report. Record production of 15.5 billion bushels for the 2020/21 marketing year causes carryout stocks to build and corn prices received by farmers to fall to $3.06 per bushel. While acreage moderates in subsequent years, prices rise only modestly."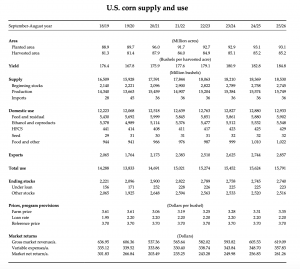 More narrowly on ethanol use, FAPRI explained that, "Widespread shelter-at-home orders as a result of COVID-19 sharply reduced motor gasoline demand. Within a year, biofuel policy allows ethanol mandates to fall with unanticipated demand declines, cutting domestic biofuel use. Falling oil prices also provide headwinds to ethanol exports.
As a result, corn used for ethanol production for 2019/20 is the lowest since the drought year of 2012/13, when corn supplies were the limiting factor. Corn used for ethanol largely rebounds in 2020/21 as fuel demand returns and mandates are reset for calendar year 2021.
Turning to soybeans, Tuesday's report noted that, "Projected soybean-planted area rebounds to 84.5 million acres in 2020/21, up 8 million acres from 2019 and 1 million acres from the planting intentions report. Soybean stocks decline in 2020/21 but remain above 500 million bushels; prices fall to $8.21 per bushel. A rebalancing of corn and soybean area results in a further increase in soybean production in 2021 and soybean prices bottom out at $8.00 per bushel."
Among livestock variables, the FAPRI report noted that, "U.S. pork export growth in 2020 offers price support, with much of the growth in exports headed to China."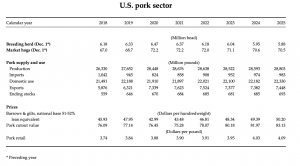 Tuesday's report added that, "After several years of strong growth, total per-capita consumption of beef, pork and poultry consumption is projected to decline in 2020 as the COVID-19 crisis pushes up retail prices and reduces consumer disposable income."
Source: Keith Good, Farm Policy News