Factors Taming China's Demand for Imported Pork, as Supplies Build in Europe
November 24, 2020
Wall Street Journal writer Lucy Craymer reported late last week that, "China's voracious appetite for imported meat is starting to wane, as domestic pork prices fall and consumer worries grow about the coronavirus lingering on food.
"For more than two years, Chinese farmers have battled outbreaks of African swine fever, a highly contagious hemorrhagic disease that reduced the country's domestic herds in 2019 by as much as 41%—or more than 100 million pigs—causing pork prices to more than double. The swine fever virus isn't harmful to humans, but is almost always deadly in pigs and there is no vaccine or cure for it.
"Pork prices have been volatile this year, but they are trending lower. Wholesale prices have fallen 18% since the start of September to the equivalent of about $2.75 a pound, according to Wind, a Chinese financial data provider. Pork now costs slightly less than it did a year ago."
The Journal article pointed out that, "China's hog population currently stands at 370 million, down from roughly 430 million pigs before African swine fever was first detected in the country in August 2018."
Ms. Craymer added that, "As pork prices fall in China, consumers could end up eating more of it. Last year, pork consumption per capita in the country dropped to 72 pounds from 88 pounds in 2018, according to a Rabobank report. The company expects consumption to fall further to 62 pounds per person this year due to the average higher cost of pork in 2020.
"Now, expectations are for more Chinese citizens to switch back to pork from other proteins like chicken and beef, said Darin Friedrichs, senior Asia commodity analyst at StoneX in Shanghai."
Also last week, Bloomberg writer Megan Durisin reported that,
There's a glut of pork in Europe and prices are plunging.
"Germany, the European Union's leading producer, has been shut out of top markets across Asia since a deadly pig-virus outbreak started in wild boar in September. That's leaving a surplus on the continent just as the latest raft of Covid-19 lockdowns means restaurants are hawking less schnitzel and sausage."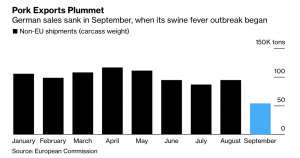 The Bloomberg article noted that, "The EU is the world's biggest pig shipper. Trade restrictions in Germany mean Danish farmers are selling fewer young animals across the border, where they're often raised to slaughter weight. The country's abattoirs are running on weekends and looking to hire new workers to keep up with the influx of hogs, according to Jais Valeur, chief executive officer of Danish Crown Group."
And with respect to pork demand, the Bloomberg article indicated that, "Sales could rebound once lockdowns lift and restaurants reopen. Demand for exports to Asia also remains strong, [Jais Valeur, chief executive officer of Danish Crown Group] said. The U.S. Department of Agriculture forecasts EU pork consumption to climb 1.3% in 2021, after slumping to the lowest in at least two decades this year."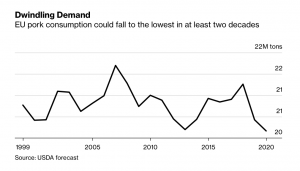 Meanwhile, a separate Bloomberg article last week reported that, "German pork could remain shut out of some of the world's top markets for at least a year as the country works to contain its outbreak of a deadly pig virus, according to Europe's biggest meat producer."
Source: Keith Good, Farm Policy News