EPA Receives 52 Retroactive SREs (Small-Refinery Exemption) Requests
June 19, 2020
Reuters writer Stephanie Kelly reported on Thursday that, "The U.S. Environmental Protection Agency has received 52 new petitions for retroactive biofuel blending waivers that, if granted, would help bring oil refiners into compliance with a court ruling this year, EPA data showed on Thursday.
"The new pending applications for blending exemptions are for compliance years 2011 through 2018. The waivers exempt oil refiners from U.S. laws that require they blend billions of gallons of biofuels into their fuel pool.
"In January, the Denver-based 10th U.S. Circuit Court of Appeals ruled that waivers granted to small refineries after 2010 had to take the form of an 'extension.' The decision called into question the future of the EPA's exemption program because most of the recipients of waivers in recent years have not continuously received them each year since 2010."
If granted, these 52 exemption requests would result in more than 2 billion gallons of additional lost #RFS demand (based on historical average exempted volumes per waiver). @EPA should deny these refiners' requests, stop trying to rewrite history, and follow the law. #ethanol pic.twitter.com/ozzZle3hbc— Renewable Fuels Association (@EthanolRFA) June 18, 2020
The Reuters article noted that, "The Energy Department's Mark Menezes said last month that the EPA had asked the department to review waiver requests from refiners covering past years, but the agency had not reported the petitions on its dashboard until Thursday.
The Trump administration has roughly quadrupled the number of exemptions it grants, compared with previous years.
Also Thursday, DTN writer Todd Neeley reported that, "The EPA posted 52 new small-refinery exemptions requests from previous years on the agency's Renewable Fuel Standard dashboard on Thursday, drawing outrage from biofuels groups that have been calling on the agency to renew its transparency pledge.
"The agency now lists six pending requests each for 2011 and 2012, 10 each for 2013 and 2015, 11 in 2014, seven in 2016 and two in 2018, in addition to the 27 already listed for 2019 and one for 2020.
clever=illegal https://t.co/n7MC36E9A5— Scott Irwin (@ScottIrwinUI) June 18, 2020
"Emily Skor, CEO of Growth Energy, told DTN in a statement the agency's action is a 'blatant attempt to dodge the law at the expense' of rural communities."
4. Awarding "gap" SREs is such a gigantic contradiction of Congressional intent on the RFS I really am a loss for words to describe just how ludicrous it is. I think refiners and their lobbyists in the EPA know this is a loser in court but obviously don't care.— Scott Irwin (@ScottIrwinUI) June 18, 2020
Mr. Neeley explained that, "The U.S. Court of Appeals for the 10th Circuit in Denver ruled back in January the agency illegally granted exemptions to three small refineries. In that case, the court said the refiners were not eligible for exemptions because they had not previously received them.
Biofuel and agriculture interest groups have alleged EPA is considering granting small-refinery exemptions for previous years, which could potentially allow refining companies to continue receiving exemptions legally.
In other ethanol related developments, Reuters writer Stephanie Kelly reported on Thursday that, "A recovery in demand for gasoline in the United States, the world's largest market for the motor fuel, hit a plateau last week as coronavirus cases surged in some states, undercutting refiners' efforts to ramp up low fuel production.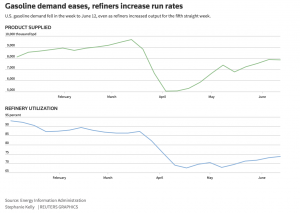 "Gasoline consumption inched lower last week after three straight weeks of rises, according to Energy Information Administration data on Wednesday. Product supplied of gasoline – a proxy for demand – eased 30,000 barrels per day to 7.9 million bpd amid a spike in new infections in six states."
Source: Farm Policy News