EPA Offers Clarity to Farmers in Light of Dicamba Court Ruling
June 9, 2020
Late last week, Wall Street Journal writer Jesse Newman reported that, "Bayer AG was dealt a setback in its efforts to provide farmers with new weapons against hard-to-kill weeds, after a federal appeals court vacated the Trump administration's approval of a controversial weedkiller made by the agribusiness giant.
"The U.S. Ninth U.S. Circuit Court of Appeals said Wednesday that the Environmental Protection Agency in 2018 failed to acknowledge or significantly understated risks posed by three herbicides, including Bayer's XtendiMax, whose active ingredient is dicamba, when it reapproved the sprays for use on U.S. farms."
Crops are in the ground and our farmers deserve the certainty to access all their crop protection products and not have their hands tied by this decision. https://t.co/O3oCsQNq3K— Joni Ernst (@SenJoniErnst) June 5, 2020
The Journal article noted that, "The ruling comes as seed-and-pesticide makers vie to offer farmers a way to stop weeds resistant to glyphosate, the world's most actively used herbicide, which is marketed under Bayer's Roundup brand and other names. It is a boost to rival Corteva Inc., which is working to hasten the rollout of its own new seed and herbicide spray combination, called Enlist, which doesn't use dicamba."
The court faulted the EPA for disregarding evidence that showed dicamba had caused substantial damage, and for failing to recognize that certain applications of the herbicides had 'torn apart the social fabric of many farming communities' where farmers who used the spray have had disputes with neighbors who didn't.
Also last week, Bloomberg writer Joel Rosenblatt reported that, "Bayer AG is blocked from selling its controversial dicamba-based herbicide in the U.S. after an appeals court rejected a federal regulator's permit for the product, compounding the German company's weed-killer woes.
"The three-judge panel concluded the Environmental Protection Agency had 'failed entirely' to acknowledge some risks dicamba poses and that the agency violated federal regulations when it extended its approval of registration for the herbicide for another two years in October 2018."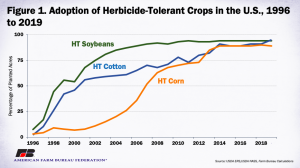 The Bloomberg article pointed out that, "U.S. Secretary of Agriculture Sonny Perdue on Thursday called the ruling unfortunate, saying it eliminates one of the tools needed by food producers.
"'Farmers across America have spent hard earned money on previously allowed crop protection tools,' he said in a statement. 'I encourage the EPA to use any available flexibilities to allow the continued use of already purchased dicamba products.'"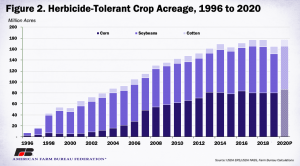 However, Reuters writer Tom Polansek reported this week that, "The U.S. Environmental Protection Agency said on Monday that farmers can use existing supplies of an agricultural weed killer linked to crop damage, after a federal court blocked sales and use of the product last week.
The EPA said farmers have until July 31 to use supplies of dicamba-based herbicides that they had on hand as of June 3. The products, sold by Bayer AG and rivals, are known to drift away and damage crops that are not resistant to the chemical.
"A three-judge panel of the 9th U.S. Circuit Court of Appeals ruled on June 3 that the EPA had substantially understated the risks related to the use of the herbicides, which are sprayed on genetically engineered soybeans and cotton."
Mr. Polansek explained that, "The decision confused farmers who bought herbicides months ago as they wrap up planting in the U.S., the world's No. 2 soybean exporter. Different responses to the decision from states subsequently created an uneven playing field for growers.
"'EPA's order will mitigate some of the devastating economic consequences of the court's decision for growers,' the EPA said in a statement.
"About 60% of the U.S. soybean crop this year is expected to be seeded with Bayer's dicamba-resistant Xtend soybeans, according to Bayer. They need to be sprayed with the herbicide to ward off weeds that have developed a tolerance for another chemical, glyphosate."
And DTN writer Emily Unglesbee reported this week that, "After five long days of confusion in the industry, EPA has issued a cancellation order for three dicamba herbicides, following a federal appeals court's order to vacate their registrations on June 3.
"The agency will permit growers and commercial applicators to use any existing stocks of three herbicides — XtendiMax, Engenia and FeXapan — that were in their possession as of June 3.
"These growers and commercial applicators will have to use these existing stocks according to their former labels, and apply no later than July 31, the agency stated. Keep in mind that some states have cutoff dates for dicamba use well before that date."
The DTN article indicated that, "In the decision, the agency is attempting to thread a narrow needle — both obeying the court's clear-cut order to end use, while also attempting to alleviate some of the pain the order was sure to cause, coming as it did in the middle of spray season, with roughly 60 million acres of dicamba-tolerant Xtend crop acreage anticipated.
"'Since the Court issued its opinion, the agency has been overwhelmed with letters and calls from farmers citing the devastation of this decision on the millions of acres of crops, millions of dollars already invested by farmers, and threat to America's food supply,' the EPA website declares."
Source: Keith Good, Farm Policy News