Disaster Aid Issues
April 10, 2019
On Tuesday, the House Appropriations Subcommittee on Agriculture held a hearing regarding the Administration's FY 2020 Agriculture Department Budget Request, and heard testimony from Secretary of Agriculture Sonny Perdue.  During the discussion part of the meeting, significant attention was focused on recent flooding in the Midwest, and disaster aid legislation.  Today's update highlights that discussion, as well as other developments associated with disaster aid legislation.
Disaster Aid: House Appropriations Subcommittee on Agriculture Hearing
In his opening remarks yesterday, Subcommittee Chairman Sanford D. Bishop, Jr. (D., Ga.) pointed out that, "Before we begin, I want to say that we need to get a supplemental disaster bill through Congress.  I know the Secretary shares my sense of urgency about this.  The House passed its bill in January and we are ready to go to conference with the Senate as soon as it passes a bill.  I know all House members are also committed to ensuring the areas of the Midwest that were hit with monumental floods just a few weeks ago have the funds they need."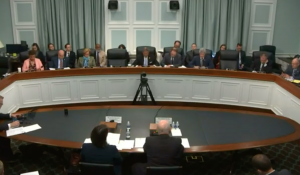 Congressman Sanford D. Bishop, Jr. (GA-02), Chairman of the U.S. House Appropriations Subcommittee on Agriculture, Rural Development, Food and Drug Administration, and Related Agencies, convened a hearing on Tuesday titled, "Department of Agriculture Budget Request for Fiscal Year 2020."
Secretary Perdue indicated in prepared testimony that, "USDA played a significant role in helping rural communities and agricultural producers recover from hurricane-related damage and wildfires. USDA assistance has included providing children affected by Hurricane Florence access to free meals, helping Supplemental Nutrition Assistance Program (SNAP) recipients replace food lost due to power outages, helped businesses and utilities by considering requests to defer principal and/or interest payments, and provided emergency farm loans to impacted operations."
During the discussion portion of yesterday's hearing, Ranking Member Jeff Fortenberry (R., Neb.) stated that, "Mr. Secretary, there's a lot of consequences to flooding, some of which are…couldn't be perceived before it actually happens, one of which is the loss of on site grain that was stored. You're dealing with the immediate aftermath of flood waters rushing over fields, drowning cattle, covering fields in debris and sediment, making the possibility of planting not only difficult, maybe even impossible in many areas. But another manifestation of this has been the loss of grain stored on site.
"So I want to ask you two questions. Are you looking at that issue through the lens of any flexibility that you have in current programming or as a part of the disaster assistance package that is potentially coming through Congress? And then secondly, I think it would be helpful, particularly for the public, if you could just tick through a high level summary of what the USDA is already doing in response to the flood."
Sec. Perdue explained that,
Unfortunately, I would love to answer in the affirmative that these stored grains would qualify for the safety net that's there. They do not currently. And that's why the disaster appropriation supplemental is so important, to cover issues that were not covered in the destruction and devastating by the flooding there. But this is an area that is not legally or statutorily approved under our safety net provisions currently.
Sec. Perdue then listed some of the current USDA programs that are available, and explained a little about each one:
Sec. Perdue added: "Those are examples of that. And we'd be happy on our website, Farmers.gov, you go, if you've had a disaster, see what you qualify for. And I would advise your constituents to take advantage of that."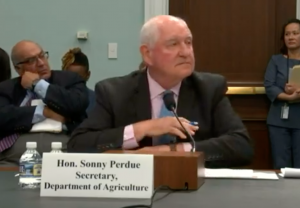 Secretary of Agriculture Sonny Perdue on Tuesday at the U.S. House Appropriations Subcommittee on Agriculture hearing on the Department's Budget Request for Fiscal Year 2020.
More narrowly, Ranking Member Fortenberry asked, "One other subset of this is do you have any idea—and it can be just an approximation—of how many farmers actually use private insurance to indemnify on site storage of grain? Because I'm trying to get a handle on just how large a problem it is. I suspect that's pretty small, but I don't know."
"We don't know, either, the exact number. I expect it's very, very, very small," Sec. Perdue said.
Sec. Perdue elaborated and noted that,
Commercial operations, elevators have that kind of stock coverage for their operations, but typically producers, once it's out of the field and crop insurance is no longer a factor, most of them do not cover the stock within their bins over their grain production, so I think it's a very, very small number.
Ranking Member Fortenberry followed up and asked, "So in the supplemental disaster package that's being written currently, is there enough flexibility in this regard to potentially help you to help with the problem of on site grain storage that's been lost?"
Sec. Perdue noted that, "We would love to be involved in helping the language as the disaster bill moves along to make sure that gives them the flexibility. The 2017 disaster bill was fairly flexible based on giving the USDA an opportunity to design the program to help the most consumers and the most customers out there, but that was not contemplated or specified, and we would like to probably have some additional language that would ensure that."
Ranking Member Fortenberry indicated that, "I think this is a very important point either in terms of the architecture of flexibility or some specificity for the secretary so that he can help with this particularly devastating consequence of these floods, which is a secondary effect that was completely unanticipated. So if we could work directly with you all on the type of language that you're perceiving that you need, either, again, at a high level of flexibility or specifically targeted to this, that would be very helpful to me, Mr. Chairman."
Disaster Aid: Additional Background
Earlier this month, Reuters writer Tom Polansek reported that, "The Black Hawk military helicopter flew over Iowa, giving a senior U.S. agriculture official and U.S. senator an eyeful of the flood damage below, where yellow corn from ruptured metal silos spilled out into the muddy water.
"And there's nothing the U.S. government can do about the millions of bushels of damaged crops here under current laws or disaster-aid programs, U.S. Agriculture Under Secretary Bill Northey told a Reuters reporter who joined the flight.
The USDA has no mechanism to compensate farmers for damaged crops in storage, Northey said, a problem never before seen on this scale. That's in part because U.S. farmers have never stored so much of their harvests, after years of oversupplied markets, low prices and the latest blow of lost sales from the U.S. trade war with China – previously their biggest buyer of soybean exports.
On Monday, the American Farm Bureau Federation noted  that, "To assist farmers and ranchers in the rebuilding efforts, Congress is considering a much-needed relief package of $3 billion, similar to one lawmakers passed for farmers impacted by wildfires and hurricanes in 2017. Federally funded disaster assistance is as critical as ever with recent disasters more widespread and farmers and ranchers everywhere facing a severe economic downturn and mounting trade pressure."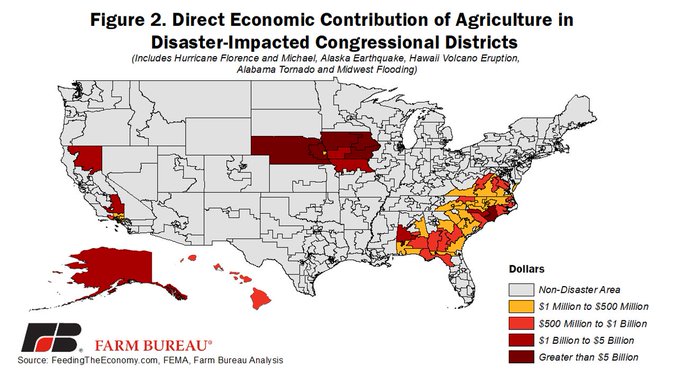 Congress is debating disaster aid for #farmers impacted by #floods #hurricanes #volcanos #earthquakes and #tornados. #Agriculture in disaster areas contributes $84 billion in economic activity @FarmBureau https://www.fb.org/market-intel/farmers-need-disaster-assistance …4
And the editorial board at the Omaha World Herald opined on disaster relief in yesterday's paper and stated that, "Debate in the Senate has made clear to lawmakers the disaster aid needs across the nation. Trump, meanwhile, touts himself as a deal maker. So: It's time for a deal. Reasonably structured disaster aid, for here and elsewhere, needs to move forward."
Disaster Aid: Recent Developments
A news release yesterday from the House Appropriations Committee stated that, "House Appropriations Committee Chairwoman Nita M. Lowey (D-NY-17) today introduced new legislation to provide relief and recovery assistance for Americans affected by recent natural disasters.
The $17.2 billion emergency supplemental builds on legislation the House passed in January. It includes an additional $3 billion to address urgent needs following flooding in the Midwest and tornadoes in the South that have occurred while the House-passed bill has languished in the Senate.
A summary of the bill stated that, "Agricultural Programs — $3.005 billion. Payments for crop and livestock losses due to hurricanes, typhoons, volcanic activities, tornados, floods, snowstorms, or wildfires during 2018 and 2019."
Meanwhile, DTN Ag Policy Editor Chris Clayton reported yesterday that, "House Agriculture Committee Chairman Collin Peterson said Tuesday he sees the need to help farmers with losses in grain bins from Midwest floods. But he said the notion $3 billion is needed for Midwest disaster aid is 'baloney.'"
"Peterson, D-Minn., met Tuesday with members of the North American Agricultural Journalists and spoke about several topics. On disaster aid, Peterson said inserting Midwest aid into a current disaster bill in the Senate could potentially hold up needed aid for Southern farmers whose farms were hit hard by hurricanes last year.
"'The Southerners need this,' Peterson said. 'They have a lot of crops that don't traditionally get into crop insurance that were damaged during a tough time in the cycle. Pecan trees and peaches and so forth that are not in the normal farm-program disaster deal. So they need this $3 billion deal they have been working on for the South.'"
The DTN article pointed out that,
The congressman did note that farmers who lost crops in grain bins should be eligible for an indemnity payment and Congress should work to make that happen.
"'The only thing that's not covered is this grain that was damaged,' Peterson said. 'And we have more grain being stored now than we've ever had because of these low prices and these tariffs.'
"Peterson added, 'I think we can do a one-time thing to try to help people with that. But one thing that should come in here is you could have bought insurance. So this is something that is going to come up, but you could have bought insurance.'
"But Peterson said of the notion of spending $3 billion in disaster aid for the Midwest, 'That's a bunch of baloney.'"
Source: Keith Good, Farm Policy News