Dealing With Heat Stress in Feedlots
June 18, 2020
The transition from spring to summer often happens seemingly overnight; cold, cloudy conditions one day followed by sunny conditions with warm (or even hot) temperatures the next. Those rapid transitions can trigger heat stress responses in cattle even if the actual weather conditions do not appear to be that severe.
The biggest cause of early summer heat stress in feedlot cattle is rapid changes in temperature and humidity before cattle become acclimated to warmer conditions. Cattle can and do become accustomed to warmer temperatures, but that adjustment takes time. Also, many cattle in late spring haven't slicked off their hair coat. Finally, late spring is very often associated with wet conditions leading to increased humidity and mud, both of which increase the risk of losses caused by heat stress.
Cattle aren't the only ones who get "fooled" by the weather. Hot weather conditions can also catch cattle feeders off guard. Last year researchers from SDSU, University of Minnesota and the University of Nebraska surveyed feedlot managers in those three respective states about the strategies they followed to handle heat stress in their cattle. They found that most managers used observed weather conditions or cattle behavior as a trigger to take steps to alleviate heat stress. Relying on actual weather conditions or cattle observations tells us what we need to do today but is less useful as a tool to begin planning and being proactive. Only about one-fourth of the respondents used some form of a heat stress alert system.
© South Dakota Board of Regents
SDSU Extension Cow/Calf Field Specialist Warren Rusche presents critical tips for cattle producers to deal with heat stress including water requirements, handling considerations and feed management.
USDA-ARS Heat Stress App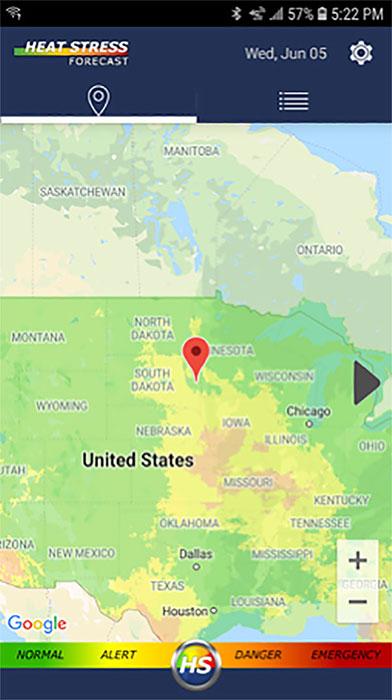 Scientists at the USDA Meat Animal Research Center have released an app for mobile devices that can help give cattle feeders a "heads up" that heat stress conditions may occur in the next few days. The tool uses temperature, humidity, wind speed, and cloud cover data from the National Weather Service to produce a map with color coded categories to indicate risk. The four levels of risk range from Normal, to Alert, Danger, and Emergency.
The app contains useful information on signs of heat stress and provides tips on mitigating and reducing heat stress in feedlots. Knowing that heat stress conditions are in the forecast allows cattle feeders the opportunity to start implementing stress reduction practices ahead of time, such as increasing water supply, installing shade equipment, or preparing to start sprinkling pens and/or cattle. It is usually more effective and less stressful to implement a plan before the situation becomes critical.
The Heat Stress forecasting app can be downloaded from Google Play for Android phones or from the App Store for Apple devices.
Source: South Dakota State University