COVID-19 Has "Dimmed" Economic Prospects for Corn Belt Farmers
March 24, 2020
Wall Street Journal writers Jacob Bunge, Kirk Maltais, and Jesse Newman reported on Saturday that, "The new coronavirus is dealing another blow to the struggling U.S. agricultural sector, driving down crop and livestock prices and threatening labor shortages for farms.
"Even as consumers clear food staples from supermarket shelves, Midwestern farmers' prospects have dimmed.
Agricultural futures on the Chicago Board of Trade have been on a slide since Feb. 24, when coronavirus concerns began to weigh on U.S. stock markets. Corn futures have shed nearly 10%, wheat futures have fallen nearly 2%, and soybean futures have dropped over 4%.
The Journal writers explained that, "In U.S. Plains states, prices offered for ranchers' cattle have dropped over the past two weeks, reflecting selling by investment funds and fears that consumers will eat less beef as they avoid restaurants—and that meatpacking plants could suffer staffing shortages. Longer term, the declines reflect worries that after consumers' current rush to stock pantries, an economic downturn will limit spending and pressure prices.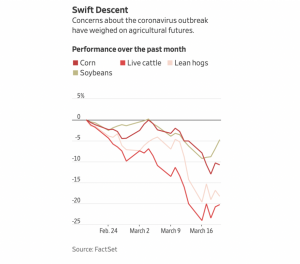 "Produce farms and orchards across the U.S. fear disruption after the Trump administration restricted immigration from Mexico, threatening a critical labor source. Dairy prices have fallen, with less milk flowing to school cafeterias and traffic expected to drop off for cheese-buying burger chains and pizzerias."
And with respect to ethanol, Reuters writer Stephanie Kelly reported last week that, "Many U.S. ethanol plants have slashed production over the past week or idled entirely as the coronavirus outbreak cut into fuel consumption and cratered margins to refine the corn-based fuel, the head of a biofuel trade group said on Thursday."
ChuckGrassley
✔@ChuckGrassley
Fuel consumption has been slashed due to coronavirus &that has hurt energy jobs including ethanol + biodiesel plants in Iowa If something is done to help oil there needs to be something for biofuels workers It's a matter of fairness
In addition, Jacob Bunge and Linda Rice reported on Friday at The Wall Street Journal Online that, "Tyson Foods Inc. plans extra payments to cattle feedlots that supply the Arkansas meat giant, in response to a steep decline in cattle prices driven by the coronavirus.
"Over the past two weeks, live-cattle futures prices have dropped 13%, pushed lower by fears the coronavirus will curb U.S. beef consumption by keeping consumers away from restaurants, and by heavy selling from some investment funds, analysts said. Surging demand from supermarket chains, racing to restock shelves, meanwhile pushed wholesale beef prices higher, benefiting meat processors. The HedgersEdge index of cattle processing profit margins jumped Friday to a record high of $552.30 a head, compared with $69.75 on March 2."
Senator Jerry Moran
✔@JerryMoran
The financial impact of the coronavirus has effected every corner of the economy including the cattle market. Today, I urged @SecretarySonny to use his authority to make emergency payments to cattle producers. MORE: https://www.moran.senate.gov/public/index.cfm/news-releases?ID=E63FE3B7-1E80-475B-920C-4999586E5A76 …
Sen. Moran, Colleagues Urge Secretary Perdue to Make Emergency Payments to Cattle Producers
U.S. Senator Jerry Moran
moran.senate.gov4
Meanwhile, Bloomberg News reported on Sunday that, "Senate Majority Leader Mitch McConnell unveiled a $2 trillion economic rescue package Sunday with money for middle-class taxpayers, the unemployed and even local governments."
The Bloomberg article stated that, "The legislation as written would make available up to $50 billion to farmers, funded through borrowing authority for the Commodity Credit Corp., the same vehicle used for the Trump administration's trade aid to U.S. agriculture.
"The legislation replenishes $30 billion in depleted borrowing authority for the CCC and adds an additional $20 billion, according to North Dakota Republican Senator John Hoeven, who claimed credit for the provision. The stimulus package also authorized the entity to provide aid to livestock producers, an important agricultural industry in Hoeven's home state.
The added borrowing authority doesn't require the administration to give more aid to farmers, but it replenishes borrowing authority and gives Trump the option of providing more funding. The administration has authorized $28 billion in aid to farmers over the past two years to deal with the president's trade war with China.
As producers assess these market impacts, and prepare for spring planting in the Corn Belt, Reuters writer Stephanie Kelly reported on Friday that, "The global coronavirus pandemic is not expected to disrupt or delay the U.S. spring planting season for farmers, even as the virus spreads across the United States, said Iowa's agriculture secretary on Friday."
While grocery stores and supermarkets have seen a surge in retail food demand due to COVID-19 concerns, recent news items have also turned to the broader issue of global commodity availability.
Reuters writer Naveen Thukral reported on Saturday that, "Lockdowns and panic food buying due to the coronavirus pandemic could ignite world food inflation even though there are ample supplies of staple grains and oilseeds in key exporting nations, a senior economist at FAO and agricultural analysts said."
The Reuters article stated that, "'All you need is panic buying from big importers such as millers or governments to create a crisis,' said Abdolreza Abbassian, chief economist at the United Nations' Food and Agriculture Organization (FAO).
"'It is not a supply issue, but it is a behavioral change over food security,' he told Reuters by phone from Rome, the FAO headquarters. 'What if bulk buyers think they can't get wheat or rice shipments in May or June? That is what could lead to a global food supply crisis.'"
And Bloomberg writers Millie Munshi and Isis Almeida reported last week that, "Global warehouses are stuffed with frozen cuts of pork, wheels of cheese and bags of rice. But as the coronavirus snarls logistical operations, the question becomes: How does all that food actually get to people?"
The Bloomberg article noted that, "'We do not see a supply shock in the sense of the availability,' said Abdolreza Abbassian, a senior economist at the United Nations' Food and Agriculture Organization. 'But there could be a supply shock in terms of logistics, not being able to move it from point A to point B. This is something new and very difficult to predict. It's that uncertainty that right now is the biggest danger.'"
In news regarding domestic food product distribution, Wall Street Journal writers Jacob Bunge and Jesse Newman reported last week that, "You wouldn't know it from the bare grocery store shelves across the country, but America has plenty of food. The challenge is getting it from the farm to your table.
"Companies that supply meat, vegetables and other staples are struggling to redirect the nation's sprawling food supply chain to meet a surge in demand caused by the coronavirus pandemic."
The Journal article pointed out that, "Chicken supplies in U.S. cold-storage facilities recently sat at their highest January levels on record, with pork hitting a similar record in December. Stockpiles of grains and oilseeds such as soybeans have swelled, partly because the U.S.-China trade war cut into exports. Milk production is set to rise 1.8% this year to a record 222.3 billion pounds, and egg production is projected to rise 1.7%, according to the U.S. Department of Agriculture."
Reuters writer Tom Polansek reported last week that, "Demand for U.S. meat at grocery stores will likely exceed supplies for at least another week, the chief executive of Tyson Foods Inc told Reuters on Thursday, as the coronavirus pandemic fuels panic buying among shoppers."
"'Once we are able to replenish supplies, which is probably going to take another week or so, then I think that we'll be back in better equilibrium between supply and demand,' Tyson CEO Noel White said in an interview."
Meanwhile, Bloomberg writers Isis Almeida, Lydia Mulvany, and Deena Shanker reported last week that, "America's biggest meat processor Tyson is making its 'most-significant shift' ever to produce more chicken, beef and pork that's favored by supermarket shoppers, rather than cuts that restaurants use. Employees are working through weekends to fill as many orders as possible.
"Campbell Soup Co. is churning out more cans of its iconic soups, along with increasing output of snacks and Spaghetti O's, Chief Executive Officer Mark Clouse said this month."
On the issue of labor at meat plants, Bloomberg writers Deena Shanker and Lydia Mulvany reported last week that, "In shelter-in-place America, people have been filling their freezers full of meat just in case. Meanwhile, at the plants where the meat is packed, the big question is: What happens if the workers start getting sick?"
The Bloomberg article stated that, "At least for now, companies may be able to withstand fewer workers showing up, said Christine McCracken, an analyst at Rabobank. Some of the companies that are relaxing their policies are already seeing a 20% to 30% slowdown in their processing lines as employees stay home to recover from illness or take care of family members.
That isn't translating into less poultry, however. Instead, the same amount is being produced, but with less processing and cutting in the process — think whole birds and drumsticks instead of skinless breast fillets. This works out because it's the kind of product that retailers, are looking for, while food-service operators that order more specialized cuts have seen their operations nosedive amid mandated closures.
More broadly on labor issues and immigration policy, DTN Ag Policy Chris Clayton reported last week that, "The Trump administration announced it would limit nonessential travel across the borders with both Canada and Mexico, but officials also assured that guest workers would continue to be allowed into the country.

Veronica Nigh@VNigh
Over 277k of the 298k H-2A entrants in 2018 were from Mexico – nearly 93%. Another 4,415 were from Canada. #CovidConcerns #H2A
"During a briefing at the White House on Friday, Secretary of State Mike Pompeo pointed to H-2A agricultural workers as one of the groups exempt from border closure with Mexico.
"'We're real concerned about H-2A visas and particularly agricultural workers who are going to need to get across,' Pompeo said. 'We're going to make sure we do everything we can to keep that part of our economic lifeblood working between our two countries.'"
Source: Keith Good, Farm Policy News