COVID-19 Has Caused an "Agricultural Tsunami" – While USDA and DOJ Investigate Livestock Market Issues
May 11, 2020
Donnelle Eller reported on the front page of Sunday's Des Moines Register that, "The coronavirus has caused an agricultural tsunami that's ripped through Iowa and the nation. Markets have been disrupted as schools, restaurants and hotels have shuttered, and meatpacking plants are slowing or closing as about 10,500 workers — including 1,650 in Iowa — have tested positive for COVID-19.
"Prices have tumbled for Iowa corn, soybeans, pork, beef, milk and eggs. And demand for ethanol, which consumes much of Iowa's annual corn crop, has plummeted along with oil consumption, as Americans have put the brakes on travel.
'At the current prices, you're losing money everywhere,' said [Tim Bardole], president of the Iowa Soybean Association board.
The Register article stated that, "The economic toll could reach nearly $7 billion this year for Iowa farmers, a 20% cut in livestock and grain producers' revenue, said Chad Hart, an Iowa State University agriculture economist who has studied COVID-19's impact.
"Ryan Cox, an agricultural lender at CBI Bank & Trust in Muscatine, said some farmers likely have exhausted their options to restructure debt after several years of low prices.
'There will be some farms that won't survive, and that's the sad reality,' Cox said.
Ms. Eller added that, "U.S. corn prices have dropped about 15% since March, when COVID-19 cases began spreading across the nation. Soybean prices have fallen 8%, hog prices are down 33%, and cattle prices have dipped 21%."
#Farm Bankruptcies rose 23% the last 12 months, 3rd highest in 2 decades & could move WAY higher due to #Covid_19. Support to #agriculture is needed to #BridgeTheGap @FarmBureau @farmfreshstart https://www.fb.org/market-intel/covid-19-will-likely-push-farm-bankruptcies-higher …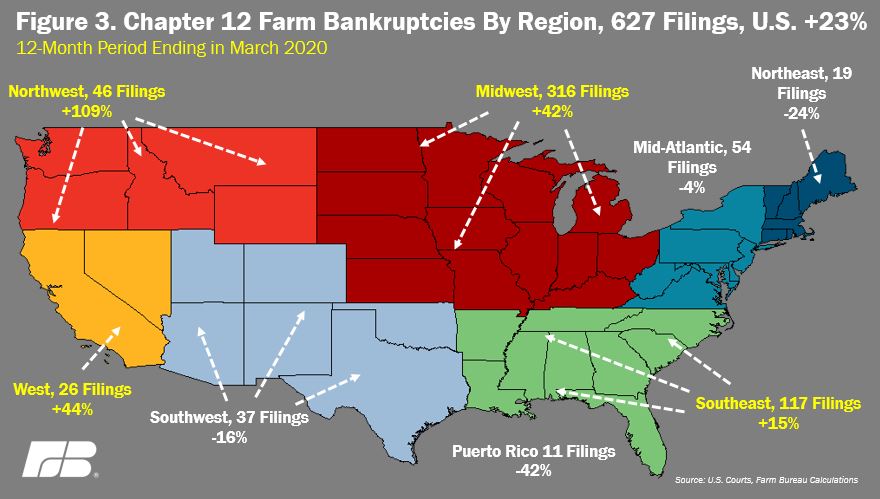 Meanwhile, Reuters writers Makini Brice and Chris Prentice reported over the weekend that, "President Donald Trump on Saturday said the United States will next week begin purchasing $3 billion worth of dairy, meat and produce from farmers as unemployment soars and people are forced to food lines."

Donald J. Trump✔@realDonaldTrump
Starting early next week, at my order, the USA will be purchasing, from our Farmers, Ranchers & Specialty Crop Growers, 3 Billion Dollars worth of Dairy, Meat & Produce for Food Lines & Kitchens. "FARMERS TO FAMILY FOOD BOX" Great news for all! @SecretarySonny @ZippyDuvall
The Reuters noted that, "Food banks have been running short on staples as hunger soars. The coronavirus pandemic has disrupted supply chains, with farmers saying they have had to destroy their produce and euthanize pigs because processing facilities have shuttered."

Congressman Jim Hagedorn✔@RepHagedorn · May 10, 2020
.@USDA will start buying up to $3 billion in surplus dairy, meat and fresh produce from farmers starting next week. I am pleased the administration is taking steps to sustain our farmers and rural communities, while maintaining our food supply to help Americans in need. (1/3) https://twitter.com/axios/status/1259241738046070784 …Axios✔@axiosTrump announces the federal government will purchase $3B of dairy, meat and produce from farmers as COVID-19 disrupts the food supply chain.https://www.axios.com/coronavirus-food-supply-trump-usda-e40b863a-fd77-4f87-be8a-cbd50e601bb2.html?utm_source=twitter&utm_medium=social&utm_campaign=organic …

Congressman Jim Hagedorn✔@RepHagedorn
This is only the first of several steps we must take to stabilize the livestock industry and our farmers. The pause in the economy has moved many farmers to the brink of insolvency. (2/3)
In other COVID-19 related developments, Bloomberg writer David McLaughlin reported late last week that, "The U.S. Justice Department is investigating meatpacking companies for possible antitrust violations, according to a person familiar with the matter, as the industry comes under scrutiny over plant shutdowns that have disrupted the supply of meat.
Gr8 to see Pres @realDonaldTrump pushing 2 investigate cause of price disparity in beef supply chain Producers must sell cattle 4loss yet prices at meat counter r sky high I called for USDA/DOJ 2examine possible violations of antitrust law Now USDA is on the case What abt DOJ?
"The antitrust probe is in the early stages and began before the coronavirus outbreak spread across the U.S., said the person, who declined to be named because the investigation is confidential."
The Bloomberg article added that, "The Agriculture Department is separately investigating the rise in margins, which has stirred accusations of market manipulation from some cattle producers.
Low prices for cattle producers just aren't matching up with high prices on the grocery shelves. @SecretarySonny is looking into this issue and @realDonaldTrump has called on @TheJusticeDept to do the same. Thanks to the admin for stepping up to help Iowa's beef producers.
"The U.S. is grappling with a meat crisis after the coronavirus pandemic sickened thousands of workers at slaughterhouses and forced plants to close. The producers have such a stranglehold on output that even a few closures create bottlenecks that ripple through the supply chain."
Senator Deb Fischer✔@SenatorFischer
It was great to join @AmericaNewsroom today to discuss the large price discrepancies between cattle and boxed beef.

We must make sure the beef supply chain has integrity & works well for ALL participants, including our producers.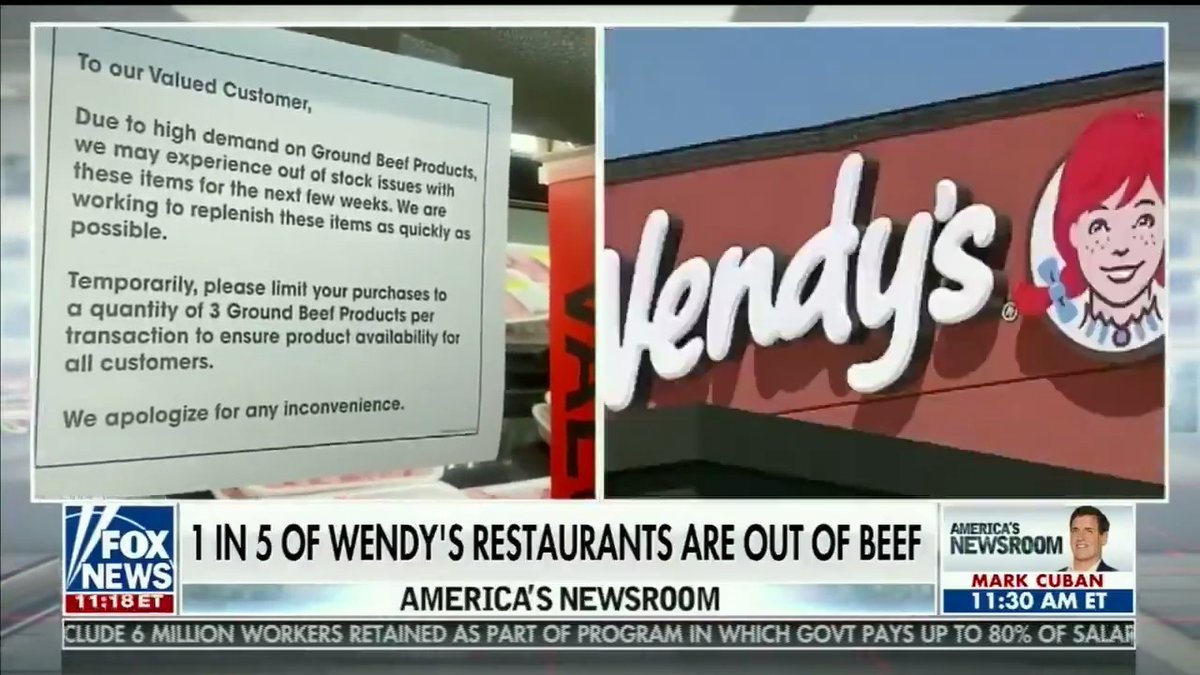 Jennifer Jacobs reported at Bloomberg on Friday that, "U.S. ranchers are looking forward to the results of an investigation into market manipulation as low livestock prices threaten their survival, an industry leader said.
"Farmers 'are becoming unhinged' as livestock gluts — exacerbated by a wave of slaughterhouse disruptions — are coinciding with record-high wholesale beef prices, American Farm Bureau President Zippy Duvall said Friday."

Wholesale #beef prices have more than doubled since April 15 — less than 4 weeks.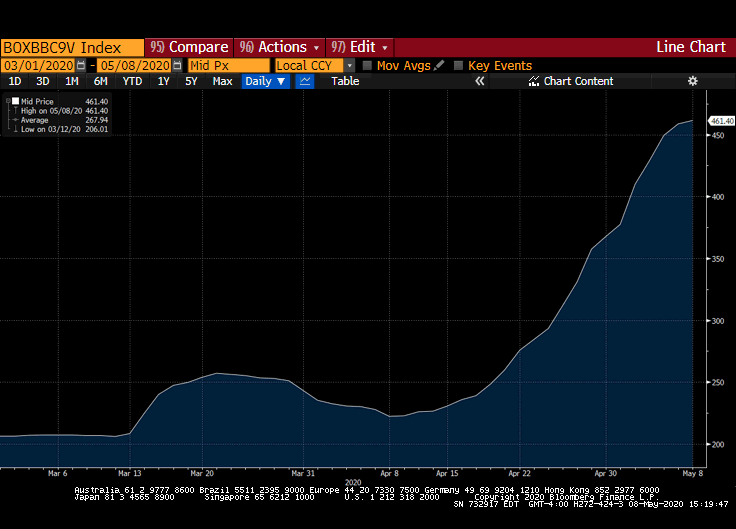 "He spoke at a round-table that included Iowa Senators Joni Ernst  and Chuck Grassley, Vice President Mike Pence and senior meatpacker executives. While the senators echoed calls to close the cattle-beef pricing gap, Pence congratulated meatpackers including Tyson Foods Inc. and Smithfield Foods Inc. for their 'miraculous effort' in maintaining supplies during the pandemic."

Despite some meatpacking facilities reopening the past week, beef and pork plants are still only running at about 60% relative to pre-pandemic levels of available capacity.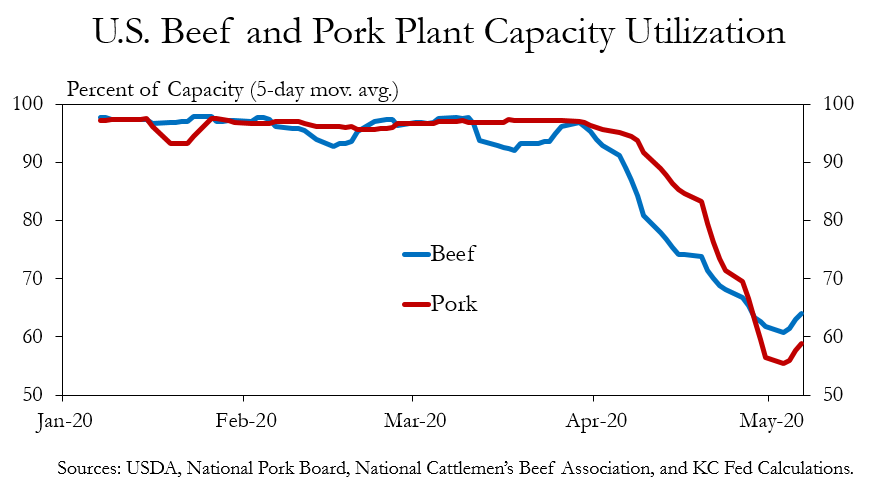 With respect to the operation of meat packing plants, a news release Friday from USDA stated that, "U.S. Secretary of Agriculture Sonny Perdue today applauded the safe reopening of critical infrastructure meatpacking facilities across the United States. These meatpacking facilities have resumed or plan to resume operations this week following President Trump's Executive Order directing the facilities to implement the Centers for Disease Control and Prevention (CDC) and the Department of Labor's Occupational Safety and Health Administration (OSHA) guidelines specifically created for the meat and poultry sector response to the COVID-19 pandemic. The U.S. Department of Agriculture (USDA) in conjunction with the CDC and state and local health officials have been working around the clock to ensure a safe and stable supply of protein is available for American consumers all while keeping employees safe."
The release listed over a dozen facilities that are "resuming operations across the United States this week."

Meat production has dropped considerably alongside plant closures and reduced capacity. As plants reopen, and modify operations, it will be important to track actual production together with pre-pandemic capacity as the revised processes could affect plant productivity.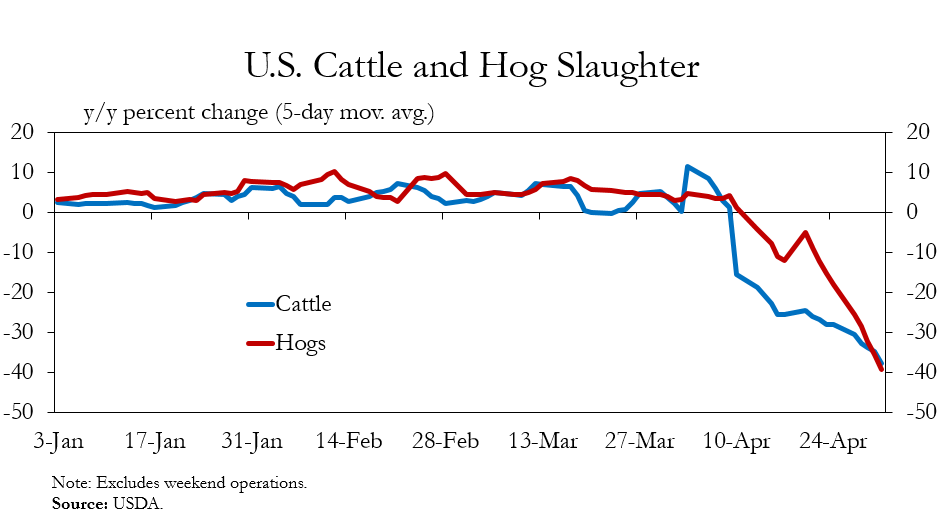 However, Reuters News reported late last week that, "The largest union representing U.S. meatpacking workers said on Friday it opposed the reopening of plants and that the Trump administration had failed to guarantee workers' safety."
And Des Moines Register writer Donnelle Eller reported late last week that, "More than 1,000 workers at the Tyson Foods plant in Waterloo have tested positive for the coronavirus, a county public health leader said Thursday — more than double the number Gov. Kim Reynolds had said the day before.
"The news came as the Arkansas-based company reopened the plant Thursday after a two-week closure following a spike in COVID-19 cases there."

Full page letter from Tyson in today's @DMRegister:

"A Letter to Our Community."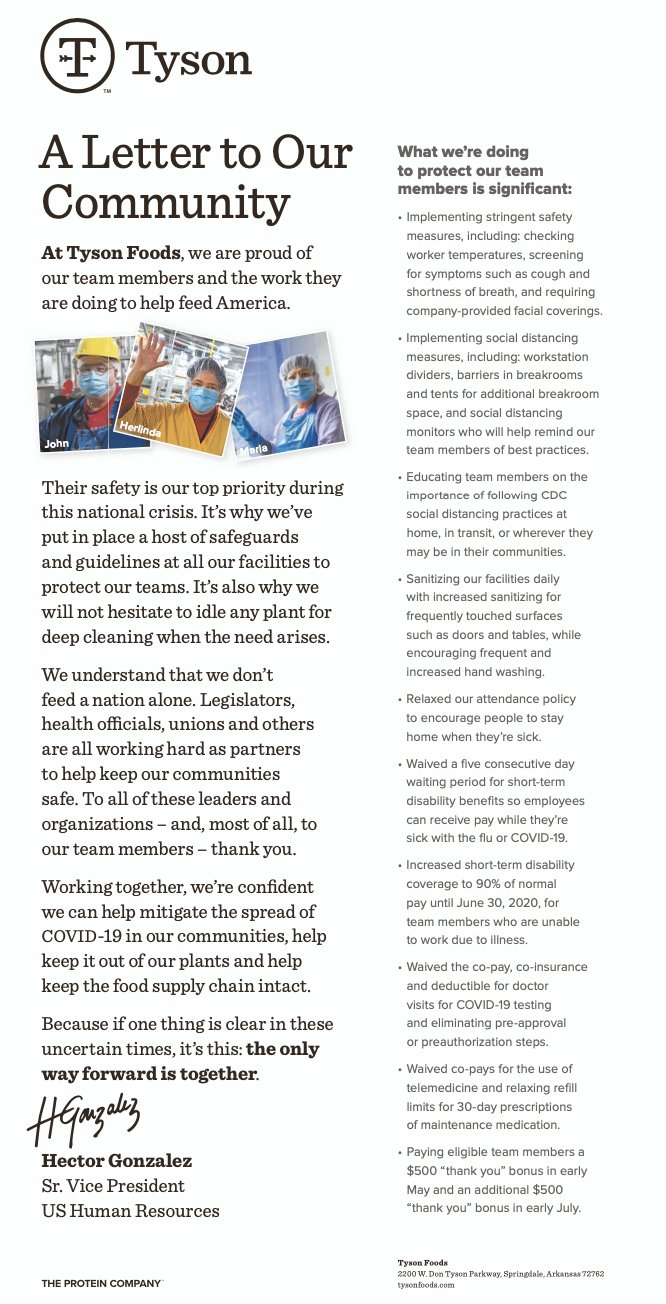 New York Times writers Ana Swanson, David Yaffe-Bellany and Michael Corkery reported this week that, "Workers and their advocates say Tyson's actions — and recent federal safety guidelines — have come far too late. They point to lapses that Tyson made in the first three weeks of April, as the virus tore largely unimpeded through the Waterloo plant.
"As high-level executives lobbied the White House to help protect Tyson from lawsuits, the company was failing to provide adequate safety equipment to Waterloo workers and refusing the requests of local officials to close the plant, according to more than two dozen interviews with plant employees, immigrant-rights advocates, doctors, lawyers and government officials."
The Times article noted that, "Steve Stouffer, the head of Tyson's beef and pork operations, said in an interview that the company had made the best safety decisions it could in a rapidly evolving situation. But he acknowledged that the company might have done more."
Source: Keith Good, Farm Policy News