Corn, Soybean Harvest Slowest Since 2009-Propane Supply a Concern
November 7, 2019
Late last month, Des Moines Register writer Donnelle Eller reported that, "Rain has slowed the harvest across the state in recent days. National Weather Service data for Des Moines showed that central Iowa on [October 23rd] matched the October rainfall record of 7.29 inches, set in 1941. Any more rain in the remaining eight days of the month would set a new record — a landmark in a year that already is one of the wettest in recorded Iowa history."

Des Moines set new precipitation records yesterday! This includes total precipitation for the month and a daily snowfall record. The last time DSM saw a 1+" snowfall in October was 10/10/2009 which was a record for the earliest 1″ snowfall in DSM.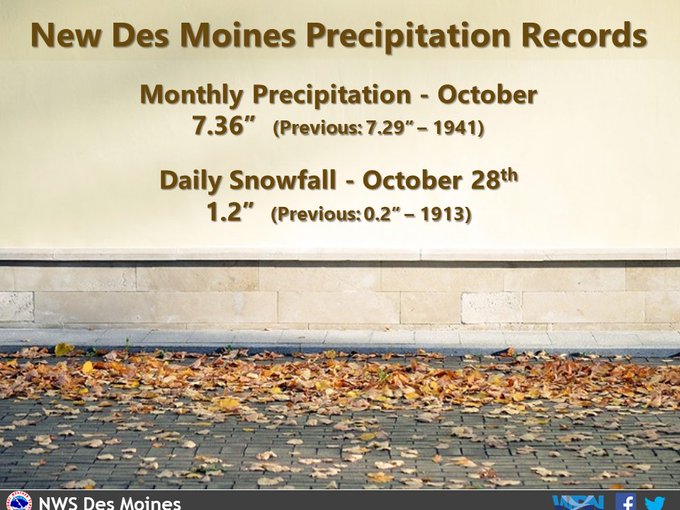 The article reminded readers that, "Iowa's corn and soybean crops were planted late last spring, when record rain kept many farmers out of their fields. Iowa growers were unable to plant 463,339 acres this year because of wet fields, the most since USDA began reporting the data in 2007."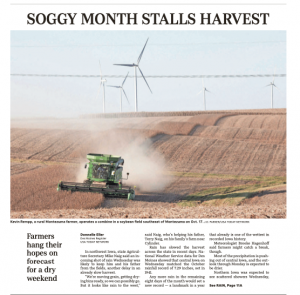 "Soggy Month Stalls Harvest," by Donnelle Eller. The Des Moines Register (Front Page- October 24, 2019).
Meanwhile, Reuters writer Julie Ingwersen reported last week that, "Excessive rains and an October snowstorm have stalled the harvest in the U.S. grain belt's northern tier, one more blow to farmers already struggling with the effects of planting delays and a trade war that has pressured commodity prices."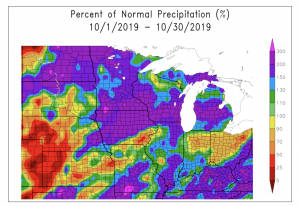 "Much wetter-than-average conditions existed over most of the region with 2-3x average precipitation common for October. Several stations set all time wettest Octobers with many more in the top 10." (Midwest Ag-Focus Climate Outlook. USDA- Midwest Climate Hub (https://bit.ly/2JWULip, November 1, 2019)).
"The corn and soybean harvests are especially delayed in North Dakota and Minnesota – precisely the states suffering the most from the U.S.-China trade war due to their reliance on exporting to Asia through West Coast ports."
The article noted that, "But storms struck again this autumn, saturating the Corn Belt's northern tier at a time when shorter, cooler days limit evaporation. Grand Forks, North Dakota, on the Minnesota border, received 11.6 inches (29.4 cm) of rain from Sept. 1 through Oct. 24, five times the average, the National Weather Service said."
As the harvest drags on, farmers already stressed by tight profit margins will likely face extra costs for equipment repairs, diesel fuel and propane to dry stored grain that will not dry adequately in the field. The financial squeeze could be enough to push even more farmers out of business.
Also last week, DTN writer Emily Unglesbee reported that, "When DTN reached out to its Agronomy Advisers to check in on harvest progress in the month of October, the word 'rain' surfaced more than a dozen times — 'snow' was a close second. And when asked about yields, 'average' was the most common refrain."
And on Monday, DTN Editor Anthony Greder reported that, "The U.S. corn harvest finally hit the halfway point last week while the soybean harvest was about three-quarters complete as of Sunday, Nov. 3, according to USDA NASS' latest Crop Progress report released Monday.

#Illinois #corn percent harvested @usda_nass (#harvest19).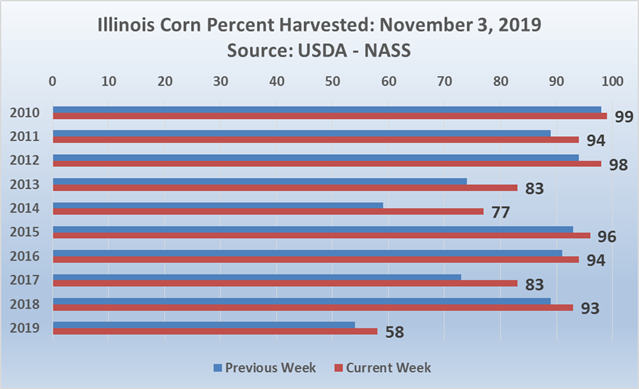 "Nationwide, corn harvest progressed another 11 percentage points last week to reach 52% as of Sunday, 23 percentage points behind the five-year average of 75%. That was further behind the average pace than the previous week when harvest was running 20 percentage points behind the five-year average."

#Illinois #soybeans percent harvested @usda_nass (#harvest19).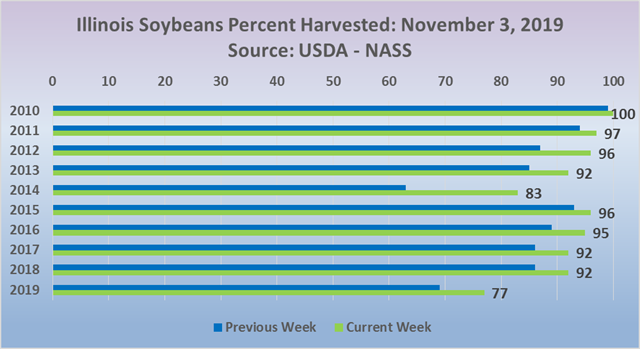 "Soybean harvest moved ahead 13 percentage points last week to reach 75% as of Sunday. That was 12 percentage points behind the five-year average of 87%, an improvement from last Monday's report, when harvest was running 16 percentage points behind average," the DTN article said.

On Tuesday, the USDA's Office of the Chief Economist's (USDA-OCE) Agricultural Weather Highlights noted that, "The U.S. corn and soybean harvests, 52 and 75% complete, respectively, on November 3, are proceeding at the slowest pace since 2009." (Graphs from Dennis Todey, Director of USDA Midwest Climate Hub, and USDA-OCE Brad Rippey. Twitter: https://bit.ly/34zlOZ2 and https://bit.ly/2PTcU4o (November 5, 2019).
In addition, Reuters writer P.J. Huffstutter reported on Tuesday that, "Months after historic floods ravaged the U.S. Midwest, farmers scrambling to harvest their crops face a new headache: finding fuel to dry their soaked grains.
"Normally, farmers use propane as fuel for grain dryers to reduce moisture levels in corn crops to ready for sale or to safely store the grain.
"But the extraordinarily wet spring delayed planting, and a waterlogged fall delayed harvesting and produced wet crops. That caused a surge in propane demand among crop farmers, even as livestock producers are buying to keep their barns warm and rural homeowners try to heat their homes – all of which is straining aging infrastructure used to deliver that fuel. And keeping people and animals warm takes precedence over grain drying."
It adds to the season of woe for Midwestern farm communities, which are contending with rising bankruptcy rates, slumping farm incomes and lackluster exports as the U.S.-China trade war drags on.
The Reuters article explained that, "Propane prices have surged by about 20% in October as sellers scramble to find enough fuel across the Midwest to satisfy customers. For example, propane for delivery at the Conway hub in Kansas soared to 51 cents a gallon on Monday from 37.5 cents a month ago.
"Much of the U.S. corn belt relies on a fragmented supply network of pipelines, trains and trucks to keep pace with propane demand. That infrastructure this year has not been able to keep pace with the unexpected spike in demand."
Donnelle Eller reported on the front page of Wednesday's Des Moines Register that, "With a late harvest, wet corn and an unseasonably chilly fall, demand for propane has skyrocketed, straining supplies and forcing suppliers across Iowa to ration the fuel used by farmers to dry grain and rural homeowners to heat their homes.
"Wet corn, chilly fall squeeze propane," by Donnelle Eller. The Des Moines Register (Front Page- November 6, 2019).
"'All across the state, I'm hearing the demand on the system during the last week to 10 days has been tremendous. It's really created a supply pinch,' said Mike Naig, Iowa's agriculture secretary."
Ms. Eller noted that, "The corn crop's late maturity means it had less time than usual to dry in the field. Corn normally should have about 15-17% moisture, which is acceptable for storage on the farm in an elevator. But the the average for corn currently being harvested is 21%, putting it at risk of spoiling if not dried."
#Propane getting tight in the Midwest but we aren't back to 2013 yet when drying was followed by several cold snaps on an already low Midwest stock level….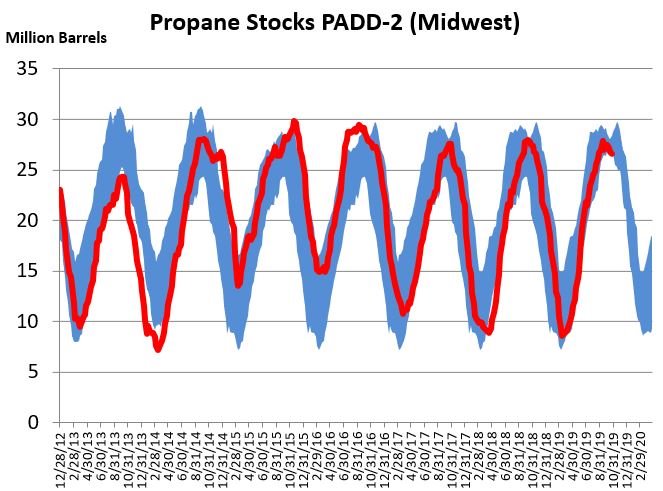 The Register article added that, "Suppliers filled most residential customers' tanks over the summer, so they started the fall with a full supply. Iowa's propane prices have remained stable, sitting at $1.20 a gallon on Oct. 28, a nickel more than at the start of the month, according to data from the U.S. Energy Information Administration.
"Despite the increase, propane prices are still about 16 cents below the price this time a year ago, the agency's data show. That's good news for families, who may remember when a propane shortage in 2014 drove prices to $5 a gallon."
Source: Keith Good, Farm Policy News