Congress Passes COVID Relief Stimulus Package, with Agricultural and Nutrition Provisions
December 23, 2020
Emily Cochrane reported on the front page of Tuesday's New York Times that, "Congress on Monday night overwhelmingly approved a $900 billion stimulus package that would send billions of dollars to American households and businesses grappling with the economic and health toll of the pandemic.
"Treasury Secretary Steven Mnuchin said hundreds of dollars in direct payments could begin reaching individual Americans as early as next week.
"The long-sought relief package was part of a $2.3 trillion catchall package that included $1.4 trillion to fund the government through the end of the fiscal year on Sept. 30."
The Times article noted that, "Though the $900 billion stimulus package is half the size of the $2.2 trillion stimulus law passed in March that provided the core of its legislative provisions, it remains one of the largest relief packages in modern American history."
Writing on the front page of Tuesday's Los Angeles Times, Jennifer Haberkorn reported that, "The legislation, broken into two parts to get through the House, was approved 327-85 and 359-53."
"The Senate approved the legislation 92-6. It now goes to the White House for President Trump's signature," the article said.
Ms. Haberkorn added that, "It took months of negotiations to reach a deal. Republicans had to give up demands for liability protections for businesses. Democrats passed up funding for state and local governments and sought to frame the package as only a down payment for a bigger bill they hope to get approved next year."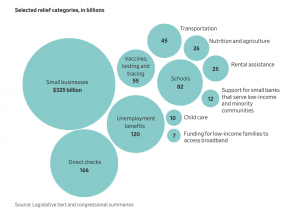 More narrowly regarding agriculture and nutrition, an article in Tuesday's Wall Street Journal reported that, "Here are some highlights of what is in the legislation based on the text and summary of the legislation and lawmakers' statements."
The U.S. agriculture sector is set for another multibillion-dollar injection in the new relief bill, which directs about $12 billion to crop farmers, cattle ranchers and rural communities.
"The new aid would come on top of roughly $46 billion that the U.S. Department of Agriculture projects the federal government will directly pay to the nation's farmers this year, a record.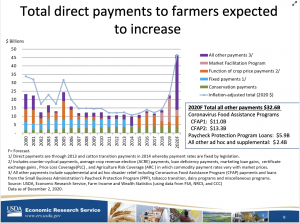 "That sum includes previous Covid-19 relief for farmers who had to plow up fields of produce ordinarily destined for restaurants, as well as hog producers who had to euthanize livestock because of pandemic-driven shutdowns at meatpacking plants."
And DTN Ag Policy Editor Chris Clayton reported this week that, "Crop farmers will receive $20-per-acre payments under the $900 billion emergency aid deal reached by Congress on Sunday."
Mr. Clayton explained that, "Specifically, the aid bill includes an estimated $5 billion that will provide supplemental $20-per-acre payments to all row-crop producers, according to details released by Sen. Debbie Stabenow, D-Mich., ranking member of the Senate Agriculture Committee.
"Another $3 billion will provide payments to cattle producers, contract growers of livestock and poultry, dairy farmers and livestock producers who were forced to euthanize their livestock or poultry because of the pandemic and its impacts on the supply chain. Another $225 million will be provides for supplemental payments to specialty-crop growers who lost their crops in 2019.
"Overall, the aid bill includes $13 billion for food purchases and direct support for farmers and ranchers."
The DTN article added that, "The bill also includes a 15% increase in Supplemental Food Assistance Program (SNAP) benefits for the next six months. That boost in SNAP benefits was a big driver for Democrats.
"'The COVID-19 pandemic has caused a hunger crisis that has touched every part of our nation. As many as 50 million Americans are not able to feed themselves and their families,' Stabenow said."
A news release on Tuesday from Sen. John Hoeven (R., N.D.) stated that, "The $13 billion for agriculture, includes:
Support for producers of non-specialty crops by providing a payment of $20/acre. North Dakota producers are estimated to receive upwards of $360 million.
An inventory top-up payment for cattle producers to more closely align payment rates under the Coronavirus Food Assistance Program (CFAP) 1 and CFAP 2.
Funding for a grant program to allow small meat processors to make improvements to become federally inspected.
Support for producers forced to depopulate livestock due to insufficient processing capacity.
And a news release Monday from the Senate Agriculture Committee stated that, "The legislation includes approximately $26 billion for pandemic-related agriculture and nutrition programs.
"'I'm proud to cast one of my final votes in the Senate on behalf of America's farmers, ranchers, and growers,' said [Committee Chairman Pat Roberts (R., Kansas)].  'This legislation will benefit every link in our food supply chain to make sure we can weather this pandemic.'"
Source: Keith Good, Farm Policy News