China to Accelerate U.S. Farm Purchases, as Trade Partners Raise Concerns Over U.S. Farm Assistance
June 22, 2020
Bloomberg News reported on Friday that, "China plans to accelerate purchases of American farm goods to comply with the phase one trade deal with the U.S. following talks in Hawaii this week.
"The world's top soybean importer intends to increase buying everything from soybeans to corn and ethanol after purchases fell behind due to the coronavirus, said two people familiar with the matter, who asked not to be named because the information is private. A separate person said China's government has asked state-owned buyers to make efforts to meet the phase one pact."
The Bloomberg article noted that, "China pledged to buy $36.5 billion worth of American agriculture products under the phase one deal, up from $24 billion in 2017, prior to the trade war.
"However, China purchased only $4.65 billion in the first four months of the year, data from the U.S. Department of Agriculture show. That's only 13% of the goal set in the trade deal and almost 40% below the same period in 2017."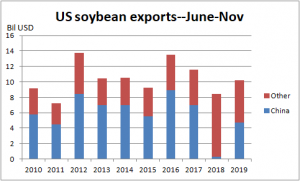 On Thursday, Wall Street Journal writers Michael R. Gordon and William Mauldin reported that, "Secretary of State Mike Pompeo met with his Chinese counterpart in Hawaii, part of an effort by Washington and Beijing to manage a relationship that has badly deteriorated over issues ranging from the status of Hong Kong and Taiwan to the coronavirus pandemic.
"The talks began when Mr. Pompeo met over dinner Tuesday night with China's top diplomat, Yang Jiechi, and resumed Wednesday morning at Joint Base Pearl Harbor-Hickam."
During my meeting with CCP Politburo Member Yang Jiechi, he recommitted to completing and honoring all of the obligations of Phase 1 of the trade deal between our two countries. pic.twitter.com/YJmBTUmuQ9— Secretary Pompeo (@SecPompeo) June 18, 2020
Meanwhile, Bloomberg writer Josh Wingrove reported on Thursday that, "President Donald Trump said the U.S. could pursue a 'complete decoupling from China' in response to unspecified conditions, his most forceful statement yet on the souring ties with Beijing.
"In a tweet Thursday, Trump refuted comments a day earlier by U.S. Trade Representative Robert Lighthizer, who said a full decoupling of the world's two biggest economies was not 'a reasonable policy option.'"
It was not Ambassador Lighthizer's fault (yesterday in Committee) in that perhaps I didn't make myself clear, but the U.S. certainly does maintain a policy option, under various conditions, of a complete decoupling from China. Thank you!— Donald J. Trump (@realDonaldTrump) June 18, 2020
And Edward Wong and Michael Crowley reported on the front page of Friday's New York Times that, "Administration players on China have been divided by factional feuding and irreconcilable policy goals, with security hawks and religious freedom crusaders butting heads with Wall Street advocates and free traders."
Wiring in Saturday's New York Times, Ana Swanson and Alan Rappeport reported that, "Within two years of President Trump's taking office, one of his key political constituencies — America's farmers — were reeling from his trade war with China."
The article stated that, "China did ultimately agree to buy $200 billion worth of additional U.S. goods by the end of next year as part of an initial trade deal, including $36.6 billion of American agricultural products this year. But those purchases have lagged significantly behind targets, as the Chinese and American economies struggle with decreased demand amid the pandemic."
Swanson and Rappeport noted that,
Soybean exports fell to just $3.1 billion in 2018 from $12.2 billion in 2017, before recovering to $8 billion in 2019. Between January and April of this year, exports have been about $1.2 billion, according to data from the Department of Agriculture.
"'It's going to have to pick up dramatically,' said John Heisdorffer, director of the American Soybean Association, referring to the increase in exports that will be required for China to keep its commitments. 'There's still time yet. But I don't know if farmers have time.'"
Sales of U.S. #soybeans to #China for 2020/21 are starting to resemble old times again. As of June 11, sales totaled 3.05 mmt (112 mbu) for delivery next year, which is a six-year high for the date. And we know at least another 390kt were sold on Monday. pic.twitter.com/N1YqsgJJNp— Karen Braun (@kannbwx) June 18, 2020
Saturday's article also pointed out that, "The administration announced a total of $28 billion in aid for farmers in 2018 and 2019, funds the president says come from the tariffs levied on China. The administration secured another $23.5 billion to help American farmers through the $2 trillion coronavirus stimulus package passed in March."
With respect to this federal aid, Bloomberg's Mike Dorning reported on Thursday that, "President Donald Trump's billions in bailout payments for farmers probably pushed the U.S. past international treaty limits on subsidies, potentially inviting retaliation from trading partners, according to an advocacy group."
Mr. Dorning stated that, "The European Union, China and five other World Trade Organization members have already raised complaints that Trump's farm assistance payments may violate international rules. Brazil, Canada, Australia, New Zealand and the EU raised more questions about the assistance payments in advance of a WTO agriculture panel meeting Thursday in Geneva. The U.S. Agriculture Department denies it's violating the treaty.
"'The administration will ensure that all payments are consistent with the WTO Agreement on Agriculture, including obligations capping trade distorting domestic support,' a USDA spokesperson said in an emailed statement."
Source: Keith Good, Farm Policy News