China, South Korea Ban German Pork Imports (Japan Suspends), After African Swine Fever Case Discovered
September 15, 2020
Late last week, Bloomberg writers Megan Durisin, Brian Parkin, and Isis Almeida reported that, "A deadly pig disease has materialized in Germany for the first time, threatening to hammer exports from Europe's biggest hog-producing nation.
"A confirmed case of African swine fever has been identified in the eastern state of Brandenburg, Agriculture Minister Julia Kloeckner said Thursday at a briefing in Berlin. The virus, which kills most infected pigs within 10 days but is not harmful to humans, was detected in the corpse of a wild boar found near the Polish border."
The Bloomberg writers explained that, "A key supplier to China, the largest consumer, Germany had stepped up efforts to prevent the disease from entering the country since it emerged in western Poland late last year. That included training dogs to sniff out dead wild boar, stockpiling electric fences along the eastern border and urging drivers not to toss ham-sandwich scraps out the window. Eastern Europe has dealt with ASF outbreaks for several years, and neighboring Belgium has also seen cases in wild animals since 2018."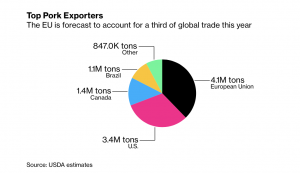 The Bloomberg article added that, "'This is very friendly, bullish, to U.S. pork prices, if German pork exports are shut down,' said Dennis Smith, a senior account executive at Archer Financial Services. America has been exporting record amounts of pork to China recently.
"Restrictions on German exports could add to tailwinds for American shipments, with increased sales of U.S. pork and poultry to China one of the few bright spots for the sector hit by coronavirus-related disruptions. Shares of Tyson Foods Inc. and Sanderson Farms Inc. each rose more than 5%."
Reuters writer Sangmi Cha reported last week that, "South Korea banned imports of pork from Germany on Thursday after a case of African swine fever was confirmed in a wild boar in eastern Germany, the South Korean agriculture ministry said.
"The agriculture ministry said the ban will apply to pork leaving Germany from Sept. 10 onwards. Pork already en route from Germany will be subject to African swine fever checks on arrival in South Korea, it said.
"Imports of pork from Germany amounted to about 18% of the 421,190 tonnes of pork that South Korea imported last year, the ministry said in a statement."
On Friday, Bloomberg News reported that, "Germany, which counts on China for almost two-thirds of its pork exports, confirmed a case of African swine fever on Thursday. That's already caused South Korea and Japan to suspend purchases, and Taiwan to begin inspecting the luggage of passengers from the European nation."
(On Sunday, Reuters News reported that, "Japan suspended imports of pork and live pigs from Germany on Friday after a case of African swine fever (ASF) was confirmed in a wild boar in eastern Germany, the agriculture ministry said.")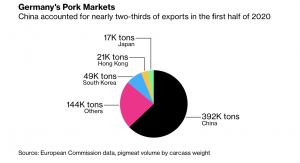 Also Friday, Reuters News reported that, "German farmers on Friday urged China to avoid a nationwide ban on imports of German pork a day after African swine fever (ASF) was found in a wild boar in Brandenburg."
Joachim Rukwied, president of Germany's DBV farming association, said pig farmers are concerned that 'swine fever will mean the Asian market falls apart.'
However, Reuters writers Josh Horwitz and Dominique Patton reported over the weekend that, "China banned pork imports from Germany on Saturday after it confirmed its first case of African swine fever last week, in a move set to hit German producers and push up global prices as China's meat supplies tighten.
"China's ban on imports from its third largest supplier comes as the world's top meat buyer deals with an unprecedented pork shortage after its own epidemic of the deadly hog disease.
The ban on Germany, which has supplied about 14% of China's pork imports so far this year, will push up demand for meat from other major suppliers like the United States and Spain, boosting global prices.
The Reuters article stated that, "The United States is also 'well positioned' to ship more pork to China, said Joe Schuele, spokesman for the U.S. Meat Export Federation.

"U.S. live hog futures climbed on Thursday and Friday on anticipation of the ban."
And Bloomberg writers Feifei Shen and Carolynn Look reported on Saturday that, "China has halted imports of pork from Germany and will destroy existing supplies on concern about a pig-killing disease."
The Bloomberg article noted that, "The ban, effective from Sept. 11, applied to both direct and indirect purchases of hog, boar and related products from Germany, according to a statement from China's General Administration of Customs dated Friday. The nation will destroy or return all the German pork shipments that started after Sept. 11 and strengthen quarantine over deliveries that began before the date, the customs agency said."
Meanwhile, a Bloomberg News article last week pointed out that, "China's massive hog farms are expanding rapidly on the back of government incentives and record pork prices, but it could be months before production increases enough to cool the market and curb imports."
The Bloomberg article stated that, "The world's biggest pork consuming and producing nation has seen prices and imports climb to all-time highs after African swine fever slashed herds by almost half. The price spike has fueled the country's inflation, while foreign purchases are surging just as President Xi Jinping launches a campaign against food waste and the government preaches the virtues of self-sufficiency."
More narrowly on this issue, Wall Street Journal writers Xie Yu and Lucy Craymer reported on Sunday that, "China is so desperate to rebuild pig herds after swine fever that its banks are experimenting with loans to farmers backed by a novel asset: their hogs.
"The country's swine herd fell steeply after African swine fever, which is harmless to humans but usually deadly for pigs, first emerged in August 2018. That pushed up prices for pork, a staple food in China.
"The government, worried about food-price inflation, has since encouraged farmers to restock and larger commercial farms to expand. But small family farms—which make up a third of the country's more than ê million pig farms—were already struggling with debts and have few assets to borrow against, partly because they don't own their land, though they can sometimes borrow against land-use rights."
The Journal article stated that, "Last September, China's banking regulator and its agriculture ministry urged banks and insurers to better support pig farmers, including by developing pilot programs using hogs as collateral.
"In March, the ministry told banks to start accepting pigs, land-use rights and farming machinery as collateral. It also lowered the threshold for a separate loan-subsidy program by 90% to cover farmers with as few as 500 pigs. These loans aren't collateralized with livestock.
"Since then, tens of millions of dollars have been put to use in pilot programs. In June, officials in Zhejiang, eastern China, said farmers in 32 of the province's counties had borrowed a total 178 million yuan, the equivalent of $26 million, in loans backed by live hogs."
The Journal writers pointed out that,
In the first half of the year, China built nearly 6,200 large new swine farms, and nearly 10,800 major farms have restocked after culling their herds over the past two years, the agriculture ministry said.
"A 53% rise in retail pork prices helped push overall food prices up 11% in August, compared with a year earlier, according to the National Bureau of Statistics. Still, the rate of increase slowed compared with July, when pork leapt 86%, fueling a 13% rise in food prices."
Source: Keith Good, Farm Policy News