China Purchases U.S. Soybeans, and U.S.-China Trade Talks Conclude
January 10, 2019
As trade talks between the U.S. and China kicked off this week in Beijing, news reports pointed out that China "made their third large U.S. soybean purchase in the past month on Monday." The trade talks went a day longer than scheduled, and concluded with a statement that noted: "The talks also focused on China's pledge to purchase a substantial amount of agricultural, energy, manufactured goods, and other products and services from the United States." Meanwhile, a Financial Times article explored how the ongoing U.S.-China trade row is negatively impacting the U.S. farm sector.
Chinese Importers Purchase U.S Soybeans
On Monday, Reuters writer Karl Plume reported that, "Chinese importers made their third large U.S. soybean purchase in the past month on Monday, as officials from both countries meet this week for the first face-to-face talks since agreeing to a 90-day trade war truce on Dec. 1, two traders with knowledge of the deals said.
Chinese state-owned firms bought at least three cargoes of U.S. soybeans on Monday morning, or about 180,000 tonnes, the traders said. One of them said the total was closer to 15 cargoes, or about 900,000 tonnes.
Mr. Plume explained that, "China's purchases of the 2018 harvest, estimated at around 5 million tonnes to date, is a fraction of China's typical purchases from the United States. China last year had booked more than 23 million tonnes of U.S. soy by late December, according to U.S. Department of Agriculture data.

"The window of opportunity to sell U.S. soy to China is closing quickly as farmers in Brazil, the world's top soy supplier, have already started harvesting their latest crop."

Meanwhile, Bloomberg writers Isis Almeida, Kevin Varley, and Alfred Cang reported earlier this week that, "Top soybean importer China is buying more American supplies as talks between Washington and Beijing seek a lasting truce to a trade conflict that has roiled global markets, according to traders familiar with the transaction.
State stockpiler Sinograin bought at least 20 cargoes on Monday, said the traders, who asked not to be identified because the deals are private. The cargoes to be loaded in the Gulf Coast are for January and early February, while those bought from the Pacific Northwest will be for February and March, they said. Total purchases were between 1.3 million and 1.5 million tons, which is the equivalent of about 20 to 25 cargoes, according to one of the traders.
The Bloomberg writers pointed out that, "China last made a big purchase of soybeans before Christmas, scooping up about 1.2 million metric tons for delivery by Aug. 31, according to the U.S. Department of Agriculture. That was on top of 1.56 million tons in the week ended Dec. 13. China aimed to buy at least 5 million tons of soybeans, people familiar with the matter said previously."
U.S.-China Trade Talks
Reuters writers Michael Martina and Susan Heavey reported on Monday that, "U.S. Commerce Secretary Wilbur Ross predicted on Monday that Beijing and Washington could reach a trade deal that 'we can live with' as dozens of officials from the world's two largest economies resumed talks in a bid to end their trade dispute.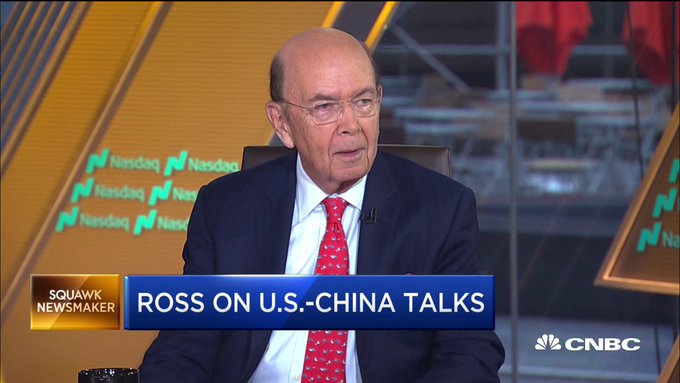 Squawk Box
. @SecretaryRoss appeared on @squawkcnbc as a new round of trade talks between the U.S. and China kicked off in Beijing Monday. Here's what Ross said about the state of negotiations: 8:09 AM – Jan 7, 2019 "'I think there's a very good chance that we will get a reasonable settlement that China can live with, that we can live with and that addresses all of the key issues,' Ross said in an interview with CNBC."
The Reuters article added that, "Trump said on Sunday that trade talks with China were going very well and that weakness in the Chinese economy gave Beijing a reason to work towards a deal."

Also Monday, Bloomberg News reported that, "Chinese Vice Premier Liu He unexpectedly attended the first day of talks aimed at resolving the trade dispute between the world's two biggest economies, according to people familiar with the matter and a photo seen by Bloomberg."

Meanwhile, Reuters writer Dominique Patton reported earlier this week that,
China approved five genetically modified (GM) crops for import on Tuesday, the first in about 18 months in a move that could boost its overseas grains purchases and ease pressure from the United States to open its markets to more farm goods.
"The approvals, announced on the agriculture ministry's website, were granted while a U.S. trade delegation is meeting with its counterparts in the Chinese capital this week," the Reuters article said.

On Tuesday, Wall Street Journal writer Lingling Wei reported that, "The U.S. and China made progress on narrowing their differences on trade issues, especially on purchases of U.S. goods and services and widening access to China's markets, though the two sides are far from striking a deal.

"In two intense days of talks in Beijing that will continue into Wednesday, U.S. and Chinese midlevel negotiators addressed a number of nettlesome issues and tried to specify how to ensure China will carry out pledges it made, according to people on both sides briefed on the discussions. The U.S. team isn't expected to leave Beijing until late Wednesday afternoon."

Donald J. Trump ✔@realDonaldTrump
Talks with China are going very well!7:16 AM – Jan 8, 2019 Also Tuesday, Reuters writers Michael Martina and Dominique Patton reminded readers that, "If no deal is reached by March 2, Trump has said he will proceed with raising tariffs to 25 percent from 10 percent on $200 billion worth of Chinese imports at a time when China's economy is slowing significantly." And Financial Times writers Pan Kwan Yuk and Sam Fleming noted Tuesday that, "Both countries are under heavy pressure to find a resolution amid volatility in financial markets and growing fears of a global economic slowdown. Recent data has shown a marked loss of growth momentum in China, where the privately owned manufacturing sector contracted in December for the first time in 19 months. US jobs growth remains robust but recent gauges for US manufacturing and the services sector both came in below expectations."

More narrowly, Bloomberg's Jenny Leonard, Jennifer Jacobs, Saleha Mohsin, and Shawn Donnan reported this week that, "President Donald Trump is increasingly eager to strike a deal with China soon in an effort to perk up financial markets that have slumped on concerns over the trade war, according to people familiar with internal White House deliberations."

On Wednesday, at the conclusion of the trade talks, Reuters writers Michael Martina and David Lawder reported that, "Some 40 days into the 90-day truce, there were few concrete details on progress made so far. The meetings in Beijing were not at a ministerial level, so were not expected to produce a deal to end the trade war.

"U.S. and Chinese officials discussed 'ways to achieve fairness, reciprocity and balance in trade relations,' the U.S. Trade Representative's office said in a statement.
'The talks also focused on China's pledge to purchase a substantial amount of agricultural, energy, manufactured, and other products and services from the United States,' the USTR said.
Lingling Wei reported on Wednesday at The Wall Street Journal Online that, "The U.S. and China wrapped up their first face-to-face trade negotiations since a temporary tariff truce was declared last month, making progress toward an agreement but leaving the thorniest issues to be resolved in higher-level talks, according to people with knowledge of the discussions."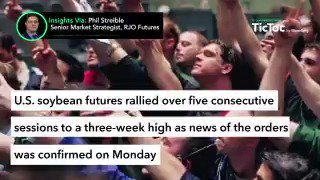 TicToc by Bloomberg
Despite China returning to the table and purchasing some U.S. soybeans, the reality is that the trade war is still on and global supply chains have been altered. Insights via @CMEGroup
12:50 PM – Jan 9, 2019 "During three days of talks between midlevel trade officials from Washington and Beijing in the Chinese capital that ended Wednesday, the two sides made progress on issues such as additional Chinese purchases of U.S. goods and services, as well as opening China's markets further to American capital, the people said. But they cautioned that the two teams hadn't yet made a breakthrough and more discussions are needed to resolve a trade fight that has unnerved global markets." View image on Twitter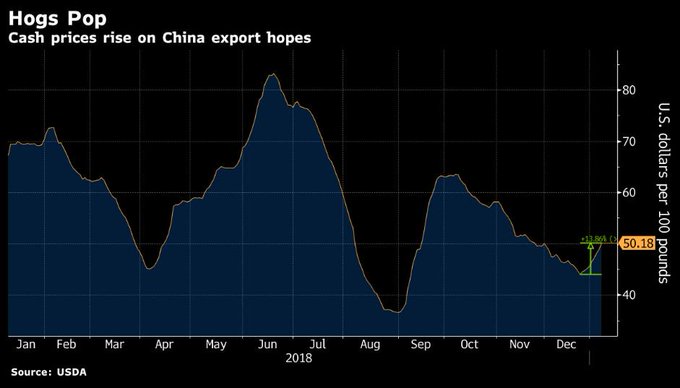 Peter Martin
This week, as always, pigs have something to say about geopolitics: Prices in the physical market have popped 14% in less than three weeks, according to data from the U.S. Department of Agriculture, a sign they see China – the world's biggest consumer – buying more soon
7:11 PM – Jan 9, 2019Bloomberg writers Natalie Lung, Miao Han, and Peter Martin reported Thursday that, "Negotiators from both the U.S. and China expressed optimism after mid-level talks wrapped in Beijing this week, boosting sentiment across global markets. Still, the path forward remains unclear: Another round of talks hasn't been scheduled, and the government shutdown in the U.S. has dominated President Donald Trump's attention.
Jenny Leonard@jendeben
NEW: China says in statement that the two countries conducted "broad, deep, detailed" exchanges on trade issues and structural matters during the 3-day trade talks in Beijing, improved mutual understanding and laid ground for resolving concerns.6:56 PM – Jan 9, 2019 "Both Trump and Chinese Vice President Wang Qishan were slated to appear later this month at the World Economic Forum in Davos, Switzerland, providing an opportunity for high-level dialogue. But the shutdown may yet prevent Trump's appearance, according to a report in the Wall Street Journal." And the Associated Press succinctly noted Thursday that: "The United States and China gave no indication of their next step after wrapping up talks aimed at resolving a tariff fight that threatens to chill global growth."
Trade Impacts on Farmers Persist
On Monday, Financial Times writer Gregory Meyer reported that, "Soyabean prices depressed by the [U.S.-China trade] dispute remain weak, reflecting low expectations even as US and Chinese officials resumed trade talks on Monday. Exporters are focusing their attention on other markets. Soyabean stockpiles are clogged up and down the Mississippi, upsetting rhythms of the crop calendar at a multibillion-dollar cost to American farmers and taxpayers.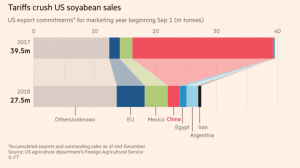 "US-China: farmers count the cost of the trade war," by Gregory Meyer. The Financial Times (January 7, 2019). Mr. Meyer noted that, "Hopes rose in the US farm belt after Mr Trump and President Xi Jinping of China met in Buenos Aires towards the end of last year and agreed not to escalate their dispute for 90 days, a period that ends on March 2. Beijing has in recent weeks purchased a few million tonnes of soyabeans for its government reserve, in a sign of goodwill.
Yet the market is sceptical about the possibility of a permanent detente.
The FT article stated that, "Even if Beijing and Washington make peace, the effects of the 2018 soyabean showdown will endure. Market veterans recall how a 1973 US embargo on soyabean exports sparked Brazil's ascent as a major player in the sector. 'Once you are branded with the scarlet letter of being an unreliable supplier, it is hard to completely regain those lost sales,' says Scott Irwin, a University of Illinois agricultural economist.

"Food security is a priority for Beijing. So uncertainty over US relations may cause it to further diversify its soyabean sources."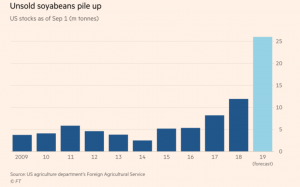 "US-China: farmers count the cost of the trade war," by Gregory Meyer. The Financial Times (January 7, 2019). Mr. Meyer added that, "US farmers built up cash buffers during the commodities boom that ended earlier in the decade, but economic strains are building. In states of the upper Midwest — prime soyabean, corn, wheat and dairy country — banks are contending with rising levels of bad agricultural loans on their books, according to the Federal Reserve Bank of Minneapolis.

"In central corn belt states, such as Iowa and Illinois, farm loan repayment rates are declining amid a 'decidedly downcast outlook for agriculture,' the Federal Reserve Bank of Chicago reports.

"The impact of the tariffs comes on top of a multiyear bear market in grain, with large crops forcing down prices."

Lastly, DTN Ag Policy Editor Chris Clayton reported this week that, "Farmers who had waited to enroll in the Market Facilitation Program will get a deadline extension once USDA Farm Service Agency offices are allowed to reopen…[A]griculture Secretary Sonny Perdue announced Tuesday USDA will extend the Jan. 15 enrollment deadline for the payments and add a comparable number of days to set a new deadline when USDA funding is reauthorized by Congress and approved by the president."

Source: Keith Good, Farm Policy News