China Purchase of U.S. Sorghum Highlights Willingness to Buy When it Makes Economic Sense
February 27, 2020
Bloomberg writers Isis Almeida and Michael Hirtzer reported on Tuesday that, "China is back in the market for U.S. sorghum this week, signaling the world's top food importer is willing to buy U.S. agricultural products only when they are cheaper.
"Chinese buyers are bidding for U.S. supplies that are for shipment in April and May, according to people familiar with the matter, who asked not to be identified because the negotiations are private.
"It's the latest sign of China's hunger for sorghum, just about a week after the Asian nation bought at least four cargoes of the crop, which is used in livestock feed."
The Bloomberg writers noted that,
The move also highlights that China will buy U.S. agricultural goods when it makes economic sense after agreeing to billions more in purchases as part of the phase-one trade deal. American sorghum supplies are much cheaper than those from rival producer Australia, where a drought has pushed up prices. By contrast, there have been scant signs of soybean purchases, with shipments from South America still fetching relatively lower costs. The same goes for wheat, with China having recently picked up several cargoes of French grain, the world's cheapest.
Meanwhile, Wall Street Journal writer Katy Stech Ferek reported this week that, "U.S. officials said Chinese leaders have taken the first steps toward implementing the first phase of a trade deal between the world's two largest economies, an announcement that comes amid concerns that the coronavirus could delay the pace of China's promise to purchase more U.S. crops and other goods.
"U.S. officials on Tuesday noted that Chinese leaders have lifted import restrictions on U.S. poultry and poultry products and pet food, along with other actions, since the deal took effect on Feb. 14. Those provisions were part of a 90-page written agreement signed in January.
"The deal calls for China to increase its purchases of U.S. agricultural products by $32 billion over a two-year period. The officials didn't say how much China has agreed to purchase of its roughly $200 billion goal so far."
Sec. Sonny Perdue
✔@SecretarySonny
.@realDonaldTrump negotiated a strong trade agreement with China that promises significant benefits for American ag. We look forward to realizing these benefits this year and are encouraged by progress made last week. We fully expect compliance with all elements of the deal. https://twitter.com/WSJPolitics/status/1232383943846088704 …
Capital Journal
✔@WSJPolitics
U.S. officials said Chinese leaders have taken the first steps toward implementing the first phase of their trade deal https://on.wsj.com/3a0cLCY
3:39 PM – Feb 25, 2020
The Journal article noted that, "This month, White House National Economic Council Director Larry Kudlow said he expected the fallout from the deadly coronavirus to delay—but not derail—the economic boost the U.S. anticipated from the deal. Any purchase delays by China, however, could be made up with a surge of buying later."
Darin LaHood
✔@RepLaHood
Farming is the lifeblood of #IL18, & it was good to chat with @ILFBPres about ag issues & recent wins on trade—#USMCA, Phase One China Agreement & Japan deal.
I am looking forward to welcoming Richard tomorrow as our witness at the @WaysandMeansGOP hearing on trade with China.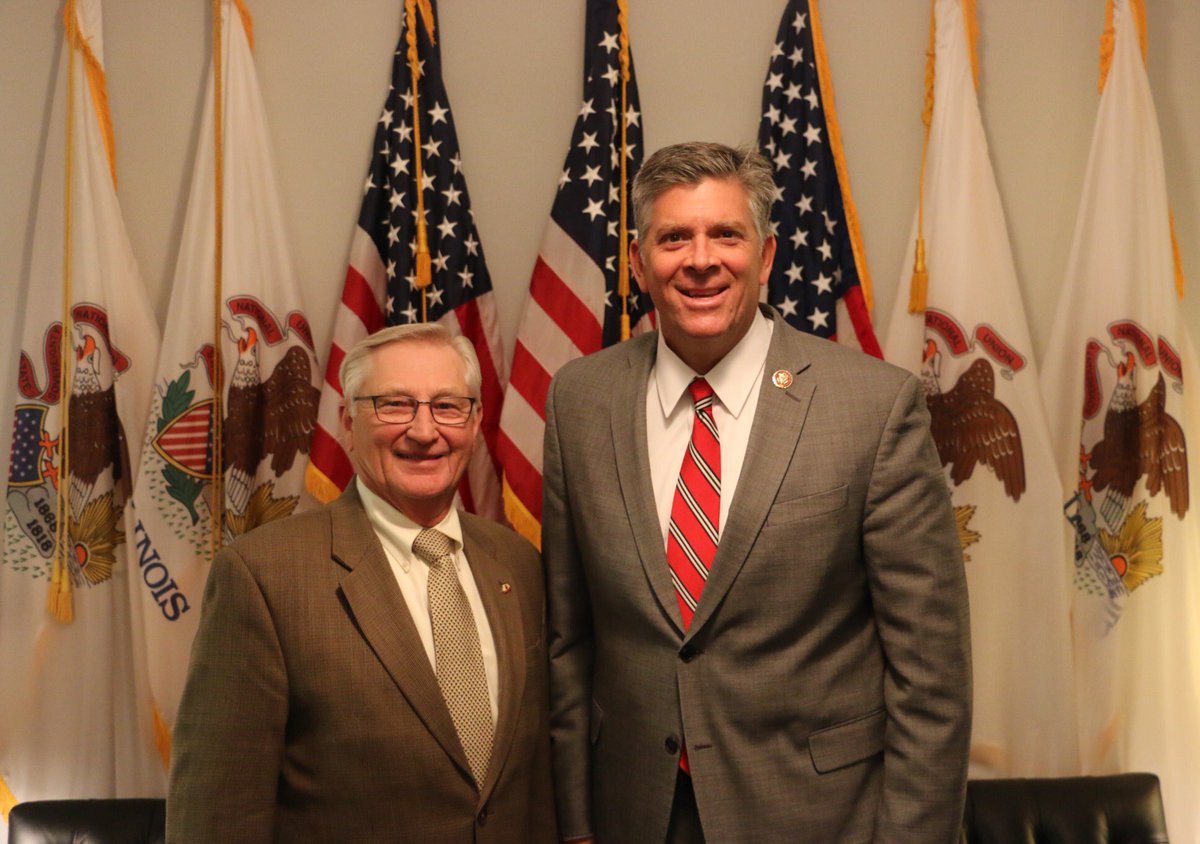 At a hearing on U.S., China trade on Wednesday at the House Ways and Means Committee, Illinois Farm Bureau President Richard Guebert Jr. noted that, "In recent years, as China became bigger buyers of U.S. soybeans, soybean exports from Illinois became far more significant.
In 2016, Illinois farmers exported $2.3 billion (dollars) worth of soybeans – almost all of them to China. Our soybean exports eclipsed $2 billion dollars again the following year, ranking only behind petroleum as the state's biggest commodity export.
"And then in 2018, the Trade War hit – instantly cutting our soybean exports in half. We sold roughly $1 billion fewer soybeans from our state. Last year Illinois soybean exports – at roughly $800 million – were about a third of what they were just three years before."
Mr. Guebert pointed out that, "And that has impacted farm profitability across Illinois and across the Midwest region. You'll note the number of farm bankruptcies are on the rise. Farmers have less purchasing power. And despite the passage of tax reform and its enhanced farm equipment expensing provisions, farmers are pretty much out of the market for new equipment. Tariffs on steel have increased the cost of grain storage. All of this has impacted the rural economy.
"USDA has stepped in over the past two years and Illinois farmers have received roughly dollar for dollar in Market Facilitation Program payments what we have lost in exports to China."
Senator John Hoeven
✔@SenJohnHoeven
As Chair of Ag Approps, we appreciate @POTUS' ongoing support for our farmers & ranchers. We'll work to ensure funds are available for additional MFP if needed. Thank you @realDonaldTrump & @SecretarySonny. https://twitter.com/realDonaldTrump/status/1230875946334318593 …
Donald J. Trump
✔@realDonaldTrump
IF OUR FORMALLY TARGETED FARMERS NEED ADDITIONAL AID UNTIL SUCH TIME AS THE TRADE DEALS WITH CHINA, MEXICO, CANADA AND OTHERS FULLY KICK IN, THAT AID WILL BE PROVIDED BY THE FEDERAL GOVERNMENT, PAID FOR OUT OF THE MASSIVE TARIFF MONEY COMING INTO THE USA!5:06 PM – Feb 25, 2020
And Mr. Guebert added that, "We recognize that China is managing through a deadly coronavirus outbreak, that the purchases called for in the agreement have not happened yet, and that USDA economists have not even built those anticipated Phase I sales into their export reports,
"We certainly know the markets have yet to move.
"But farmers are optimistic. We understand that we're just at the beginning of an exciting new chapter and we patiently await the benefits of this new trade agreement."
Source: Keith Good, Farm Policy News