China Imports of U.S. Corn Next Year Could Hit 30 Million Tons
December 1, 2020
Bloomberg News reported late last week that, "China is set to import more U.S. corn, with volumes for next year seen hitting the top end of market expectations and squeezing global grains prices.
"State-owned food titan Cofco Corp. has sold 10 million tons to domestic private mills and will probably boost purchases from the U.S. even further, according to people familiar with the matter.
This could put China's total imports of the American crop on track to hit 30 million tons next year, the people estimated.
The Bloomberg article noted that, "The purchases — which are in addition to China's annual corn import quotas — could drive up Chicago futures that are already trading near their highest since July last year. Grains have been surging amid robust Chinese consumption, with domestic corn prices near a record as demand for hog and poultry feed grows and state reserves dwindle."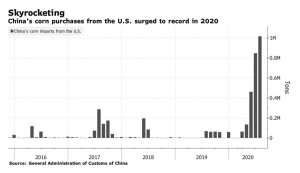 The Bloomberg article explained that, "The jump in shipments has sparked speculation that China could become the world's largest corn importer. The U.S. Department of Agriculture's Foreign Agricultural Service estimates China could buy 22 million tons in the 2020-21 season, while Goldman Sachs Group Inc. said shipments could surge to 33 million tons in 2021."
Meanwhile, Reuters News reported last week that, "The International Grains Council (IGC) on Thursday cut its forecast for global corn (maize) production in the 2020/21 season, while doubling its projection for China's corn imports.
"In its monthly update, the inter-governmental body reduced its global corn crop forecast by 10 million tonnes to 1.146 billion tonnes mainly due to diminished outlooks for crops in the United States, Ukraine and European Union."
The Reuters article added that,
The IGC also raised its forecast for China's corn imports in the 2020/21 season to 16 million tonnes from a previous projection of 8 million tonnes.
"China has been aggressively buying corn partly due to rising feed grain demand as the country's swine industry recovers from a deadly pig disease."
With respect to soybean trade variables, Reuters writers Naveen Thukral and Hallie Gu reported on Wednesday that, "Some Chinese soybean importers and processors are looking to cancel deals signed for U.S. cargoes for December and January shipment, after crushing margins collapsed following a steep rally in Chicago futures, three trade sources said.
"This is a first sign of slowing Chinese demand after a five-month buying spree that combined with dryness in top producer Brazil to add more than quarter to benchmark Chicago futures since the crop year began on Sep. 1, and 13% this month."
And Bloomberg writers Kim Chipman and Michael Hirtzer reported on Friday that, "American soybean sales to other countries dipped 42% last week to the lowest level in more than two months after unknown buyers canceled orders, U.S. Department of Agriculture data showed Friday.
"Net sales for the week ended Nov. 19 slumped to 768,100 metric tons, below analyst estimates averaging 980,000 tons. Buyers to unknown destinations canceled 738,900 tons, bringing overall exports to the lowest point since the 2020-21 marketing season began Sept. 1."
A separate Bloomberg News article last week reported that, "China's imports of U.S. goods under the phase-one trade deal slowed last month after hitting a high in September, leaving the full-year target well out of reach.
"As of the end of October, China had purchased about $75.5 billion of targeted goods, according to Bloomberg calculations based on Customs Administration data. That was 43.9% of the total 2020 target of $172 billion in goods, meaning China needs to buy more than $95 billion worth in the remaining two months of the year to fulfill January's trade agreement with the U.S.​"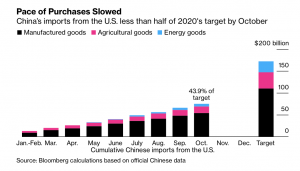 "With the data showing it will be likely impossible for China to meet its full-year purchase targets, the focus is now on how a new U.S. administration under Joe Biden will approach the trade deal," the Bloomberg article said.
Source: Keith Good, Farm Policy News