As U.S, China Trade War Escalates, American Farm Goods are Targeted Again
August 26, 2019

Alan Rappeport and Keith Bradsher reported on the front page of Saturday's New York Times that, "On Friday, China said it would increase tariffs on $75 billion worth of American goods, including crude oil, automobiles and farm products like soybeans, pork and corn in response to Mr. Trump's plan to tax an additional $300 billion worth of Chinese goods in September and December."
"Twelve hours after China said it would retaliate against Mr. Trump's next round of tariffs by raising taxes on American goods, Mr. Trump said he would bolster existing tariffs on $250 billion worth of Chinese goods to 30 percent from 25 percent on Oct. 1," the Times article said.
#China clearly sees the U.S. farmers as a way to put pressure on Trump (and Beijing is probably right) #OATT #corn #soybean https://twitter.com/huxijin_gt/status/1164931468579053570 …
Without China's market of 1.4b people, US farm goods will have nowhere to go, farm land being abandoned, farmers going bankrupt. US energy products will also lose an infinite market.Chinese auto market is already bigger than US'…all of this don't have to happen.I hate trade war.
3:47 PM – Aug 23, 2019 · South East, England
Saturday's article indicated that, "Farmers, who have borne the brunt of China's retaliation, said Mr. Trump's tactics were only making things worse.
"'Every time Trump escalates his trade war, China calls his bluff — and why would we expect any differently this time around?' said Roger Johnson, the president of the National Farmers Union. 'It's no surprise that farmers are again the target.'"
Don Lee and Chris Megerian reported on the front page of Saturday's Los Angeles Times that, "One of Trump's key Senate allies, Finance Committee Chairman Charles E. Grassley(R-Iowa), said in a statement that he supports Trump's goal of a fairer trade relationship with China, but worries that farmers 'are at risk of permanently losing an export market.'
"'Tariffs cannot be the only negotiating tool. Tariffs are not a long-term solution,' he said."
Note that on Sunday, Bloomberg writers Josh Wingrove and Jennifer Jacobs reported that, "[President Trump], during a meeting with U.K. Prime Minister Boris Johnson on Sunday at the Group of Seven summit, was asked whether he had 'any second thoughts on escalating the trade war' with China, after he announced higher tariffs late Friday.
"'Yeah, sure, why not?' Trump replied. Reporters asked again whether he had second thoughts. 'Might as well, might as well,' he replied, before reporters asked again. 'I have second thoughts about everything,' he said.
"The breezy acknowledgement from the president is the latest in the trade fight between the two largest economies, who continue to ratchet up pressure as warning signs flash on the risk of a global recession."
New statement from @PressSec: "The President was asked if he had 'any second thought on escalating the trade war with China'. His answer has been greatly misinterpreted. President Trump responded in the affirmative – because he regrets not raising the tariffs higher."
And on Monday, Bloomberg News reported that, "U.S. President Donald Trump said the prospects for a deal with China are better now than at any time since negotiations began last year, even as a top state-media editor in Beijing questioned his version of events.
"Speaking at the Group of 7 meetings in Biarritz, France, Trump said last night China called 'our trade people and said let's get back to the table.' He also lauded President Xi Jinping as a 'great leader' and said 'anything's possible' when asked if he would delay tariff increases on China."
"China called last night our top trade people and said let's get back to the table."

Trump says China wants to restart trade talks during a meeting with Egypt's President #G7Summit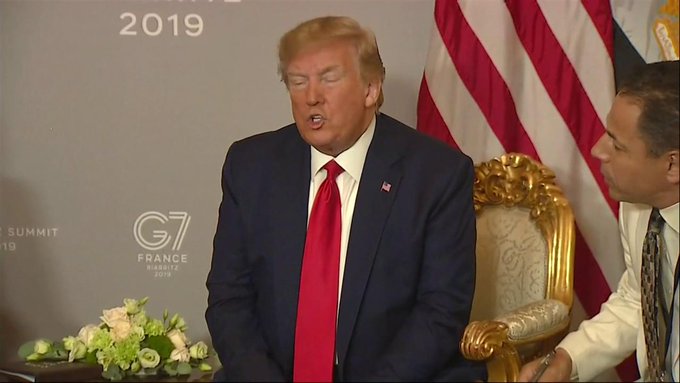 Meanwhile, Reuters writer Dominique Patton reminded readers on Friday that, "China's commerce ministry said on Aug. 5 that Chinese companies had stopped buying U.S. farm products, heating up the trade war between the countries.
'To me, it's totally political and all psychological,' said Dan Basse, president of consultancy AgResource Co in Chicago. 'A ban was more destructive than raising tariffs.'
Bloomberg writers Megan Durisin and Ashley Robinson reported on Friday that, "'This escalation will affect us not because of the increasing tariff on our sales, which have been at a virtual standstill for months, but through time,' Davie Stephens, president of the American Soybean Association, said in an emailed statement. 'The longevity of this situationmeans worsening circumstances for soy growers who still have unsold product from this past season and new crops in the ground this season.'"
"U.S. farmers will begin harvesting this year's soybean crops starting in September. Stockpiles were expected to balloon to an all-time high in the season that ends this month as American export demand dims," the Bloomberg article said.
"Soybeans Sink as China Hikes Tariffs on American Farm Products," by Megan Durisin and Ashley Robinson. Bloomberg News (August 23, 2019).
Last week, Reuters writers Karl Plume and Tom Polansek pointed out that, "China has purchased about only half the U.S. soybeans it pledged to buy earlier this year, a U.S. Department of Agriculture official said on Thursday, after a small sale was reported amid the two countries' escalating trade war."
The Reuters articled explained that, "China imposed retaliatory tariffs last year that remain in place on imports of U.S. farm products including soybeans and pork. The duties have slashed exports of U.S. crops and prompted the Trump administration to compensate American farmers for losses over two years with as much as $28 billion of aid.
Face The Nation✔@FaceTheNation
White House Trade Advisor Peter Navarro reacts to warnings from farmers that they're losing markets for their goods: "President Trump has the backs of farmers. He's demonstrated that." The USDA has allocated $16 billion for farmer relief.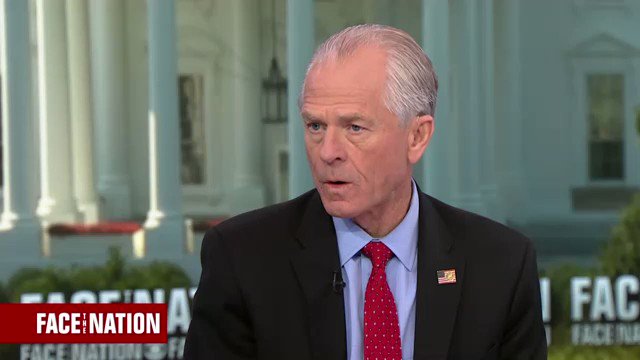 "China has largely turned to South America for soybeans since the trade war began last year. U.S. soybean sales to China in 2018 dropped 74% from the previous year."
In more detailed reporting on the perspective of some U.S. farmers to recent trade developments, Wall Street Journal writers John McCormick and Jesse Naranjo reported recently that, "As President Trump maps out his re-election bid, farmers in this battleground state are backing him even with the U.S. Farm Belt bracing for deeper pain from his trade fight with China.
U.S. Congressional Districts & Soybean Farms: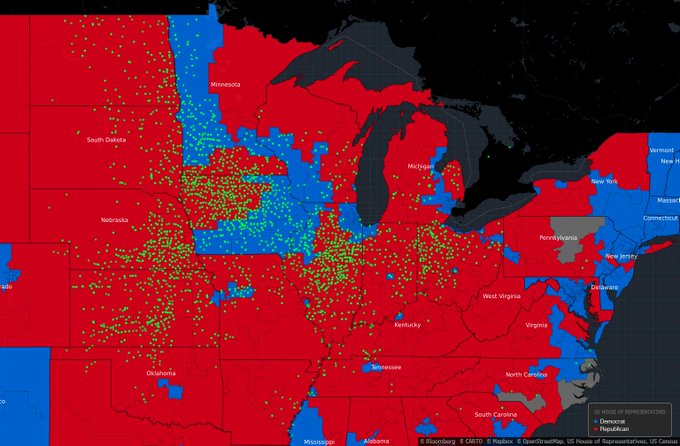 "In and around the livestock barns, agriculture building and an antique-tractor collection at the Iowa State Fair in recent days, farmers almost universally expressed support for the president and pledged to vote for him in 2020."
"Iowa Farmers Stick With Trump Despite Trade War," by John McCormick and Jesse Naranjo. The Wall Street Journal (August 14, 2019).
However, reporting by Reuters writer Karl Plume last week explained that the trade war's impact may vary regionally, and is likely not universally shared by all farmers.
"[North Dakota's] experience underscores the uneven impact of the U.S.-China trade war across the United States," Mr. Plume said. "Although China's tariffs target many heartland states that, like North Dakota, supported President Donald Trump's 2016 election, those further south and east are better able to shift surplus soybeans to other markets such as Mexico and Europe. They also have more processing plants to produce soymeal, along with larger livestock and poultry industries to consume it.
"For North Dakota, losing China – the buyer of about 70% of the state's soybeans – has destroyed a staple source of income."
"In its second-quarter agricultural credit conditions survey this month, the Federal Reserve Bank of Minneapolis said 74% of respondents in North Dakota reported lower net farm income," the Reuters article said.

America's Newsroom✔@AmericaNewsroom
WATCH: @SandraSmithFox spoke with WH Trade Adviser Peter Navarro after China announces it will raise tariffs on $75 billion of U.S. products #nine2noon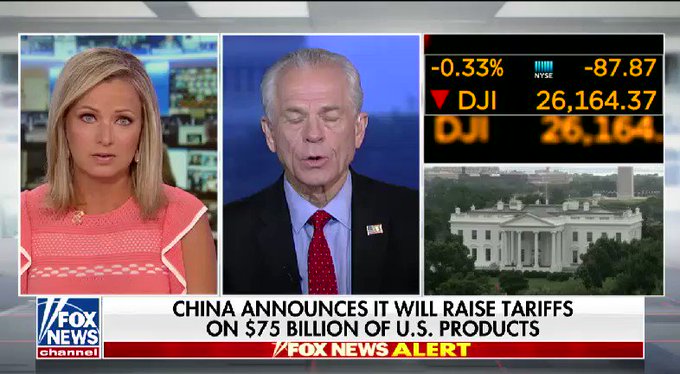 And on Friday, Wall Street Journal writers Josh Zumbrun and Chao Deng reported that, "Near Taylor Ridge, Ill., farmer Phil Fuhr has been left sitting on bushels of soybeans he harvested last year. He said he had hoped a trade resolution between the U.S. and China would lift prices so he could sell them this summer.
"China's announcement 'was definitely a step in the wrong direction,' said Mr. Fuhr, who sells much of his crops to grain-shipping terminals along the nearby Mississippi River.
'There's a lot of soybeans sitting there with no home.'
With respect to alternative sources for China soybean purchases, recall that the USDA's Economic Research Service recently pointed out that, "Geographic concentration of soybean importers and exporters is a distinguishing feature of the global soybean market. During 2016/17, the United States and Brazil together accounted for 83 percent of world soybean exports. The United States exported 59 mmt of soybeans and Brazil exported 63 mmt, while Argentina was the third-leading exporter with 6.9 mmt. China was the destination for 61 percent of U.S. soybean exports and 77 percent of Brazil's that year."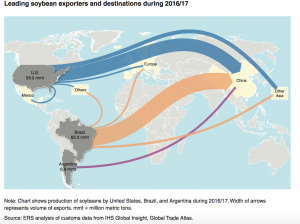 Interdependence of China, United States, and Brazil in Soybean Trade, OCS-19F-01. USDA, Economic Research Service.
Last week, Bloomberg News reported that, "Chinese soybean buyers hoping for a cascade of Russian beans to replace American supplies as the trade war with Washington rumbles on are likely to be disappointed."
The Bloomberg article explained that, "Still, Russia's Far East region would only be able to expand its soybean exports to China to between 1.5 and 2 million tons a year, Dmitriy Rylko, director general at Russia's Institute for Agriculture Market Studies, told a conference in the northeastern Chinese city of Harbin on Friday. While that's roughly double current sales, it pales beside the more than 30 million tons China took from the U.S. before the trade conflict."
"Russia Can't Satisfy China's Soybean Needs Amid U.S. Trade War." Bloomberg News (August 19, 2019).
In a closer look at issues associated with Argentina, Reuters writer Hugh Bronstein reported recently that, "Chinese state-owned construction giant CCCC is preparing a bid to dredge Argentina's Parana River, the country's main cargo superhighway that takes soy and corn from the Pampas farm belt to the shipping lanes of the south Atlantic and the world."
The Reuters article pointed out that, "Dredging the Parana is the biggest logistics contract in Argentina. China is already the main buyer of Argentine soybeans while Chinese state-owned conglomerate Cofco has, through acquisitions, become the biggest agricultural commodities exporter operating in Argentina.
"Shanghai Dredging's interest in the Parana appears part of China's broader effort to 'invest across international agricultural supply chains to better control supply and pricing,' said Margaret Myers, head of the Asia-Latin America program at the Inter-American Dialogue, a Washington-based think tank."
"The Parana carries 80% of Argentine farm exports," the article said.
And recall that African Swine Fever, which has adversely impacted the Chinese hog sector, has also put a dent in China's soybean demand.
Earlier this month, Reuters News reported that, "China's pig herd shrank by 32.2% in July from the same month a year ago, its agriculture ministry said on [August 15th], as African swine fever continues to spread through the country.
"The ministry also said the number of sows declined by 31.9% in July, a year after the nation reported its first outbreak of the disease, which is fatal to pigs but does not harm people."
The article noted that, "'The pig herd hasn't reached its lowest level yet. It will fall further in the second half of the year,' Zhang Liwei, a senior analyst at the official China National Grains and Oils Information Center, told a conference on [August 16th].
"He said the decline would further impact soymeal demand, which is already under pressure."
Source: Keith Good, Farm Policy News