An Overview of U.S. Farms From USDA's Economic Research Service-2020 Edition
December 15, 2020
Last week, the USDA's Economic Research Service (ERS) released its annual report exploring characteristics of U.S. farms: "America's Diverse Family Farms: 2020 Edition."  Today's update includes highlights from the report, which was written by Christine Whitt, Jessica E. Todd, and James M. MacDonald.
The report noted that, "Family farms as a group, across type, accounted for 98 percent of farms and 86 percent of production in 2019."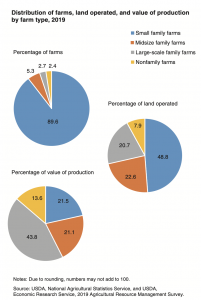 "Nonfamily farms accounted for the remaining farms (2 percent) and production (14 percent)," the report said; adding that, "Examples of nonfamily farms include partnerships of unrelated partners, closely held nonfamily corporations, farms with a hired producer unrelated to the owners, and publicly held corporations."
With respect to commodity production, ERS explained that, "Midsize and large-scale family farms dominate the production of cotton (86 percent of production), cash grains/soybeans (71 percent), and hogs (61 percent)."
In a closer look at profitability, the report indicated that, "Financial performance varies across farm size. Most small farms have an operating profit margin (OPM) in the red zone—indicating a higher risk of financial problems—while most midsize, large, and very large farms operate in a lower financial risk zone."
Last week's update also pointed out that, "Commodity-related program payments were received by 20 percent of U.S. farms, which generally reflects acreage in crops historically eligible for support. Eighty-one percent of these payments went to moderate-sales, midsize, and large-scale family farms in 2019, exactly proportional to their 81 percent share of acres in program crops."
With respect to Federal crop insurance, ERS stated that, "Grain and oilseed farms—the most common specialization among midsize and large family farms—accounted for 66 percent of all participants in Federal crop insurance and 64 percent of all harvested cropland in 2019."
"Midsize and large family farms together received 68 percent of indemnities from Federal crop insurance in 2019. Midsize and large family farms' share of indemnities reflects their commodity mix and their high participation in Federal crop insurance," the ERS report said.
Source: Keith Good, Farm Policy News