After U.S., China Phase One Deal, Coronavirus Adds Additional Wrinkle
February 3, 2020
U.S., China Ag Trade- Recent Background
Reuters writers Hallie Gu, Muyu Xu and Tony Munroe reported last week that, "China's imports of U.S. soybeans surged in December from a year earlier, data showed on Friday, as China ramped up purchases during a thaw in the two country's trade war.
"China brought in 3.09 million tonnes of soybeans from the United States in December, 44 times the level a year ago, data from the General Administration of Customs showed."
Friday's data provided a breakdown of China's buying by origin after figures released earlier in January showed it bought 88.51 million tonnes of soybeans overall in 2019, just up from 88.03 million tonnes in 2018.
More narrowly, the Reuters article pointed out that, "For all of 2019, China brought in 16.94 million tonnes of U.S. soybeans, edging up from 16.6 million tonnes in 2018, when shipments nearly halved from the previous year due to the trade dispute."
Karen Braun
✔@kannbwx
#China's 2019 imports of #soybeans were up 0.5% from 2018. Some 65% of those were from #Brazil & USA supplied 19%.
In 2017, Brazil supplied 53% & USA 34% of China's record haul of 95.5 mmt.
Dec 2019 USA arrivals were the largest since before the trade war began (early 2018).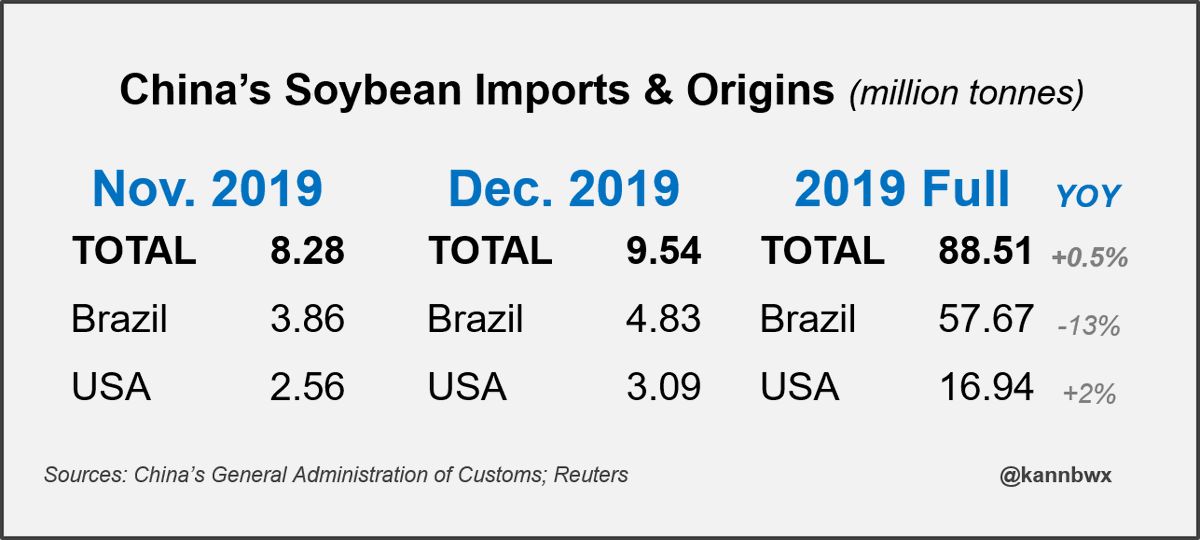 The Reuters writers explained that, "China usually turns to U.S. soybeans in the fourth quarter of the year when the American harvest dominates the market. But U.S. cargoes nearly halted in late 2018 after Beijing slapped retaliatory tariffs on a list of U.S. products including soybeans."

Farm Policy@FarmPolicy
#Chinese customs statistics show that arrivals of U.S. #soybeans in #China typically peak during November to March each year, while arrivals of #Brazilian soybeans peak during May to September https://bit.ly/2RFCZ7P @USDA_ERS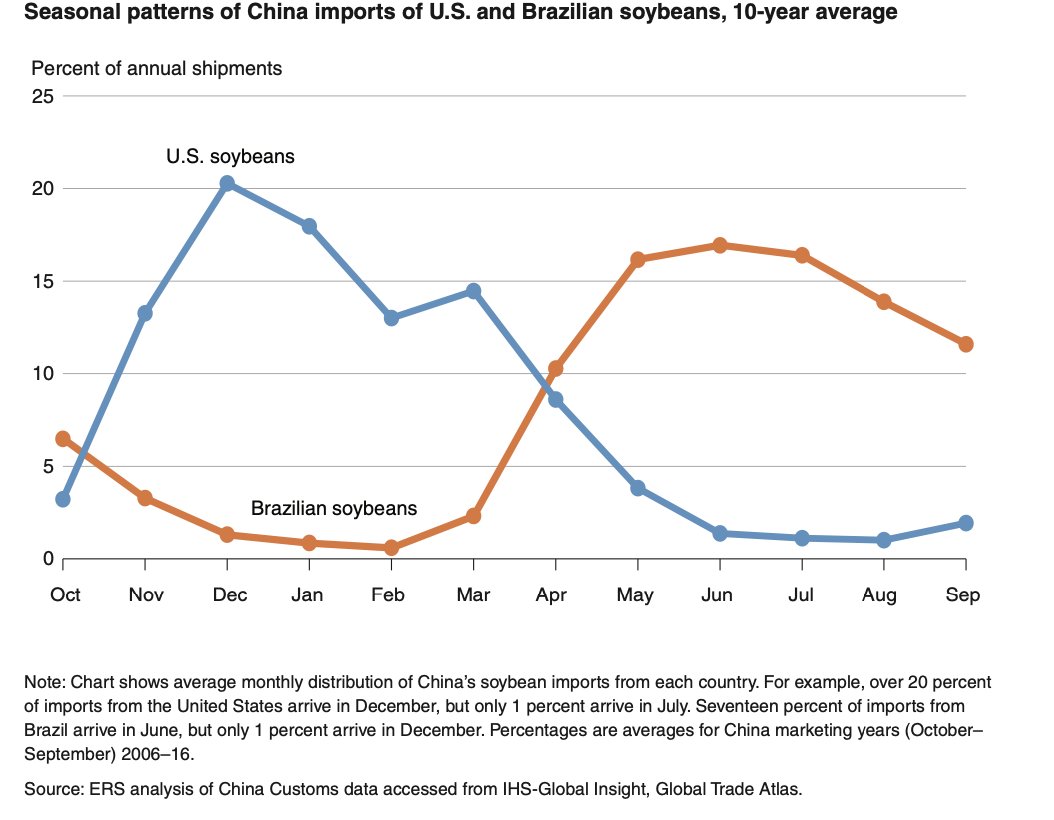 Nonetheless, Wall Street Journal writer Kirk Maltais reported last week that, "Crop prices have dropped since the signing of trade deals meant to buoy the farm economy, clouding the outlook for farmers working to secure financing for this spring's planting season.
"Soybean futures have fallen over 7% to below $8.75 a bushel on the Chicago Board of Trade since a trade agreement meant in part to boost Chinese demand for the U.S. crop was reached two weeks ago. Corn futures have fallen by roughly 2% in that time, a span that also included the signing on Wednesday of a new trade agreement between the U.S., Canada and Mexico—a major buyer of American corn."
Mr. Maltais also pointed out that, "Traders say part of the recent pressure on agricultural prices is due to the spread of coronavirus, which is expected to mute Chinese demand as residents hunker down to avoid contracting the disease. The outbreak is exacerbating concerns that recent trade pacts won't be enough to lift farmers out of a six-year slump."
Coronavirus an Issue
Along these lines, Reuters writer Tom Polansek reported last week that, "U.S. Agriculture Secretary Sonny Perdue said on Wednesday he does not know whether China's coronavirus outbreak will upset Beijing's pledge to radically increase purchases of American farm goods as part of the countries' recent trade deal.
"The virus has cast further doubt on China's ability to buy $36.5 billion of U.S. agricultural goods in 2020. Traders were already questioning the commitment as rival soybean supplier Brazil harvests a massive crop and a deadly pig disease curbs Chinese demand for soy used to feed livestock."
The Reuters article noted that,
Agricultural producers have grown worried China's demand will temporarily suffer as the government has quarantined cities in a bid to contain the coronavirus. Delays or reductions in China's planned purchases could put more pressure on U.S. farm incomes that suffered during the countries' bruising trade war.
Also last week, Bloomberg writer James Poole reported that, "Crop futures traded in Chicago sank as China's death toll from the coronavirus surged amid government reports that the infection was spreading more quickly, threatening demand in the world's largest consumer of agricultural commodities and the biggest soybean importer."

Bloomberg TV
✔@BloombergTV

The coronavirus outbreak is bringing up memories of SARS. Here's how a major outbreak could impact the economy https://trib.al/B67bOPu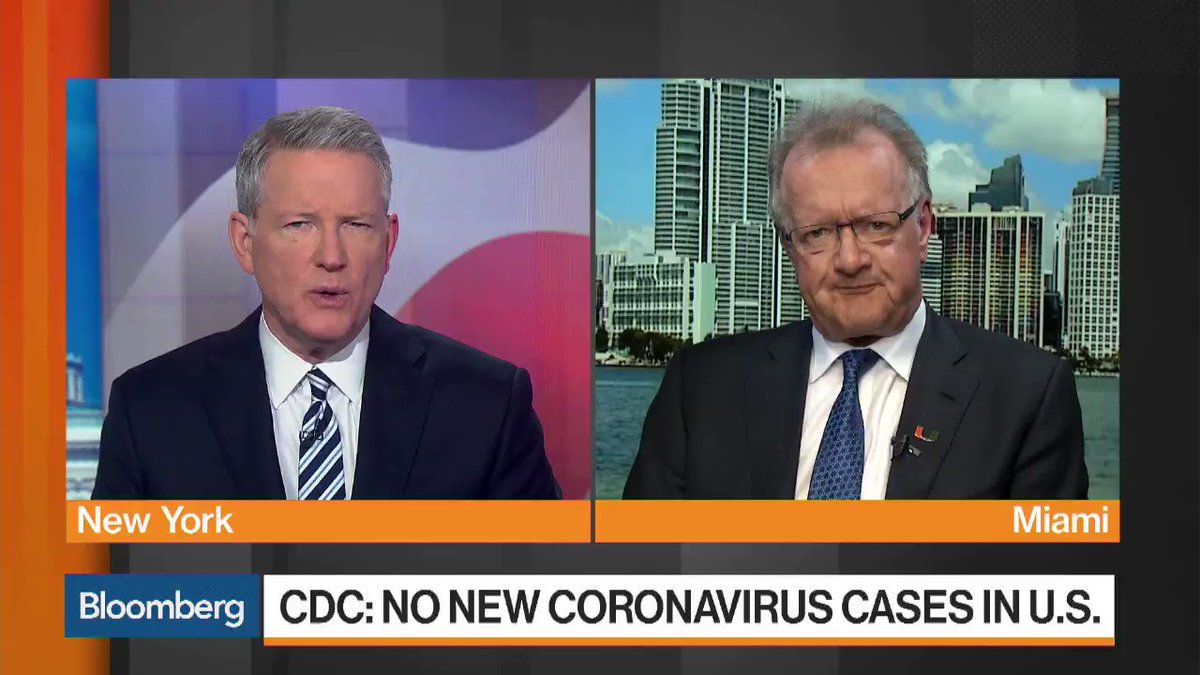 And on Thursday, Bloomberg News reported that, "China's promises in its phase-one trade deal to increase purchases from the U.S. — which experts already were calling unrealistic — will be even tougher to fulfill now that a new virus is hammering demand and interfering with supply chains."
The Bloomberg article stated that, "As the novel coronavirus spreads, attention is focusing on a part of the agreement which states the U.S. and China will consult 'in the event that a natural disaster or other unforeseeable event' delays either nation from complying with the agreement.
"'It obviously is going to have some ramifications economy-wide, which we hope will not inhibit the purchase goal that we have for this year,' U.S. Agriculture Secretary Sonny Perdue said Wednesday. 'We'll have to look ahead and see.
"'But the honest answer is we just don't know yet. But we're hoping for a very quick conclusion.'"
On Monday, Bloomberg writer Isis Almeida reported that, "American farmers waiting for all the benefits of Donald Trump's trade deal with China are going to have to wait a while."
The Bloomberg article stated that,
Meanwhile, the spread of the deadly coronavirus is focusing attention on a part of the agreement that says the nations will consult 'in the event that a natural disaster or other unforeseeable event' delays either party from complying with the deal.
"All that could delay any boost for farmers, a core voting bloc for President Trump as he prepares to seek re-election later this year. U.S. growers have been roiled by the trade war between Washington and Beijing, losing market share to rivals in nations such as Brazil after China imposed tariffs on American agricultural goods.
"While the so-called phase-one deal aimed at resolving the spat includes provisions for more Chinese imports, the world's biggest consumer of commodities has vowed to follow a market-oriented approach. That means purchases are likely to be made at the time of the U.S. harvest, when prices are usually lower than in rival producers."
Source: Keith Good, Farm Policy News