African Swine Fever Continues to Propel "Profound" Market Changes
January 14, 2020
Last week, Financial Times writers Emiko Terazono, Andres Schipani and Jamie Smyth reported that, "China's African swine fever epidemic has dramatically reshaped the global meat market and its trade patterns in the 18 months since the outbreak was first officially acknowledged.
"The viral disease, which is deadly for pigs but does not affect humans, has reduced China's pig herd by more than a third from a year ago with an estimated loss of 100m pigs. As a consequence, pork prices have soared to record highs and the world's largest consumer of pork has turned to imports of not only pork but also of beef and chicken — and found a host of new suppliers.
"'Nobody predicted the extent of the impact. It's been more profound than we ever imagined,' said Adam Couch, chief executive of UK meat processor Cranswick."
The FT writers explained that, "China's meat imports jumped 63 per cent in the first 11 months of 2019 from the same period the previous year to $16.3bn, according to customs data."
Darin Friedrichs, an analyst at commodity broker INTL FCStone in Shanghai, said: '[China] is definitely buying everything and anything available at the moment. They are going from country to country sucking up everything available.'
Also last week, Wall Street Journal writer Kirk Maltais reported that, "Farmers are hoping that 2020 will be the year that China finds its appetite for U.S. pork after a disappointing 2019 for exports.
"Despite an African swine fever epidemic that decimated hog herds in Asia last year, China didn't turn to the U.S. to fill its pork needs because of the long-simmering trade war between the two countries.
"U.S. hog prices got only a short-lived bump in 2019—even as China lost as much as 55% of its pigs to the disease, according to Rabobank. Most-active hog futures on the Chicago Mercantile Exchange finished the year at roughly 71 cents a pound, down nearly 30% from a high of nearly $1 a pound in early April."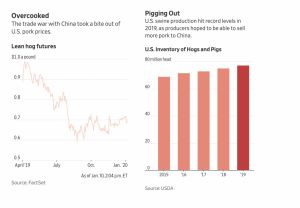 Mr. Maltais pointed out that, "A tariff of 72% on imports of U.S. pork was in place for most of the year, draining demand for U.S. hog supplies—which stood at 77.3 million head as of December, according to the U.S. Department of Agriculture."
John Newton@New10_AgEcon
Here you can see how the #China #trade negotiation process and #AfricanSwineFever influenced #CME lean #hog index in 2019 (h/t @ScottIrwinUI @NepveuxMichael & @Grain_Cycles) https://twitter.com/KirkMaltais/status/1214901320026664960 …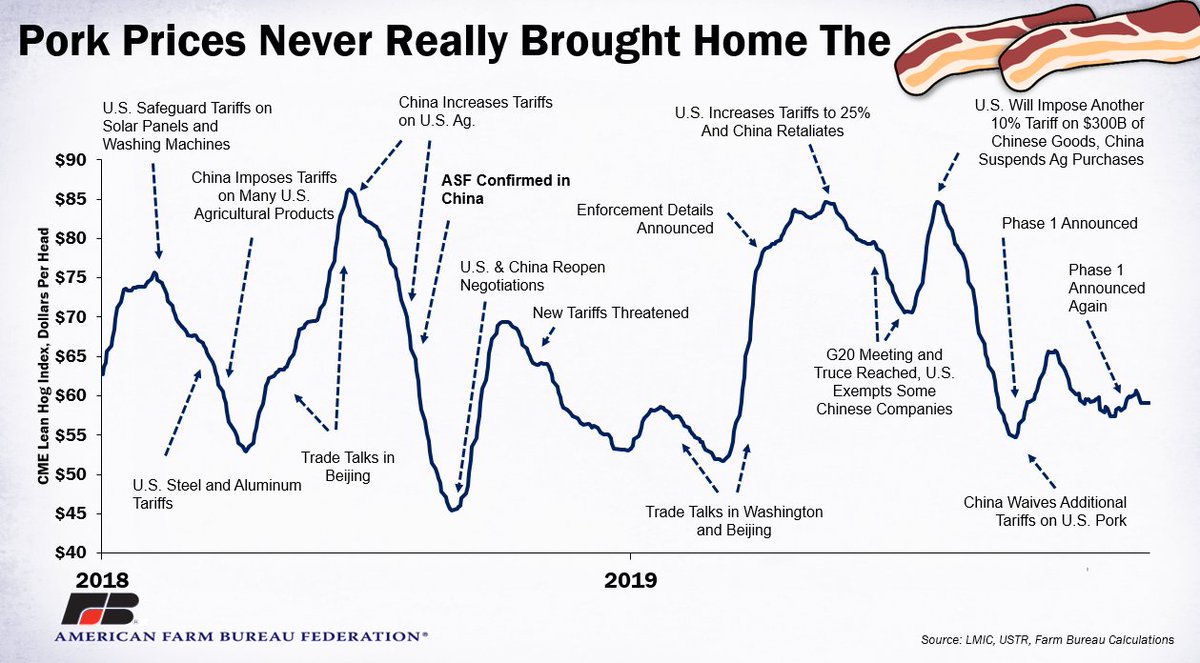 Kirk Maltais@KirkMaltais
All through 2019, pork traders/sellers told me how they were expecting China to have to turn to the U.S. to buy pork en masse — but it never happened. They now hope 2020, with a trade deal signed, will be different. https://www.wsj.com/articles/u-s-pork-producers-didnt-bring-home-the-bacon-in-2019-11578479401 … via @WSJ
The Journal article added that, "However, farmers and livestock traders are anticipating a reversal of fortunes in 2020, hinging on the partial trade agreement that is expected to be signed by the U.S. and China later this month."

The Wall Street Journal
✔@WSJ
#WSJWhatsNow: U.S. pork producers didn't bring home the bacon in 2019. Now they're anticipating a reversal. https://on.wsj.com/2QYhtcD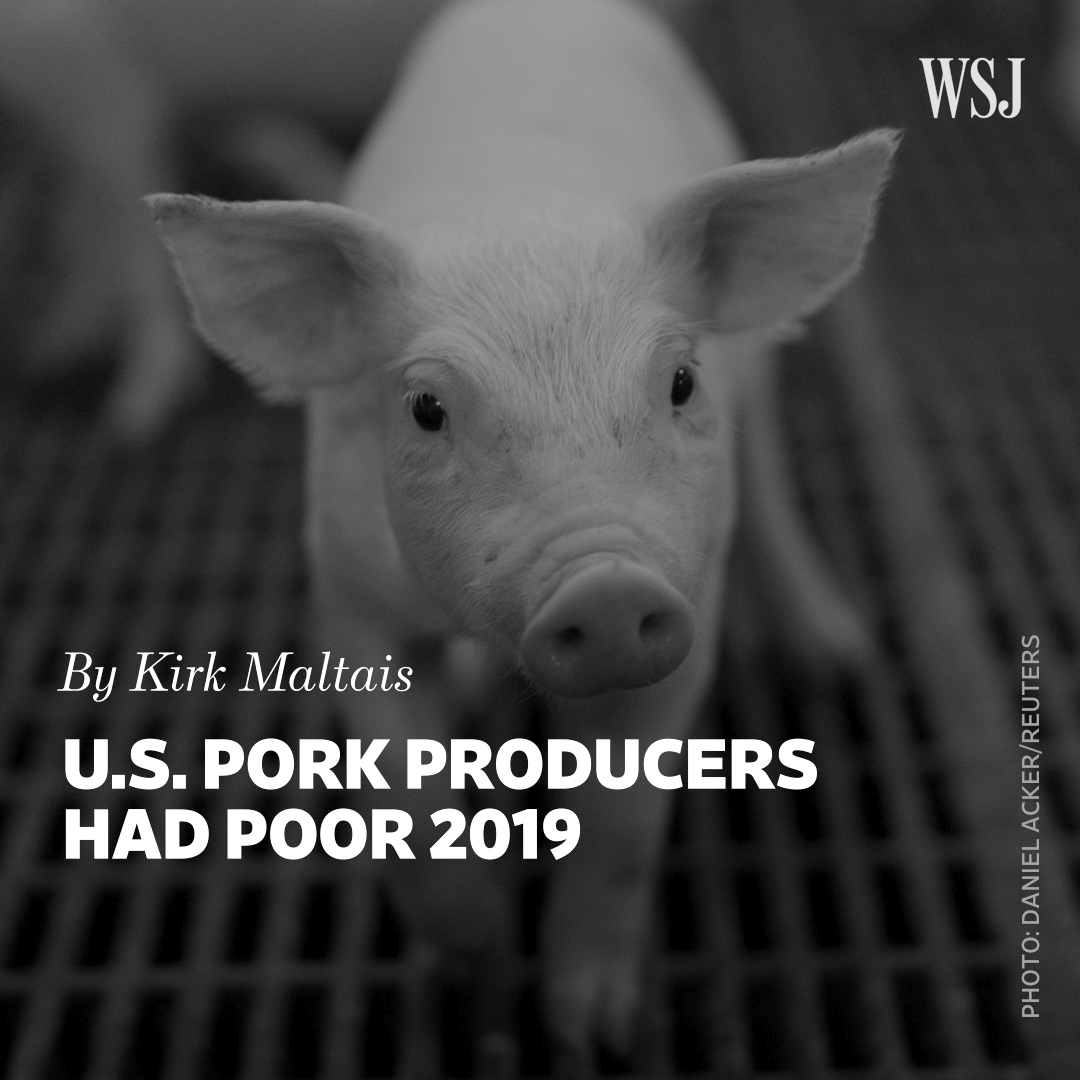 Meanwhile, Bloomberg News reported last week that, "Chinese government leaders have gone on the offensive to bring down boiling hot pork prices, buying the most ever from abroad and releasing  thousands of tons from state reserves. That's started to work, with prices sliding last month from record levels — just in time for the new year celebrations on Jan. 25.
"But this drop is set to be fleeting, analysts warn. African swine fever, the disease that's gutted the nation's pork industry, is still spreading, while the rush to sell from reserves means that stockpiles are likely almost empty, they said. Farms are also too scared to restock their hog herds, which means the country's pork shortage will probably continue for a second year, they said.
"'We expect pork prices to continue their rally after the holidays,' said Pan Chenjun, a senior livestock analyst with Rabobank in Hong Kong. 'The drop is only temporary.'"
Associated Press writer Joe McDonald reported last week that, "The price of pork rose 97% over a year earlier despite increased imports of China's staple meat and the release of thousands of tons from government stockpiles."
More broadly, and beyond Asia, Reuters writers Sybille de La Hamaide and Michael Hogan reported last week that, "Poland recorded 55 outbreaks of African swine fever in wild boar near the German border last month, the world animal health body said on Thursday, in a sign the deadly virus is spreading near one of the European Union's biggest pork exporters."
And on Friday, Reuters' Michael Hogan reported that, "Asian countries including China regularly impose import bans on pork from regions where ASF has been discovered, causing huge loss of business for meat exporters. Wild boars are spreading the disease and their meat is popular in Europe.
"'We are observing the latest proof of African swine fever relatively close to the German border with great concern,' German junior agriculture minister Uwe Feiler said in a statement. 'Up to now the joint federal and state efforts have stopped the disease from entering Germany. But we cannot relax.'"
"There have been fears in Germany that its major exports of pork to China and other Asian regions could be threatened if ASF arrives in the country," the Reuters article said.
Source: Keith Good, Farm Policy News